Date: February 10, 2013
Under Armour, Inc.
Symbol: UA
Listing: NYSE
Industry: Apparel/Accessories
Sector: Consumer Cyclical
Market Capitalization: $5.1 Billion
SIC Code: 2300
Sector: Consumer Cyclical
Apparel & Other Finished Products of Fabrics & Similar Material
52 Week Price Range: $35.13 - $60.96
Beta: 1.23
12 Months Price Target: $47 - $49
Recommendation: Market Weight
---
Comparable Companies:
---
Sam Ramadan, CFA
Analyst Assessment
We upgraded our recommendation of Under Armour Incorporated from Market Underweight to Market Weight. Even though the landscape of the industry and sector Under Armour operates in is still very competitive, the company has turned strong growth in line with our expectations for FYE 2012. In addition, the revenue composition and growth prospects warrant an uptick in our twelve months price target. Our projected price range for the time period is $47 to $49.
Recap
Under Armour has been able to grow revenues in the 20%+ range for the past thirteen quarters. Revenues have been increasing at a decreasing rate. 2011 saw UA's topline sales increase at rates topping 40% during second and third quarters, while FYE2011 was 38%. Revenue growth rate FYE2012 is much lower at 25%.
The firm's principal activities are the development, marketing and distribution of branded performance apparel, footwear and accessories for men, women and youth. Apparel, footwear, accessories and licensing constituted 75%, 13%, 9% and 2% of total revenues for FYE2012. Apparel is the most prominent product sold. The garment used provides moisture wicking as well as efficient heat distribution which is supposed to enhance athletes' performance.
The company offers seasonal apparel and has branded the gear by season. HEATGEAR® is designed to be worn in warm-to-hot temperatures. COLDGEAR® is designed to be worn in cold weather and is the most expensive line of apparel. ALLSEASONGEAR® is designed to be worn in changing temperatures.
The firm has introduced several new innovative products, most prominently Armour 39. This product measures "Willpower" and is a performance measurement system that monitors and measures a number of dynamic inputs such as: body position, user profile and key heart measures. The company also made some gains in Women's and Youth 'assortment on products such as Armour Bra and UA Studio line.
Cyclicality is still evident, something to be expected of a company similar to Under Armour.

Key Notes
In the latest earnings call, the firm highlighted several of their future plans. What we present in this report is what we view as the positives and the challenges we still see with Under Armour Operations.
The Positives
Apparel Revenue Composition: in 2005, compression represented 64% of Under Armour's apparel mix. This past year, that compression number was down to just 14%. The significance of this change is directly related to Under Armour's diversification of their revenue stream. UA is no longer fully dependent on their ability to sell their branded COLDGEAR® apparel. UA was also able to significantly expand the Storm platform beyond just the charged cotton line last year to now encompass the broader Armour Fleece line.
Customer Expansion: Under Armour is increasing floor space at retailers such as Macy's, Dillard's, Belk, Lord & Taylor, Bloomingdale's and Meyer. The shop-in shops experience undoubtedly increases their presence and allows for better brand recognition.
Inventory Management: The company's inventory growth levels continue to decrease as opposed to topline sales increase. The decrease is primarily due to the continuous success of the inventory management initiatives.
Youth & Women Appeal: Under Armour has endorsed many star athletes like Cam Newton, Julio Jones, Miles Austin, Tom Brady and Ray Lewis in the NFL, Derrick Williams and Kemba Walker in the NBA, Bryce Harper and Matt Wieters in the MLB, as well as gold medalist Michael Phelps. On the women's side, they endorsed Alpine Skier Lindsey Vonn. High profile signings should continue to help UA drive sales growth into the future.
Rapid Growth: Sales have grown at a compounded annual rate of 29% over the three-year period from 2009 to 2012. Management estimates a growth rate between 20% and 21% for the upcoming. We believe management is being conservative in their estimates early on during the year.
Footwear Sales Growth: It was notable that during the latest conference call, the word "footwear" was repeated 40 times. There is new leadership under Kip Fulks and a refocus on footwear growth. UA executives kept repeating the words "louder voice," which we believe is the company's attempt to say "we sell footwear too." Mr. Fulks's primary focus in footwear will be to lead and continue to bring new talent into the team.
Branding and Bundling: UA will debut a new specialty retail store in Baltimore. It will be over 8,000 square feet with footwear presentation as the primary focus of the store. The new store will carry as much Women's apparel as Men's. The company is trying to hammer the technology and style stories, all while selling the bundled image of Under Armour.
Direct-to-Consumer Sales: Increased 29% during the fourth quarter 2012 and 34% FYE2012. Direct-to-consumer constituted 29% of net revenues FYE2012. The continuous increase of DTC sales should help the company improve bottom line margins.
Focus on International Sales: International net revenues increased 30% to $34 million in the fourth quarter and represented 7% of total net revenues, highlighted by solid growth in Latin America, Asia and our Europe regions. Management expects International businesses to outpace overall growth both still at the small base.
Leadership Recruitment: Recently, UA recruited Charlie Maurath from Adidas. We view this move, along with other recruits as key factor in speeding up the corporate learning curve and provides them with tremendous leverage going into international markets.
Challenges
Patenting: Under Armour's fabrics and manufacturing are not patented. As a matter of fact, several of Under Armour's apparel and footwear has been imitated by competitors. On the other side, management did not discuss whether Armour 39 has been patented. We believe the technology can be easily copied by competitors.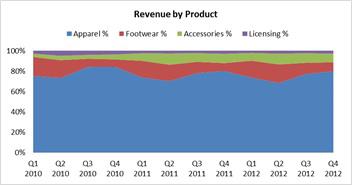 Revenue Concentration: Apparel is still the dominant revenue generator for UA. Over the past 12 quarters, revenue from Apparel constituted about 76% of total revenues. This remains a concern to us going into the future. The firm will need to grow a more balanced line-up of products, drawing comparable dollars from Apparel and other products.
Supply-Chain problems: UA has had to rely on airfreight to get their products on time to meet demand. Management mentioned that some of those challenges will continue to exist during the first half of the year.
International means soccer: Under Armour sponsors the Tottenham Hotspurs team in the English Premier League, a team with limited international reach. Even though UA's cleats sales is a key driver in footwear revenue growth, baseball cleats remain the dominant product in that arena. Under Armour should consider sponsoring a soccer team with a better international reach that continuously plays in the UEFA Champions League and has big name stars.
Bottom Line Margin: UA's sales mix will be adversely impacted as the company changes their sales mix by growing sales in the footwear division which carry lower margins than other product categories.
Governance: Mr. Kevin Plank, the CEO, owns the majority of the voting rights and controls the Board of Directors. His vision has driven the success of Under Armour so far, but poor corporate governance is not a good recipe for common shareholders.
Share Price & Share Performance
Under Armour enjoyed a stellar stock performance over the seven-year period since its IPO. The average monthly return over the most recent two-year period has been 4.09%. The average monthly return for the same period on the S&P 500 was 0.64%. Our calculated stock beta for Under Armour over the most recent two-year period is 1.36. We have adjusted the beta downward to 1.24 to reflect our long-term view of the share price. The stock price closed highest on September 14th, 2012 at $60.96.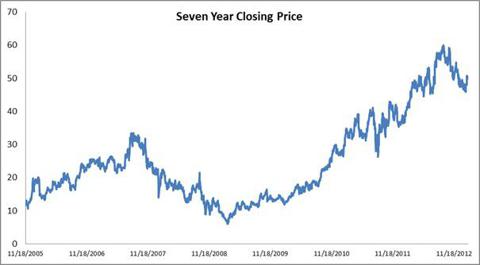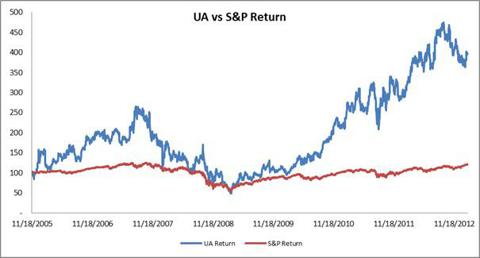 Financial Performance
Cash Flows
Under Armour has been in negative operating cash flow territory for the first three quarters of every year since 2009. Quarter four, however, usually generates most of the positive cash flows. Upon a closer look, receivables are usually the biggest contributor to negative cash flows, especially the third quarter when UA generates most of their sales. The net change in receivables between the third and fourth quarter is what generates the favorable cash position for UA at year end. This profile of cash flows is typical of a company that faces the cyclicality of revenues such as Under Armour. Our investigation into UA's earnings quality reveals consistent (and slightly improving) quality. We did not detect any earnings manipulation by the management.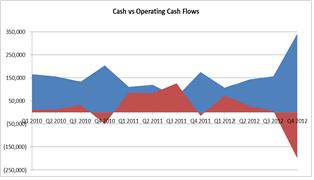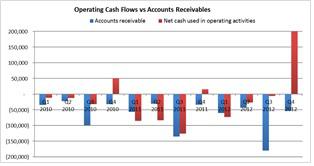 Ratio Analysis
Our analysis indicates a stabilizing receivables turnover ratio and an improving inventory turnover ratio. Inventory management initiatives undertaken by management are the primary driver behind Under Armour's improving inventory turnover ratio. We expect the climb to continue as the management irons out the issues with supply chain. We also note an improving ratio on the sales outstanding ratio front. Although liquidity ratios appear trending downwards, we believe the company has enough cash to service the short-term liabilities. The company also has a $250 million loan that is unutilized which can be used in case of any cash shortage. We find that scenario highly unlikely. Operating and profitability ratios all appear to be heading in the right direction. The main contributor is the continuous growth in revenues.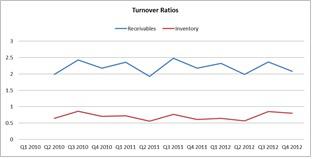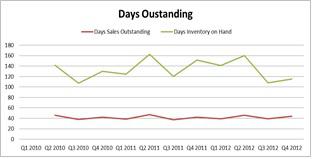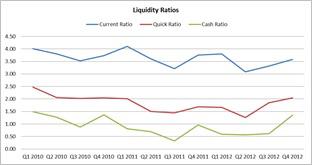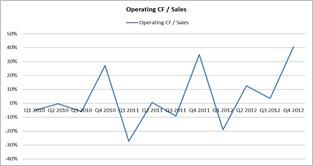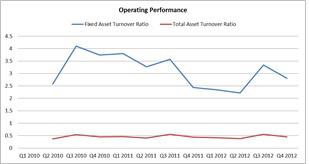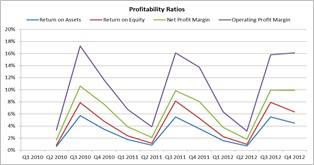 Revenues, Product Breakdown & Growth
As evident from historical figures: 1) revenues are subject to cyclicality 2) Inventories as a percent of net revenues are decreasing 3) Apparel is still the dominant product line and 4) Growth rates for all products are decreasing with one exception: footwear which seems to be picking up.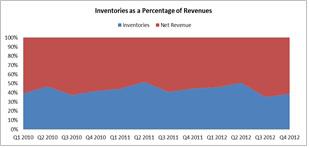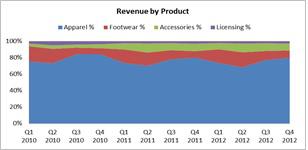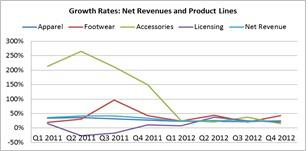 Valuation
We have used two valuation methods to value Under Armour: Discounted Cash Flow Analysis and Valuation based on Comparable Company Analysis.
Discounted Cash Flows
We used a two-period valuation model with the first period consisting of five years, high (but declining) growth rates and steady liabilities projections and the second period based on a terminal multiple. In addition, our model was based on three distinct scenarios: 1) management estimates 2) upside scenario and 3) likely scenario. The valuation method utilized was the Free Cash Flow Model. All our models sensitized model inputs such as revenue growth, terminal multiple, discount rate (OTC:WACC), working capital requirements and operating margins.
Management Estimates
In line with management growth estimates (for a full discussion of management estimates, please review management's earnings call), our base case scenario assumes future revenues will grow at the level highlighted by management in the most recent earnings call. Our key assumptions follow. Under this scenario, our estimated share price for Under Armour is $49.26.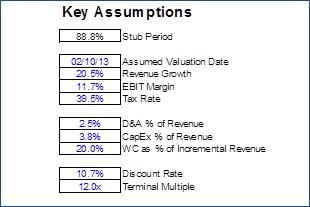 Our Projected Income Statement

Additional Sensitivity Analysis:
1) Implied Growth Rate
2) Enterprise Value
3) Present Value of Terminal Value as a percent of Enterprise Value
4) Share Price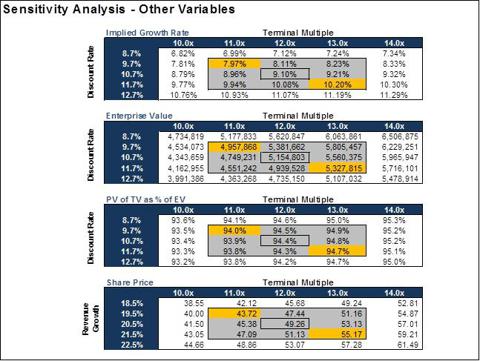 Upside Scenario
Our upside scenario took into consideration that Under Armour's management was probably conservative in their estimates for revenue growth. We kept our margin analysis static with one exception for capital expenditures, which we lowered as a percentage of total revenues. Key assumptions follow. Under this scenario, our projected share price is $52.65.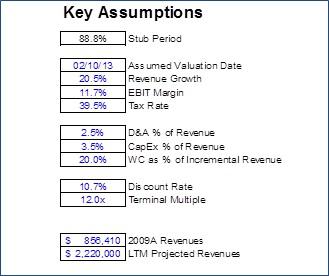 Our Projected Income Statement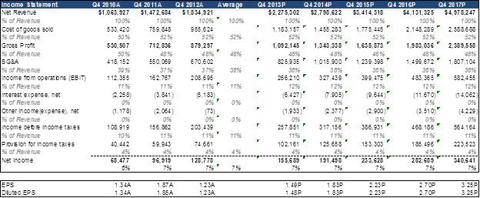 Additional Sensitivity Analysis:
1) Implied Growth Rate
2) Enterprise Value
3) Present Value of Terminal Value as a percent of Enterprise Value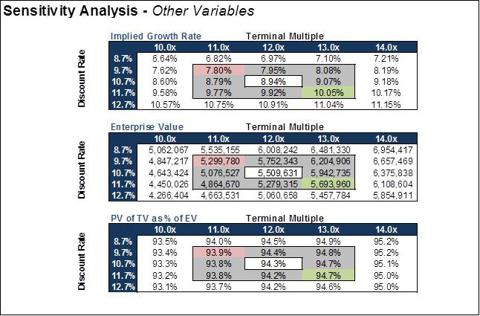 Likely Scenario
The main difference is our projected likely scenario is revenues growth rate. We take into consideration that Under Armour has been able to grow revenues at rates higher than 25% over the past 12 quarters. We adjust this number down, but not as significantly as the management did during the earnings call. We also continually adjust this number down over the following five years. Our margin analysis stays pretty static and comparable to what the firm has been able to achieve as of the most recent years. Under this scenario, our calculated share price is $48.39 and earnings per share of $1.39. Assumptions follow.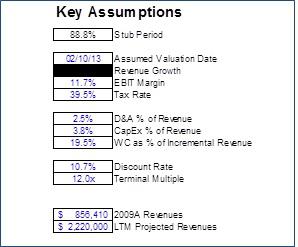 Our Projected Income Statement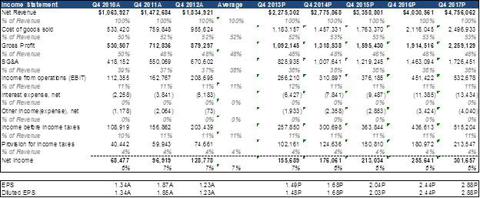 Additional Sensitivity Analysis:
1) Implied Growth Rate - at 8.81%, we find this number to be comparable to what Nike has been achieving over the past several years.
2) Enterprise Value
3) Present Value of Terminal Value as a percent of Enterprise Value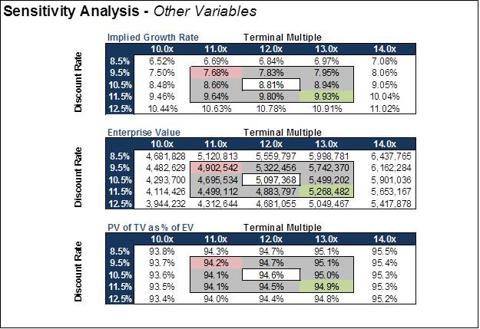 Comparables
Our comparable did not significantly change from the last report we published. You can view this report here. We used four comparable companies: Lululemon Athletica, Nike Incorporated, Decker's Outdoor Group and G-III Apparel Group. While LULU's share price has dropped recently, DECK's share price gained. Based on forward-looking earnings, we estimate Under Armour's fair share price at $45.50. Based on forward-looking EBITDA multiple, we estimate Under Armour's price at $49.67.
Conclusion and Other Considerations
Based on the presented analysis, we upgrade our rating on Under Armour to Market Weight. Our price target for the share of Under Armour is $47 to $49. Our general estimate is for the stock market to continue its upward trend in 2013 (please visit our website to view our Outlook for 2013) and as such, in our opinion, we view possible that the share price of Under Armour to trade at higher or lower price than our estimated price.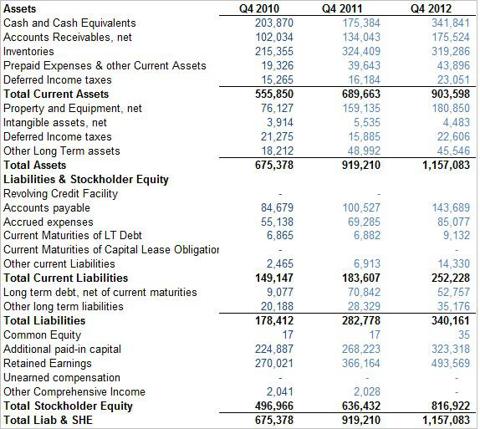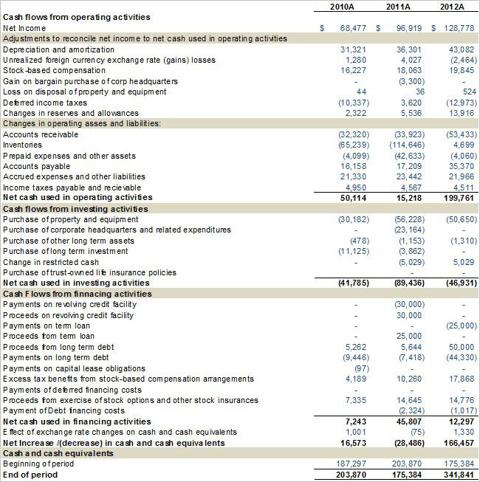 Disclaimer:
This report was prepared by 10StockIdeas.com and can only be used by permission only. The opinions stated here are of the analyst who prepared this report. Overweight rated stocks are expected to outperform the market (the S&P 500 Index as a benchmark) on a risk-adjusted basis over the twelve months. Market weight rated stocks are expected to perform in line with the market index. Underweight rated stocks are expected to underperform the market index on a risk-adjusted basis. The analyst holds no position in the underlying stock and does not plan to initiate any position within the next 30 days. The analyst received no compensation from Under Armour or any other affiliates or related parties. 10stockideas.com does not conduct any business activities with the covered companies. 10stockideas.com does not have any business association with Under Armour. The sources of this research report are publicly available information.
Disclosure: I have no positions in any stocks mentioned, and no plans to initiate any positions within the next 72 hours. I wrote this article myself, and it expresses my own opinions. I am not receiving compensation for it (other than from Seeking Alpha). I have no business relationship with any company whose stock is mentioned in this article.