The price of West Texas Intermediate crude oil averaged $94 per barrel in 2012 and was essentially unchanged from the 2011 average level of $95. This article looks into the expected trend for crude oil in 2013 and discusses the reasons why crude might sustain at higher levels throughout 2013.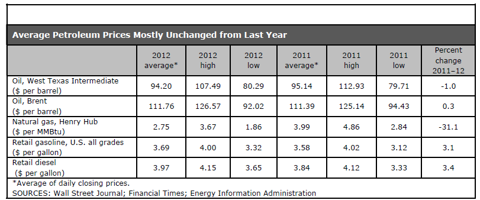 In general, crude oil prices are a function of demand and supply, currency fluctuation, geopolitical tensions and economic activity (which relates to demand and supply). I would therefore be discussing these aspects to conclude on the probable trend for crude in 2013.
In terms of global demand, the outlook looks favourable with demand expected to increase in all emerging economies. The important thing to point out here is that demand for oil grew in India and China in 2012 amidst a slowdown in both the countries. With significantly low per capita consumption in emerging markets, demand will remain robust in the medium to long-term. I must add here that global economic activity is showing some signs of pick-up. If this trend continues, oil prices will remain steady or trend higher.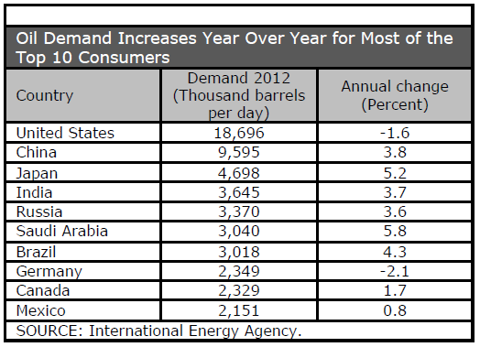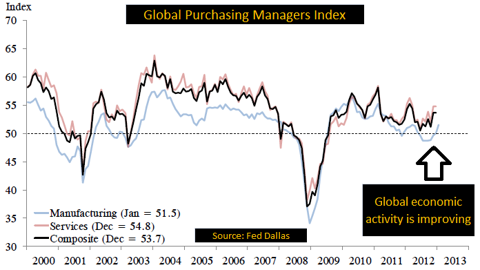 With improved economic activity, the scenario looks robust from a demand perspective. This can only change in the event of a steep recession, which looks unlikely at this point. Therefore, all other factors being equal, crude oil prices will sustain at current levels for 2013.
On the supply side, OPEC excess capacity has been on a rise since September 2012 as shown in the chart below. This should however not be a deterrent to higher oil prices as the supplies can be restricted in the event of a decline in prices. It is largely in OPEC's interest that prices remain well above the $80 level with rising cost of extraction.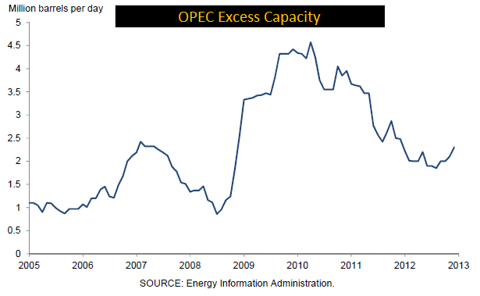 I would therefore conclude that the demand-supply factor will work largely in favor of higher or stable oil prices in 2013.
Currency fluctuation and its impact on crude prices will be another key factor to analyze and watch out for in 2013. I emphasize the currency factor as the global currency war is very much ongoing and countries are doing their best to devalue their currency. The dollar index has been largely range bound in the last 4-5 months. In the recent past, the real value of the U.S. dollar has started to trend down against other important trading partners (as shown in the chart below). This might just be the beginning of another downturn in the dollar as the U.S. tries to devalue its currency to sustain economic growth and relative competitiveness.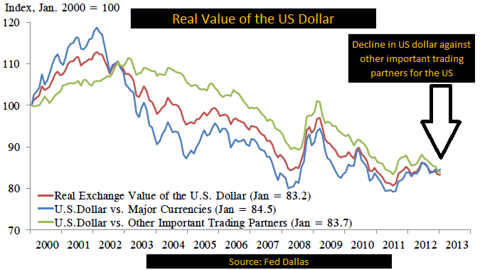 A stable or lower dollar would mean that oil prices remain stable or trend higher (all other factors being equal). I don't see any case for further strengthening of the dollar in the near term. High uncertainty in global economic activity can result in "Risk off" trade driving the dollar higher. However, I have already shown in the chart above that global economic activity seems to be improving rather than worsening.
Crude oil prices will be discounting the geopolitical tensions currently and going forward as politics in the Middle-East remains highly unstable. Be it the civil uprising in many countries or the continued defiance by Iran, geopolitical factors will keep oil prices steady and at relatively high levels. Also, as the thirst for oil increases in China and India (with low per capita oil consumption), global oil politics might just get more intense.
Considering these critical factors, I expect crude oil prices to sustain at current levels and trend higher gradually on weakening currencies and improving economic outlook. From an investment perspective, investors can consider exposure to the energy ETF or specific exploration companies. I would personally consider the following as attractive long-term investments:
BP Plc (NYSE:BP) - The company is an attractive long-term buy due to several reasons: excellent and diversified asset base, presence across the value chain, presence in alternative investment themes and a good dividend yield of 5.0%. Further, the TTM P/E is at an attractive level of 11.8. Overall, BP is well positioned to take advantage of the long-term appreciation in crude oil prices.
Total SA (NYSE:TOT) - The French oil giant is another excellent near-term and long-term investment option. A strong dollar and cost associated with the North Sea natural gas spill has depressed the stock in the near-term and provides a good buy opportunity. Like BP, TOT has integrated operations and is a globally diversified player. TOT also offers a very attractive dividend yield of 5.0% and is trading at a low TTM PE of 8.43
Eni SpA (NYSE:E) - Eni is another European major, which has an excellent long-term outlook and is trading at attractive valuations. E's 2012-2015 strategic plan includes sale of assets to strengthen the balance sheet and also focus on big projects. The production ramp up in existing fields, trending up crude prices in the foreseeable future, a stronger balance sheet and partnership with Gazprom for joint developments of projects are some factors which make E an attractive buy. E also offers a dividend yield of 4.8% and is currently trading at an attractive P/E of 8.5.
The Vanguard Energy ETF (NYSEARCA:VDE) is also a good alternative for exposure to oil and gas companies. The fund has a low expense ratio of 0.19 and had 43% exposure to integrated oil and gas companies, 26.4% to oil & gas exploration and production and 16.6% to oil & gas equipment and services.
Disclosure: I have no positions in any stocks mentioned, and no plans to initiate any positions within the next 72 hours. I wrote this article myself, and it expresses my own opinions. I am not receiving compensation for it (other than from Seeking Alpha). I have no business relationship with any company whose stock is mentioned in this article.