For years, McDonald's (NYSE:MCD) and Starbucks (NASDAQ:SBUX) have been growing by leaps exploiting both economies of scale and scope, rewarding handsomely long-term investors who rode the bullish trends of the two stocks.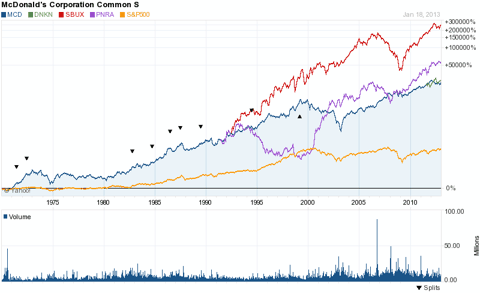 In recent years, the growth of the two companies seems to be ebbing, as they approach the limits of scale and scope-McDonald's (MCD) for instance, reported a decline in same-store sales on Friday. In the meantime, the growth of two competing franchises Panera Bread (NASDAQ:PNRA) and Dunkin' Brands (NASDAQ:DNKN) seems to be accelerating. This means it may be time for growth investors to swap McDonald's and Starbucks for Dunkin' Brands and Panera Bread.
| | | | | | |
| --- | --- | --- | --- | --- | --- |
| Company | Forward PE | Operating Margins | Qtrly Revenue Growth (yoy) | Qtrly Earnings Growth (yoy) | Return On Assets (ROA) |
| Starbucks | 20.92 | 13.54% | 7% | 13% | 14.45% |
| McDonald's | 15.96 | 30.29 | -0.20 | -3.50 | 15.71 |
| Dunkin' Brands Group | 23.67 | 37 | 5 | 298 | 4.92 |
| Panera Bread | 23.26 | 7.81 | 16.80 | 26.60 | 15.22 |
McDonald's rode the baby-boomer trend in the 1960s, the swelling ranks of teenagers and the rising female labor force participation, supplying a fast and inexpensive menu. In the 1970s and the 1980s, McDonald's rode the globalization trend by transferring the American Way of Life to many countries around the world. At the same time, McDonald's adapted to the social context of each county by franchising to locals.
In the 1990s and early 2000s, McDonald's made successful efforts to restore its corporate image by launching the "Fast an Convenient" campaign that involved the radical adjustment of the company's product portfolio to emerging food industry trends - the re-furbish of McDonald's restaurants to achieve a banded, updated, and more natural dining environment. The "fast" and "convenient" elements of the McDonald's concept were augmented by the "healthy" and "more natural" element, by adding salads, fruits and carrot sticks to the menu.
Nowadays, McDonald's continues to broaden its product portfolio by offering high quality coffee and healthy drinks (either through its traditional restaurants or the Cafés), but it seems to be reaching the limits of both its scale and scope, facing formidable competition from Panera Bread, Dunkin' Bransd, Chipotle and the likes.
Starbucks has been riding the baby boomer trend in the 1990s that created the need for a "third place," an "affordable luxury" where people could share and enjoy a cup of coffee with friends and colleagues, away from work and home. The chain has inserted itself into the American urban landscape more quickly and craftily than any retail company in history, and has forever changed the way Western companies market themselves to consumers.
In recent years, however, Starbucks attracts bigger and bigger crowds, from all strands of life, including families with young children. This means that the company turns from a "third place" for the young and middle-aged professional to everyone's place. One factor that has contributed to this transformation is the broadening of the menu that includes more breakfast and light lunch items. Another factor is the weak economy that helps Starbucks attract customers from more expensive places.
That's certainly a sign that the company has approached its demographic limits.
Starbucks' weak European sales, on the other hand, may be an indication that the company has been approaching its geographic limits - Europe is where the Starbucks concept originated.
The bottom line: McDonald's and Starbucks' is ebbing, as they reach the limits of their scale and scope. That's why I will avoid both stocks, and look for growth in companies that have plenty of room to grow like Panera Bread and Dunkin Brands. Investors should be reminded, however, that with high growth comes high risk. Hype should never be a substitute for due diligence.
Disclosure: I am long DNKN, PNRA. I wrote this article myself, and it expresses my own opinions. I am not receiving compensation for it (other than from Seeking Alpha). I have no business relationship with any company whose stock is mentioned in this article.