Politics and the financial markets have always been intertwined. After all in a market with sophisticated players, reams of data, and huge incentives to arbitrage inefficiencies, one of the few unknowns left are the whims of voters and the impact of the policies implemented by those put in power. Therefore, it is natural for politics to be a focus for the financial markets.
However since 2008 this relationship has intensified. Recently, the market's focus was on the fiscal cliff, followed by the debt ceiling and now eyes are slowly shifting towards the looming sequester due to take effect March 1. Although a fiscal cliff agreement was reached at the last second, the market remained in a healthy uptrend with the SPDR S&P 500 ETF Trust (NYSEARCA:SPY) targeting all time highs and the iShares Russell 2000 (NYSEARCA:IWM) already at all time highs. Clearly, the market was anticipating a successful resolution and it was correct.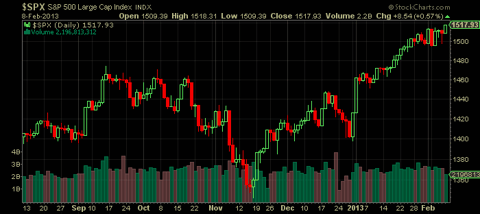 Now the next political obstacle for the market's sustained rise lies ahead in the form of the sequester. It is worth mentioning that up till this point, the market does not seem very concerned about the sequester. Although, there certainly will be negative effects to the economy in the short term if the sequester happens. In this article, I want to give my reasons for why an agreement will be reached on the sequester.
Many market observers are calling for a correction to the market due to the effects of the sequester. If one were to rely solely on the comments made by politicians, then there is no question that no agreement will be reached on the sequester. Both Democrats and Republicans seem locked into their stances and unwilling to compromise. Additionally, they seem eager to blame the other sides' intransigence as the only obstacle to an agreement. However, I believe these are just negotiating tactics, and I do not put much weight into these statements.
Some of the effects of the sequestration include harsh cuts to the Defense budget that would curtail overseas military activities. For example, the Pentagon recently canceled deployment of a carrier to the Persian Gulf. Implementation of the sequester would entail reduction in staffing or furloughs for up to 800,000 employees. Overall, economists estimate that the spending cuts in the sequester would reduce output by 0.7%.
The Democrats in Congress have struck a populous tone and made the case that they in exchange for closing tax loopholes on areas such as private jets, carried interest, and oil companies, they will make a deal to avert spending cuts. Although traditionally, the Republicans are more associated with national defense, recently campaign contributions to Democratic politicians has been on the rise.
Another motivation for Democrats is that the sequester will hit federal departments across the board with reductions in staffing to account for the spending cuts. Many of these are pet issues such as spending for Head Start and regulatory agencies who would be compromised in doing their work. Therefore, I think there are good reasons for Democrats to come up with some sort of agreement.
The conventional wisdom states that the Republicans are in an advantageous position since an inability to reach agreement would automatically force spending cuts. My theory is that the Republicans are much more fond of "spending cuts" as a political issue to win votes as opposed to "spending cuts" as policy. I think recent history confirms this view. No doubt, in terms of rhetoric the Republicans excel in discussing the need for spending cuts, however in reality they have done little more than kick the can down the road and are equal perpetrators in the nation's fiscal issues.
Another factor pointing to Republican capitulation on this issue is that the sequester would hurt the military. Military spending is as sacrilegious on the Right as entitlement spending is on the Left. Part of this is due to the importance of national security as a matter of policy and politics to Republicans. Already, Republicans who represent districts with military bases have made conciliatory statements.
Chart of defense spending: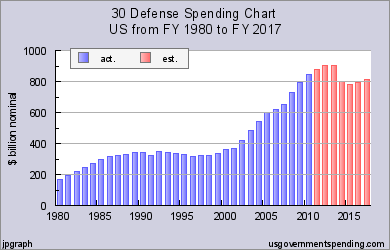 Another less noble reason is the constant stream of lobbyists tied to defense contractors and Congressional staffers and politicians on both sides of the aisle. These companies rely on government contracts, so it is expected that they will lobby Congress and hire ex staffers and politicians to represent their views and monetize their relationships. I'm sure that they are furiously working to ensure an agreement is in place regarding the sequester or to minimize the damage.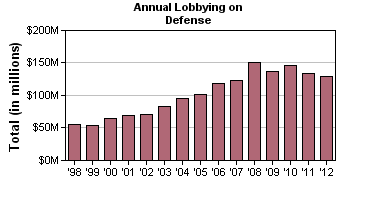 The final factor is that I think if an agreement is not reached, Obama will use the bully pulpit to blame Republicans for the lack of agreement. Already, Obama's first opportunity will be tonight in his State of the Union address. Obama's tone and discussion of his proprosals to avoid the sequester will determine the nature of the negotiations.
Initial reports suggest Obama will express his willingness to compromise, including on Medicare spending if Republicans are willing to give on taxes. He will surely seek to play some sort of class politics, singling out the Republicans insistence on no new taxes, even if it means not closing loopholes for well polled deductions such as carried interest, private jet ownership, and agribusiness.
I think Republicans fear this outcome as the President is more popular than Congress by leaps and bounds. Although, I'm sure Congress will make its case, they cannot compete with the power of the presidency and its impact on public opinion. Already, Congressional approval ratings are at record lows. I'm sure many Republican incumbents are not looking forward to elections with ads running against them blaming them for cuts to national defense because they were unwilling to close tax loopholes for hedge fund managers and oil companies.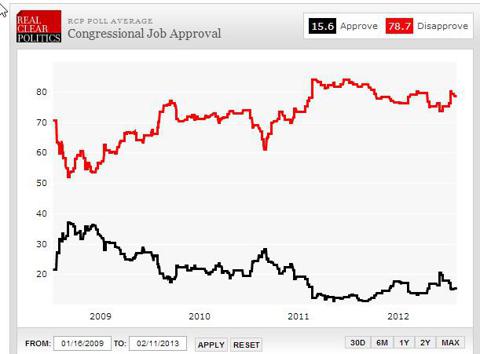 Opposing Viewpoint
I think there is a case to be made that the sequester will go through. The Republicans made many concessions in regards to the fiscal cliff and received some negative blowback from their base with threats of primary challenges. Fighting against tax increases - even if it means cutting military spending - is one way to reassure the base that they represent conservative values.
Already, there is an effort by Republicans to blame the sequester as Obama's idea, which it was as detailed in Bob Woodward's book. The Republicans have already proposed their plan which involves cutting government spending over 10 years in exchange for the sequester not going through. Even if this were to miraculously pass through Congress, it has no chance of being signed into law by the President.
However, this plan does allow the Republicans to credibly claim that they made a good faith effort to stave off the sequester while assigning blame to the Democrats. The Democrats have also proposed their own plan of cutting tax loopholes and raising taxes and applying the new revenue towards delaying implementation of the sequester.
Of course, this is anathema to Republicans who have made clear that they are unwilling to compromise on tax increases. Superficially, the stalemate looks treacherous with both sides insisting on what the other side abhors. However, I remain of the opinion that these statements are more about politics and strengthening negotiating positions. In the end, I think our government will continue to do what most governments do - avoid short term pain by capitulating on the sequester.
Disclosure: I have no positions in any stocks mentioned, and no plans to initiate any positions within the next 72 hours. I wrote this article myself, and it expresses my own opinions. I am not receiving compensation for it (other than from Seeking Alpha). I have no business relationship with any company whose stock is mentioned in this article.