If the rotation from fixed-income investments to equity investments is underway, you wouldn't know it by looking at the Allianz/PIMCO family of high yielding closed-end funds (CEFs).
That's because when you go down their list of CEFs, virtually all of their fixed-income funds, from municipal to government to corporate bond funds, still trade at premium market prices over their Net Asset Values (NAVs), some up to 50% premiums while their equity based funds lag at discounts of up to -11%. The bottom line is that the relative valuation differences between the Allianz/PIMCO fixed-income funds and their equity funds is the widest of any fund family.
Now certainly, PIMCO is more known for its fixed-income research and its funds also tend to offer some of the highest yields in all of the fixed-income classes. That combination has helped sustain most of the Allianz/PIMCO fixed-income CEFs at the high end of the valuation spectrum while several of their equity CEFs suffer at the other end. The following table shows all of the Allianz/PIMCO family of CEFs, from their equity funds all the way to their municipal funds as of February 10, 2013. The only fund that is not shown is the PIMCO Dynamic Credit Income fund (NYSE:PCI) which I did not include because it just came public last month.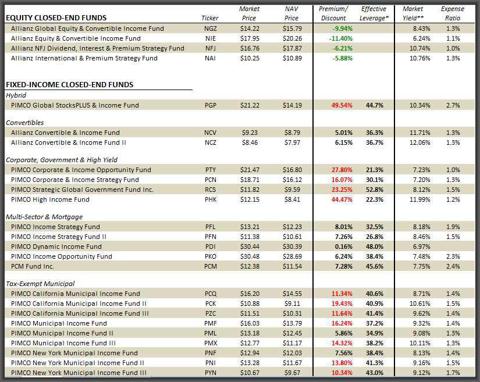 As you can see, all of the Allianz/PIMCO fixed-income funds are at premium valuations currently and those that are over a 10% premium, which I have highlighted in red. And then at the top of the table, all of the equity funds are currently at discounts, highlighted in green, though this doesn't necessarily mean I would invest in all of these funds.
The other major difference between the fund classes is that all of the fixed-income funds use leverage whereas all of the equity funds use an option-income strategy. Leverage is a very aggressive strategy that will add volatility to a fund's NAV, even a fixed-income fund, whereas an option-income strategy will do just the opposite and will lower NAV volatility depending on the notional value of the options sold. So even though one would think that bond funds would be less risky than equity funds, in the case of the Allianz/PIMCO CEFs, it's really just the opposite.
One has only to look at the most aggressive Allianz/PIMCO fixed-income funds to see how far they have come over the past several years. Here are the total return market price performances of the PIMCO Global StocksPlus & Income fund (NYSE:PGP) shown in blue, the PIMCO High Income fund (NYSE:PHK) shown in orange and the PIMCO Corporate & Income Opportunity fund (NYSE:PTY) shown in red from roughly the market lows at the end of the 1st quarter 2009. Total return means all distributions are reinvested along the way.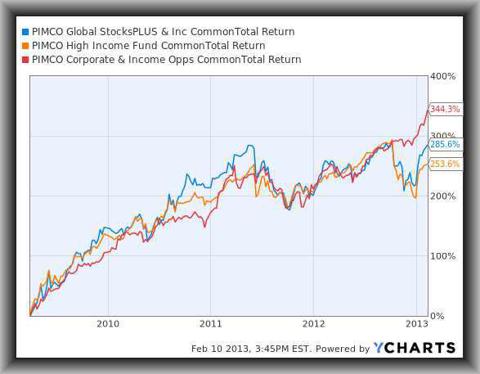 Pretty impressive for bond based funds. But when you combine leverage with fixed-income securities that have skyrocketed in value as interest rates have gone to virtually zero and then throw in PIMCO's reputation and prowess as a fixed income manager, I suppose these performances should not be a surprise.
Of course, all of this is hindsight and more important for today's investor is where do we go from here? Good question...but I don't think you have to necessarily know the answer to know that valuations have become stretched for fixed-income securities and no where does that show up more than in the Allianz/PIMCO CEFs. I'm concerned that a lot of investors in the PIMCO fixed-income CEFs have become too complacent and are unaware of the dangers leverage can pose as these funds continue to straddle the high end of their valuation range. A couple of funds, like PGP and PHK, have reduced their discounts from nosebleed 75%+ levels since last summer but the discrepancy of valuations between the Allianz/PIMCO fixed-income CEFs and their equity based cousins is still off the charts.
For example, let's compare one of the bond based Allianz/PIMCO funds with one of their equity funds, the Allianz/PIMCO Equity & Convertible fund (NIE). NIE is a mostly large cap US stock fund that includes about 27% of its portfolio in convertible securities. NIE is one of the equity based funds from the table above that uses an option-income strategy which, combined with its convertible securities, generates income to pay for its quarterly distribution of $0.28/share resulting in a very conservative 5.5% NAV yield and a 6.24% market yield as of February 10th, 2013.
NIE vs. PGP
Here are the vital statistics of NIE with PGP, one of the more popular fixed-income CEFs from Allianz/PIMCO. Note: Though investors may think PGP is a stock fund, it is really a heavily leveraged diversified bond fund that also purchases large positions of S&P 500 mini futures.
| | | |
| --- | --- | --- |
| | NIE | PGP |
| Market Price: | $17.95 | $21.22 |
| NAV Price: | $20.26 | $14.19 |
| Discount/Premium: | -11.4% | +49.5% |
| Market Yield: | 6.2% | 10.4% |
| NAV Yield: | 5.5% | 15.5% |
| Inception NAV: | $23.83 | $23.83 |
| Inception Date: | 2/22/2007 | 5/31/2005 |
Though PGP is a much higher risk/reward fund than NIE and has a significantly higher yield, there are some pretty big offsets. The first thing that jumps out at you is how much higher NIE's NAV is compared to PGP's and yet NIE trades significantly lower. Does anybody else find this just stunning that PGP's NAV is currently 43% lower than NIE's and yet can trade at a market price over $3 higher? Talk about a valuation difference!
Then consider that both funds started with $23.83 NAVs on their inception dates as well as the fact that NIE started much closer to the bear market which began later in 2007 and thus had more to lose. As most investors know, the NAV is a fund's rough liquidation value whereas a fund's market price is the perceived value of the fund by investors.
Well, obviously investors perceive a lot more value in PGP than NIE even at this stage of a fixed-income and stock market run. But I'm not so sure I would agree. Though PGP obviously has a lot more NAV and market price upside in a strong equity and bond market, NIE is no slouch. Even with a defensive option-income strategy, NIE's NAV is up a solid 18.1% and its market price is up 22.2% since January 1, 2012.
But to Allianz/PIMCO investors, that may seem to be a very boring appreciation performance as well as a rather ho-hum 6.2% market yield, even though I have identified NIE as a fund that may be in a position to raise its distribution when declared around the week of March 11th. That is why I think NIE is now the most compelling buy here of any of the Allianz/PIMCO CEFs, particularly considering NIE's wide -11.4% discount and defensive income strategy. Even if the markets continue their upward trajectory, that just increases the probability of NIE raising its distribution, and if the markets turn flat to down, NIE's NAV will hold up much better.
Maybe the Allianz/PIMCO investors have just gotten spoiled with their uber high yields and uber high returns in their bond funds and are now convinced these funds are less risky than their equity funds. When bond funds can offer 10% to 12% market yields and show 250% to 350% total returns over the last four years, then the perception that the Allianz/PIMCO fixed-income CEFs can do no wrong is at a point where it could be looked upon as a contrarian indicator.
Conclusion
Valuations between funds and fund classes have a way of balancing out over time depending on their NAV performances and the key is to get ahead of the curve before the market shifts. Last July, I wrote a 2-part series reviewing the Allianz/PIMCO equity CEFs and offered my recommendations on which funds, including PGP and NIE, were the most attractive. You can read that article here, Allianz/PIMCO's Best, which will also allow you to link to the Part I article.
At the end of the article (Part II), I made the following assessments of the Allianz/PIMCO equity funds based primarily on their relative valuations and partly on other criteria. Note: Though I classify PGP as a hybrid bond fund first, Allianz/PIMCO includes PGP in their equity fund category.
PIMCO Global StocksPlus PGP - Poor risk/reward (blue)
Allianz Intl & Prem Strategy (NYSE:NAI) - Poor risk/reward (orange)
Allianz NFJ Div Interest (NYSE:NFJ) - Average risk/reward (red)
Allianz Equity & Convertible NIE - Good risk/reward (green)
Allianz Glbl Eqty & Conv (NYSE:NGZ) - Excellent risk/reward (purple)
And this is how the five Allianz/PIMCO equity funds total return market prices performed since I wrote those articles from July 9th, 2012.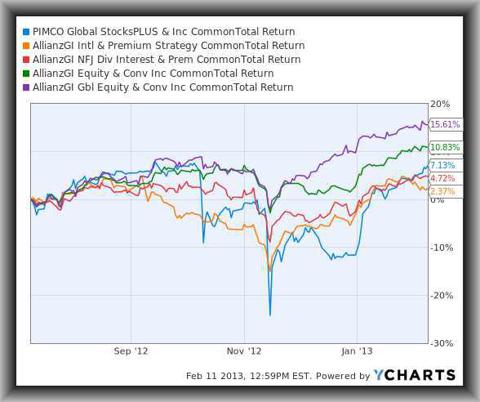 Though I made no predictions as to how the equity or bond markets would perform at the time, the relative valuations of these funds made it fairly predictable which funds offered the best risk/reward. As it turned out, both the equity and bond markets continued to perform well and no great rotation has yet to emerge.
But if one can predict the performances of a small group of equity funds over a relatively short seven months based almost entirely on relative valuations, then investors in the Allianz/PIMCO CEFs should take notice because if there is a rotation out of fixed-income securities, the valuations of their fixed-income funds have a lot more room to fall than their equity funds in my opinion.
*Information regarding Effective Leverage percentages are from CEFConnect.com.
**Market yields for the tax-free municipal bond funds are also from CEFConnect.com and show tax-equivalent yields assuming a 35% Federal tax rate.
Disclosure: I am long NIE, NGZ. I wrote this article myself, and it expresses my own opinions. I am not receiving compensation for it (other than from Seeking Alpha). I have no business relationship with any company whose stock is mentioned in this article.