For many years Nordic American Tankers (NYSE:NAT) has been a favorite shipping stock, particularly among dividend-yield chasing investors, by offering outsized cash distributions to its shareholders regardless of freight market conditions.
But since current management took over operational control of the company in October 2004, its stock price has steadily drifted lower and lower, generating huge capital losses that have trampled in size the supposedly generous cash payouts.
In this article I will analyze how the company has managed to maintain a high-dividend payout strategy (while pursuing an aggressive fleet expansion at the same time) and why such strategy is unsustainable. In short, I will showcase why investing in NAT is a prime example of a sucker bet.
For the past eight years, NAT has paid a quarterly variable dividend ranging from $0.10 per share to $1.88 per share. The cumulative dividend paid during the period amounts to an impressive $25.32 per share.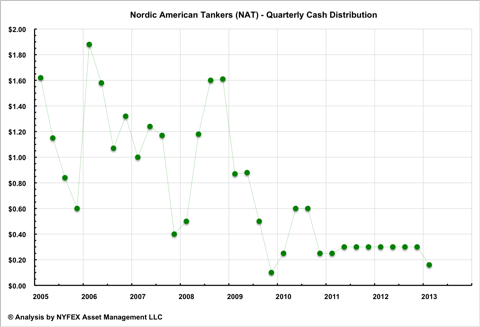 The only problem is that the closing price on December 31st, 2004 was $39.05 per share, and yesterday's closing price was $8.82 per share, or a capital loss of $30.23 per share.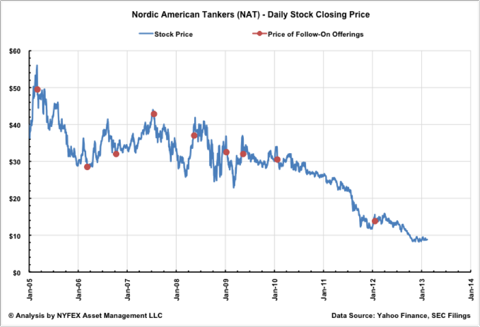 A detailed analysis of the company's sources and uses of cash since 2005 reveals some startling results as shown in the table below.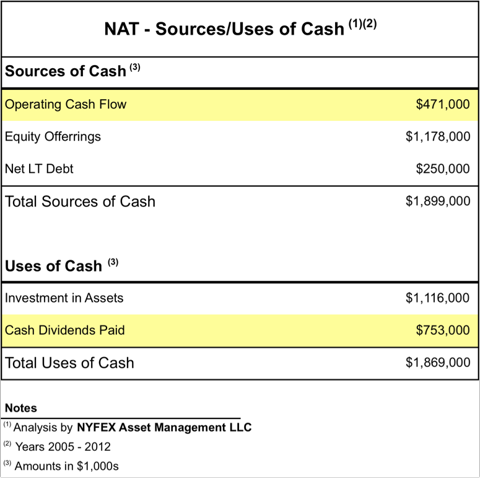 During the past eight years, NAT has raised a total of approximately $1.9 billion, consisting of $471 million in cash from operations, $1,178 million from stock offerings, and $250 million in net debt proceeds.
Over the same period, the company has invested $1,116 million for the acquisition of 16 vessels and it has distributed $753 million to shareholders.
The cash distributed to shareholders during the eight-year period, was $281 million in excess of cash generated from operations.
It is evident that NAT has relied on raising generous amounts of cash from secondary stock offerings and long-term debt, not just to invest in vessel acquisitions, but also to sustain its aggressive dividend policy. What the company bills to shareholders as cash dividend is to a large degree a return of capital.
In fact, NAT has distributed to shareholders cash dividends well in excess of its operating cash flow for every single year during the past eight years, as shown in the graph below.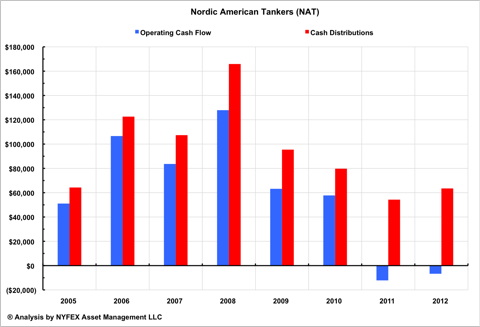 Value-oriented investors might also want to look at the company's dividend payout ratio to determine its long-term sustainability. I do not like using the dividend payout ratio in my analysis, because of the inherent limitations of accrual accounting in capital-intensive industries like the shipping industry. But for what it's worth, the company's dividend payout ratio is summarized in the table below.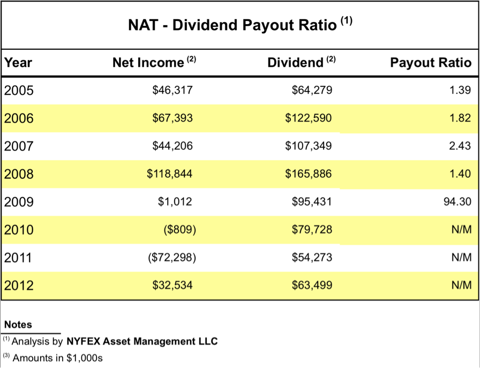 Even the staid Internal Revenue Service seems to agree that the company's cash distributions for the past three years do not qualify as a dividend for federal income tax purposes.
But if the company's dividend policy is not sustainable in the long run, how long can NAT get away with it, hoping for a dramatic reversal in freight market conditions?
NAT ended year 2012 with $55.5 million cash on hand. Based on the company's current float of approximately 54.8 million shares, and its last declared quarterly cash distribution of $0.16 per share, NAT would need approximately $22 million to maintain the same distribution for the remainder of year 2013.
That leaves the company with a cushion of a little over $30 million to cover any operating cash flow shortages and implement its recently announced vessel acquisition strategy. The company also has in place a $430 million credit facility that matures in November 2017. The company has so far drawn $230 million from its credit facility that it would eventually need to repay or refinance, but no principal repayments are scheduled prior to the facility's maturity.
Given that NAT has generated negative operating cash flow for two years in a row, and also given that the current spot market for suezmax vessels is below its operating cash break-even rate of approximately $12,000 per day, I expect NAT to continue burning through cash for the foreseeable future. To finance the acquisition of new tonnage, NAT would have to either draw from its existing credit facility or raise fresh equity in the capital markets.
NAT has been quite successful raising cash in the equity markets in the past. Unfortunately, given its current stock market valuation, a secondary offering would greatly dilute the existing shareholders, and put more into question its increasingly vulnerable dividend policy.
Given its long-term unsustainable dividend policy, and the strong likelihood that a secondary offering would add significant pressure on its stock valuation, I consider NAT a prime example of a sucker bet.
Disclosure: I am short NAT. I wrote this article myself, and it expresses my own opinions. I am not receiving compensation for it (other than from Seeking Alpha). I have no business relationship with any company whose stock is mentioned in this article.