Vantage Drilling (NYSEMKT:VTG) is a young offshore drilling company headquartered in Houston, TX but with much of its operations based out of Singapore. The company has a fleet of seven modern offshore drilling rigs that are evenly split between shallow-water high-specification jack-ups and ultra-deepwater drillships. That positions the company quite well in the industry, although its relatively high debt level could be a concern.
As previously mentioned, Vantage has a rig fleet consisting of four high-specification jack-ups and three ultra-deepwater drillships. The company also acts as the rig manager (but not owner) of an additional two ultra-deepwater drillships and two jack-ups.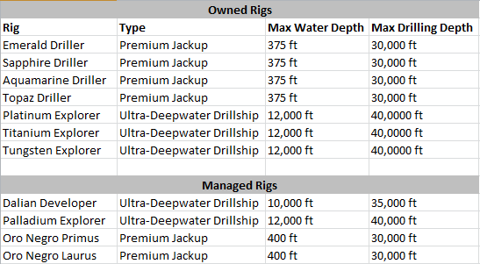 Source: International Hedges
As should be immediately obvious, Vantage Drilling has a very modern and high-quality fleet which is ideal in the current market. Vantage Drilling, like most offshore drilling contractors, makes its money by leasing offshore drilling rigs to operators (typically a major oil and gas company) for a set price called a dayrate. The dayrate is the revenue for the rig. Operating costs are then deducted from this and the remainder is the cash flow from the rig. This is important because operators have been showing a marked preference for modern rigs. I discussed the reasons for this in an earlier article and so I will not repeat myself here. Primarily, operators desire the safety and performance advantages that modern drilling rigs have compared to older ones. In fact, operators have such a preference for these new rigs that they are willing to pay significantly higher dayrates for these rigs compared to older rigs. As the operating costs of newer rigs are not much higher than that of older rigs (excluding depreciation), contractors typically earn higher margins on these rigs due to this premium. Thus, Vantage Drilling's modern fleet is a competitive advantage for the company.
Vantage Drilling has also enjoyed success at getting its rigs under contract, in many cases even before construction on the rigs has finished. Here is Vantage's fleet plus the current dayrates for each of these rigs.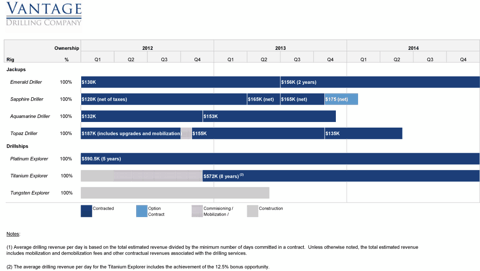 Source: Vantage Drilling
Please note the absence of both the Palladium Explorer and the Dalian Developer from this list. Vantage Drilling does not own either of these rigs; Vantage simply manages each on behalf of their respective owners (who Vantage does own equity stakes in). Naturally, Vantage collects a fee for managing these rigs. As you can see, all but one of these rigs was under contract as of the last fleet status report. However, this rig, the Tungsten Explorer, was put under contract on January 22. The dayrate for this contract is most likely in the low-$600s which would give it the highest dayrate of any rig in Vantage's fleet.
Vantage Drilling has shown its ability to achieve respectable dayrates for its rigs. A glance at the fleet status report shows that Vantage's dayrates are on par with similar contracts awarded to its competitors. Offshore drilling industry watchers will likely note that the dayrates that Vantage is currently earning are not as high as recent contract awards and that would be correct. However, it is important to keep in mind the date at which these contracts were awarded to Vantage. Market dayrates for offshore drilling rigs, particularly ultra-deepwater offshore drilling rigs, have been climbing steadily for some time now. Therefore, the market dayrates were lower at the time that these contracts were signed than the market dayrates today. That is why Vantage's dayrates look lower than recent awards. All of the dayrates being earned by the rigs in Vantage's fleet were quite solid at the time that the company entered into these rig contracts. This illustrates that Vantage Drilling is doing an excellent job of negotiating the highest dayrates possible from its customers which maximizes revenues and, ultimately, profits and cash flows.
Vantage Drilling also enjoys significant worldwide diversification.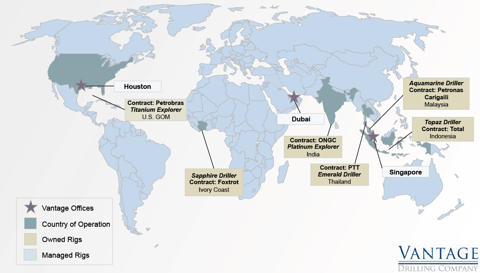 Source: Vantage Drilling
This worldwide diversification ensures that Vantage Drilling is not overly exposed to any one nation or national government. We have seen numerous times over the past few years how important this can be. Here are just a few examples:
The actions of the United States government towards Transocean (NYSE:RIG) in particular and the entire offshore drilling industry in general following the Macondo disaster in 2010.
The actions of the Brazilian Court System towards Chevron (NYSE:CVX) and Transocean following a very small spill at the Frade field that even Brazil's own oil industry regulator said caused "no ecological damage."
The 2012 nationalization of YPF (NYSE:YPF) by the Argentine government.
There are many more examples but I believe the point has been made. The oil and gas industry is a favorite target for politicians in many countries and so it is important to not have all your eggs in one basket so to speak. Vantage Drilling's worldwide operations thus provide the company with some protection against the actions of any one government.
Vantage Drilling has delivered very strong revenue and EBITDA growth over the past few years. However, the company's numbers have somewhat leveled off in recent quarters.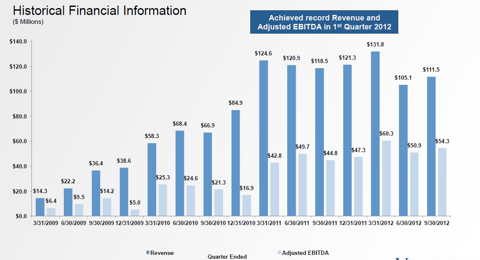 Source: Vantage Drilling
There are two primary ways by which an offshore drilling company delivers growth. One way is by adding new rigs to its fleet and the other way is by re-contracting out existing rigs at higher dayrates. As the only rig that Vantage Drilling has under construction is the Tungsten Explorer, it will be difficult for Vantage to deliver growth through the addition of new rigs in the near-term. The Tungsten Explorer was awarded a contract last week, as I discussed in a previous article linked above. This contract begins in mid-2014 and so Vantage Drilling should see its revenues increase by approximately $641,000 per day beginning at that time. However, please note that the rig actually leaves the shipyard in the second quarter of 2013. Therefore, there is nearly a year between the time that the rig becomes available and the start of its contract. That is time when the rig will not be earning any revenue. Vantage has stated that it is in talks to secure employment for the rig during the interim year. If the company is successful, as it has a good chance to be, then the company could see growth in revenue and EBITDA as early as the second half of this year.
Other than this, Vantage Drilling has little opportunity to grow in the near-term through the addition of more rigs to its fleet. The construction time for a new ultra-deepwater rig is a minimum of two years with 2.5 years being more common. So that would be the minimum amount of time needed for Vantage Drilling to grow revenues in that way. Alternatively, the company could purchase a rig that is already under construction or already built and this would certainly allow it to grow without the need to construct a rig from scratch. Vantage Drilling could also opt to construct a shallow-water jackup rig instead of an ultra-deepwater unit but that has a similar construction time and so Vantage Drilling would still have to wait two years or more to be able to grow earnings in this way.
The majority of Vantage Drilling's contracts are long-term. While that is great for both stability and visibility, it does limit Vantage Drilling's ability to grow revenues in the near-term. However, there are some opportunities here. Beginning in the second quarter of 2013, the Sapphire Driller will see its dayrate increase by $45,000 per day. This rig may, if the customer exercises its option, see its revenues increase by another $10,000 per day beginning in the fourth quarter of this year. Additionally, the Emerald Driller will see its dayrate increase by $26,000 per day beginning in the third quarter of this year. The growth in revenue that these rigs will generate will be partially offset by the Topaz Driller which will see its revenues decline by $20,000 per day beginning in the fourth quarter. While the dayrates for these rigs are increasing, Vantage's costs of operations for each rig (OpEx) remain relatively stable. As a result, the dayrate increases should directly migrate downwards to EBITDA. Therefore, we should see EBITDA gains that are very close to the revenue gains from the dayrate increases. The overall results here are strongly positive and should result in growing revenue and EBITDA.
Vantage Drilling has an interesting opportunity with the Aquamarine Driller. The rig's current contract ends in the fourth quarter of this year. Vantage Drilling can thus re-contract out the rig at that time, possibly at a higher dayrate. If Vantage manages to secure a higher dayrate for the rig, then that would naturally grow revenues and, probably, EBITDA. The rig currently has a dayrate of $153,000. That is fairly close to today's market dayrate, however, it is certainly possible that the market dayrate will be higher by the time Vantage secures a new contract for the rig and that would translate into higher revenues for Vantage. If Vantage does not secure a contract for the rig then it will see its revenues drop by $153,000 per day but, given the current strength in the offshore rig market, that does not seem particularly likely. According to a presentation given by Vantage Drilling's peer Seadrill (NYSE:SDRL) at the Pareto Oil & Offshore Conference in September 2012, the approximate daily cost to the contractor to operate a jack-up rig is $60,000 per day. Therefore, Vantage's cash flow from the rig would be equal to the dayrate less $60,000 per day. Obviously, the actual amount that this rig's new contract would add to EBITDA would also depend on its dayrate. At the end of December, Atwood Oceanics (NYSE:ATW) secured a jackup contract at a dayrate of $155,000. If we assume that Vantage secures a similar dayrate for the Aquamarine Driller, then the impact to EBITDA would be minimal compared to current levels. Dayrates for jackups have been more or less stable in the $150-$160k range over the past several months. If we assume that Vantage re-contracts out the rig for a dayrate in this range, as is likely, then the rig will have a minimal impact on EBITDA. A dayrate of $160,000 would give the company approximately $7,000 per day extra or $2.3 million per year in EBITDA at a 90% revenue efficiency. However, there is certainly the potential for market dayrates to increase between now and the latter half of the year when this rig is re-contracted and so the opportunity for greater EBITDA is present here.
Vantage Drilling will likely see its first quarter 2013 results come in substantially higher than its fourth quarter 2012 results. The biggest reason for this is the Titanium Explorer. The Titanium Explorer is a new rig that started work on its first contract in the latter half of the fourth quarter of 2012. The first quarter of 2013 will be the first quarter in which the rig generates revenues for the entire quarter. At its current dayrate, the rig will generate approximately $202 million per year at 97% revenue efficiency. The Aquamarine Driller will also contribute to this higher revenue as its dayrate increased by $20,000 per day during the fourth quarter and so the first quarter of 2013 will be the first quarter during which the rig will be earning this higher dayrate for the full quarter. The revenue increase from this higher dayrate works out to approximately $7 million per year but, as previously mentioned, the rig's contract ends during the fourth quarter.
Vantage Drilling is a relatively small company compared to many of the larger players in the industry. At the time of writing, the company had a market cap of $529 million. Vantage Drilling had $2,129.6 million in long-term debt and no short-term debt as of September 30, 2012. This gives the company an enterprise value of $2.596 billion. However, a refinancing that occurred since that date has increased the company's debt to approximately $2.7 billion. This refinancing also increased the company's cash and cash equivalents to approximately $500 million, compared to the $62.5 million as listed on the company's balance sheet. Vantage Drilling had $693.2 million in shareholders' equity on its latest balance sheet which gives the company a relatively high debt-to-equity ratio of 3.07. If the $2.7 billion debt level following the refinancing is used, then the company has a debt-to-equity ratio of approximately 3.89. Regardless of which figure is used, this is clearly a heavily indebted company.
This debt poses one of the greatest risks to Vantage Drilling. As previously mentioned, Vantage has a debt-to-equity ratio of approximately 3.07 according to the company's balance sheet or 3.89 following the company's recent refinancing. Fortunately for Vantage, none of this debt matures until 2015 by which time all of the rigs in the company's fleet will be operating and so its cash flow will (presumably) be higher than it is today and so Vantage should be more easily able to carry this debt. Vantage had interest expenses of $31.6 million in the most recent quarter due to the need to service this debt. The company was able to cover this with its $52.9 million of EBITDA during the same quarter but there is not much buffer here. Vantage Drilling's EBITDA is likely to jump beginning in the first quarter of 2013 for reasons that have already been discussed in this article and so, hopefully, that will make the company's interest payments more affordable relative to EBITDA.
Standard & Poor's agrees that Vantage Drilling will likely reduce its leverage ratio going forward due largely to the climbing revenues and cash flows from the company's overall rising dayrates. However, S&P downgraded Vantage's debt outlook due largely to the increased leverage that the company took on following its refinancing. Vantage Drilling is also paying a very high interest rate on its debt - over 11%. Thus, a substantial amount of the company's cash flow is eaten up by these interest payments.
There are a few ways that Vantage can resolve this high debt. The company could:
Sell one or multiple rigs and use the cash from this sale to pay down the debt.
Issue equity and use the proceeds to pay down the debt.
Use the increasing revenue and cash flows from its growth over the next year or two to pay down this debt.
There is no easy solution here. Selling off rigs would reduce the company's ability to generate EBITDA and cash flows. A new equity issue would dilute existing shareholders. Given the amount of new equity that would need to be issued, this could represent a substantial dilution. To my mind, using the presumed increase in EBITDA going forward to pay down the debt is the best option. However, that does mean that shareholders will not see much growth as any increase to net income will go to creditors in order to repay the debt. This would be a relatively slow process due to the sheer volume of debt that needs to be paid off.
As Vantage grows its cash flow, it may be able to either refinance this debt at more favorable interest rates or begin to pay it down. When that happens, the company could begin to show its true potential as it does have a very experienced management team and a top notch fleet. For now though, I am staying away until I get more indication of how the company will resolve its debt problems.
Disclosure: I am long SDRL. I wrote this article myself, and it expresses my own opinions. I am not receiving compensation for it (other than from Seeking Alpha). I have no business relationship with any company whose stock is mentioned in this article.