In Part 1 of this 2-part article, I explained why I felt the time had come to remove four Master Limited Partnerships [MLPs] from my IRA. To recap, those MLPs and the yields they were producing at the time I sold them last week were:
Alliance Resource Partners, L.P. (NASDAQ:ARLP) - 7.01%
BreitBurn Energy Partners, L.P. (BBEP) - 8.78%
Linn Energy, LLC (LINE) - 7.68%
Vanguard Natural Resources (NYSE:VNR) - 8.73%
The average yield of these four positions ended up being 8.02%, the loss of which would have a significant impact to my IRA's overall average yield if I couldn't find stocks to replace them with sufficient yields themselves.
After selling these four off, I was left with a healthy chunk of cash with which to work. I knew I wanted to replace these MLPs so that I could maintain the 28 positions in my IRA, but I also have been trying to bring as many of my existing positions up to a level of "parity", whereby their percentage allocation of my IRA's total are as close to equal as possible. The target level for parity with 28 positions is a 3.57% allocation of the total value of the IRA in each position.
Armed with those goals, I then put together a set of basic objectives for myself to guide my search for stocks to replace the MLPs (and their yields) in my IRA:
Go back to the "roots" of My Mad Method [MyMM] and try to pick replacement stocks that ranked well in terms of the average of the 17 metrics that I currently use in MyMM.
Try to diversify the positions in my portfolio a bit more by selecting (or adding to) stocks from industries that are under-represented there.
Consult David Van Knapp's eBook "Top 40 Dividend Stocks for 2013" to see if there are any candidates from Dave's list that score well in terms of MyMM and fit my other objectives.
Replace the 4 MLPs with 4 new positions.
Try to bring as many of my other positions up to or above a 3.57% allocation as possible so that they are at or above parity.
Try to get as close as possible to replacing the yield that would be lost by selling the 4 MLPs with the yield of the new positions and the positions brought up to parity.
In order to find the best replacement candidates, as well as the best candidates for being brought up to the 3.57% parity allocation, I weighted the 48 stocks on my combined "superlist" of my updated watchlist and current portfolio so that the following metrics received a 20% weighting, which resulted in a weighting multiplier of 3.4 for each of them (compared to the standard weighting multiplier of 1 for the remaining 14 metrics):
Yield
5 Year Dividend Compound Annual Growth Rate [CAGR]
Percentage of Allocation
This weighting caused stocks that I either don't own, or don't own as much of, and which have higher yields and higher 5 Year Dividend CAGRs to receive a more favorable MyMM Rank, allowing me to focus on where to begin my search. (Remember, the MyMM Rank is like a golf score: The lower, the better.)
The Replacements
After applying the 20% weighting to these three metrics, and following the objectives I had set up for myself that I mentioned above, the best choice for the first replacement stock was clearly Lorillard, Inc. (NYSE:LO), with a weighted MyMM Rank of 3 (which also happened to be its unweighted MyMM Rank, which spoke well of its starting position on the superlist).
I had been considering Reynolds American, Inc. (NYSE:RAI) as my first foray into tobacco stocks, but added LO to my superlist after reading Dave Van Knapp's Top 40 list. Dave's list for 2013 includes LO, but he dropped RAI from it this year, which did influence my decision. Lorillard also had a MyMM Delta Ratio Reading of "Buy!", which indicated that its current price was below the average of its 52 week high and low, another good sign.
And finally, LO is a Dividend Challenger according to David Fish's list of Dividend Champions, Contenders and Challengers (the CCCs), and it had a Chowder Dividend Rule [CDR] number of 22.2%, all of which served to sealed the deal. That brought a 5.22% yielding replacement position into my portfolio. That its price has been moving pretty much sideways for several months didn't hurt, either.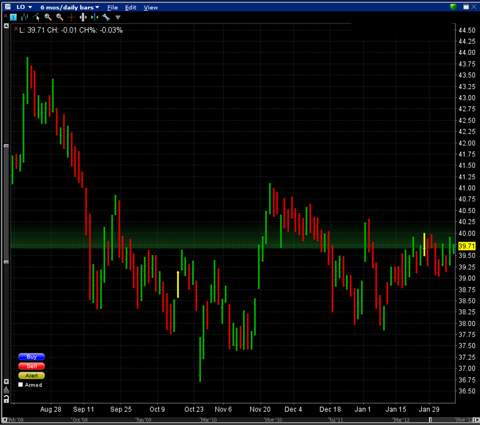 My next selection, and also a Dave Van Knapp 2013 Top 40 pick, was Wisconsin Energy Corporation (NYSE:WEC). I had been working on trying to add more utilities to my portfolio to act as a kind of "replacement" for bonds (as frequent Seeking Alpha commenter chowder puts it) due to their reliable dividends and dividend growth. WEC came in with a MyMM Rank of 17 out of 48 on the superlist, which isn't stellar when considered by itself, but was far better than the other electrical utilities on the superlist that I didn't already hold: American Electric Power Company, Inc. (NYSE:AEP), which had a MyMM Rank of 30, and Southern Company (NYSE:SO) with a MyMM Rank of 38.
(I had previously included Alliant Energy Corporation (NYSE:LNT) on the superlist, but it ended up ranking worse than both AEP and SO, and had also fallen off of Dave's 2013 Top 40 list, so I had removed it from the superlist earlier to make room for other, better potential candidates, including WEC.)
WEC is a Dividend Contender with a CDR number of 22.3% and a healthy 3.47% yield, so I was glad to add it do my portfolio, despite a "Too High" Delta Ratio Reading. After consulting the 6 month chart for WEC, I decided that, while climbing a bit recently, it was still a reasonable time to jump into this utility with a position at full parity.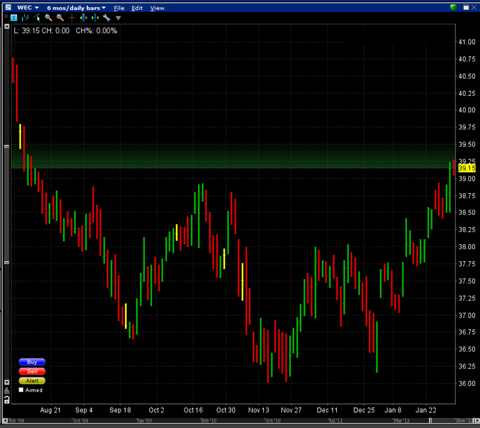 The next stock that caught my attention is a small, regional bank, New York Community Bancorp, Inc. (NYSE:NYCB), which had been recommended to me some time ago by my friend and fellow Seeking Alpha member, NorthHills24. I'm a little leery of the big banks, but I've been tracking several smaller, regional banks for a while now, and NYCB came in with a weighted MyMM Rank of 9 out of 48, which is very respectable.
NYCB is a fairly recent issue, so it doesn't have a 5 Year Dividend Growth CAGR yet, and therefore its CDR is the same as its yield of 7.40%, which by itself isn't too shabby. I'd been watching NYCB since mid-October of last year, and it's currently down about 8.5% from where it was then, with a P/E of just 11.76. Its recent chart looked reasonably stable, so I decided to take a chance with this one at what appeared to be a discount. So it is that NYCB is now the first financial stock in my IRA, with a full parity allocation.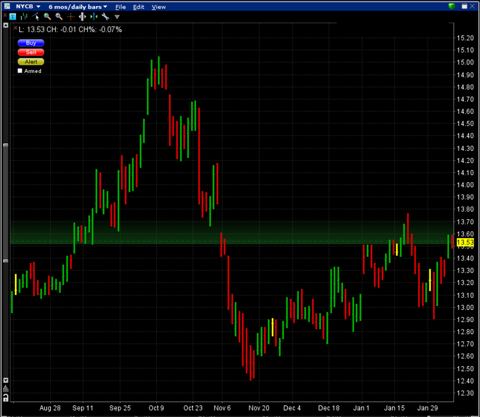 At this point, I had more than a little ways to go to make up the difference between the yield I lost by selling the MLPs and the three stocks that I'd selected to replace them with so far. So, I decided to go for the "long ball" and looked for something with a really high yield that I could feel comfortable adding to my portfolio. With a weighted MyMM Rank of 5 and a whopping 17.63% yield, mREIT Two Harbors Investment Corporation (NYSE:TWO) fit the bill nicely.
Looking at its 6 month chart, now may not have been the optimal time to pick up a full parity position of TWO, but I've never been too patient, and too often things that I've waited for have just kept going up (looking at you, AFL!).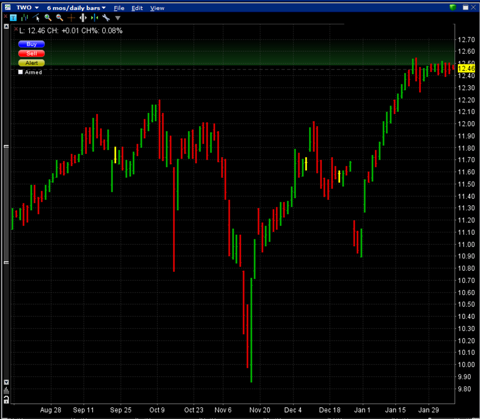 Catching Up To Parity
That did it for the replacement stocks, so it was time to gather up what cash was left over, plus the dividends I'd accumulated since mid-January, plus the $1,500 contribution to my IRA that I was able to afford after receiving my annual bonus, and see what I could do to bring as many of my existing positions up to parity.
One thing that was easy to do and that completed a mission I've been on for several months was to add 17.2% more shares to my existing position in business development corporation [BDC] Prospect Capital Corporation (NASDAQ:PSEC), which finally popped it over the parity line. I'd been slowly adding to PSEC for several months, and now had it at the right percent allocation of my IRA's total.
Another small, easy decision was to add 15% more shares to my existing position in The Coca-Cola Company (NYSE:KO) to nudge it up to parity. KO had been holding fairly steady for a while, and I was able to add these additional shares at a price below my cost basis, so now this Dividend Champion is where it should be in my portfolio in terms of parity.
With all the cash I still had, I decided that it was about time that I finally fleshed out Dividend Champion AFLAC, Inc. (NYSE:AFL) from its 2.39% allocation that it had held since I purchased my first and only block of it back in early August. The price of AFL has just kept rising since then, and I've been hoping for a pullback to pick up some more shares of it, but there was always something with a better yield to invest in while waiting for the pullback that never materialized. With a P/E of 8.29, I figured now was as good a time as any to finally pick up the remaining 54.5% that I needed to bring AFL up above the parity mark.
However, as both KO and AFL have yields below 3.00%, I was losing a bit of ground towards my objective of trying to keep my average yield close to where it was before I sold the four MLPs. Looking at the MyMM Rankings and what needed to be pushed up to parity, I crunched some more numbers and determined that I had more than enough cash remaining to add 62.7% more shares to recent addition and BDC Resource Capital Corporation (RSO), and in the process pick up more of its 12.60% yield. RSO had a MyMM Rank of 16 out of 48, so that (and its yield) helped me pick it out from the remaining candidates.
And finally, I went back to my #1 objective that I stated above, and used most of the remaining cash to get back to a full-parity percent allocation of the stock with the MyMM Rank of #1 on the superlist: mREIT Annaly Capital Management (NYSE:NLY).
I had dumped 50% of my position in NLY back in October of last year based on concerns for its ability to maintain its dividend and share value in the face of the Fed competing for agency-backed mortgages, as well as a narrowing of the interest rate spread that fuels NLY and other mREITs' ability to maintain their high yields. However, the spread appears to be widening now, and so along with adding TWO as a replacement position for one of my MLPs, I decided to add a gob-smacking additional 90% more shares of NLY to what I still held, resulting in five stocks that I was able to bring up to or over the 3.57% allocation parity threshold.
Conclusion
The combined average yield of the four MLPs that I sold out of my IRA was 8.02%, which I knew would have an unwelcome impact on my portfolio's overall average yield. Since the primary goal of this portfolio is to produce as much income as possible, with a reasonable degree of risk, it was important to me to replace these MLPs with new positions, as well as to increase the percentage allocation of as many existing positions as possible, so that I could recover as much of this lost yield potential as possible. Thankfully, I was able to do that, and the combined purchases that I've described above produce an average yield of 8.65%, which is 0.63% higher than what I lost by selling the MLPs.
Of course, I've taken on a bit more risk by adding more mREIT and BDC shares to my portfolio in order to keep the overall average yield of my IRA close to 7%. But it's a level of risk I can live with, at least for now as I strive to grow this little IRA into something that will generate enough cash from dividends to pay the bills when the time comes for me to retire.
I haven't forgotten about those MLPs that I felt I had to sell out from my IRA, and there are some other nice ones out there, as well. But, I will just have to wait until I can afford to open a taxable account to add them back into my financial fold. In the meantime, I'm sleeping better at night not having to worry about tax recapture and the possibility of being taxed for more than the MLPs might have earned had I left them in my IRA and sold them at a later date.
Disclosure: I am long AFL, KO, LO, NYCB, PSEC, RSO, TWO, WEC. I wrote this article myself, and it expresses my own opinions. I am not receiving compensation for it (other than from Seeking Alpha). I have no business relationship with any company whose stock is mentioned in this article.
Disclaimer: I am not a professional investment advisor or financial analyst; I'm just a guy who likes to crunch numbers and can make an Excel spreadsheet do pretty much whatever I want it to do, and I'm doing my best to manage my own portfolio. This article is in no way an endorsement of any of the stocks discussed in it, and as always, you need to do your own research and due diligence before you decide to trade any securities or other products.