Relatively little seems to have been written recently about the "first generation" natural gas shales -- the Barnett, Fayetteville and Arkoma Woodford -- the fields that used to make daily industry headlines before the Haynesville, Marcellus, Eagle Ford and then myriad other oil and liquids-rich plays took over as investors' new favorites. The good old gas shales may be forgotten, but they are still very much alive, and in some cases, growing and doing well economically. The Fayetteville in Central Arkansas provides a useful case study and rich food for thought for industry professionals and investors focused on the fundamentals of the North American natural gas supply. Unlike the Barnett and Marcellus, which have vast liquids-rich and super-rich windows, the Fayetteville is predominantly a dry gas play and therefore, provides an unobscured empirical picture of dry gas economics and gas shale life-cycle, from the "land grab" phase to natural gas manufacturing.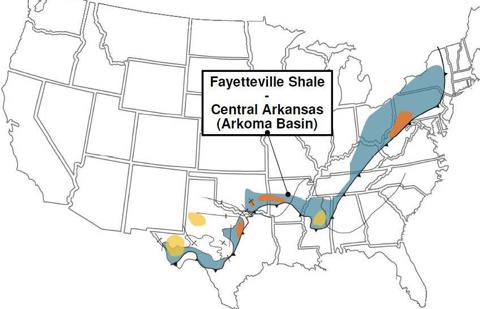 3 Bcf/d Of "Baseload" Natural Gas Supply
The Fayetteville is often viewed as the "junior" shale, trailing far behind the Marcellus, Haynesville and Barnett in terms of production volumes and capacity to make a defining impact on the national supply/demand balance. However, the field is by no means a dwarf. The Fayetteville is "consuming" over $1.5 billion in oilfield products and services and midstream investments on an annualized basis, and produced just under 3 Bcf of natural gas a day in November 2012, the latest data available. Notably, even in the face of the challenging gas price environment in 2011 and 2012, production from the Fayetteville continued to grow at a fast clip, increasing by over 21% since January 2011 (which is twice the rate of the Lower 48 production growth for the same period).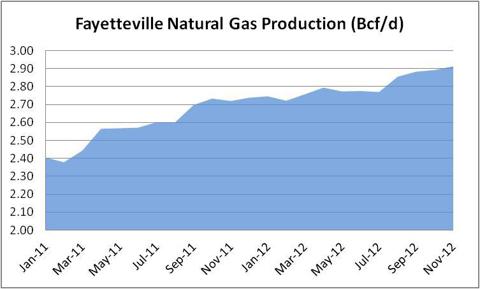 (Source: Zeits Energy Analytics; AOGC data)
Based on our analysis of Fayetteville's cost structure and operators' activity, the field's volumes are likely to hold firm in 2013 assuming a ~$3.50/MMBtu Nymex and may grow moderately if gas prices were to recover to a ~$4.00/MMBtu level.
The Fayetteville Is Economic At $3.50/MMBtu Nymex
Driving the Fayetteville's resilience is the field's very favorable cost position, which may not be fully appreciated. The play "works" in a $3.50/MMBtu Nymex price environment -- at least for a few more years while the "sweet spot" inventory lasts -- and may even hold its ground at prices as low as $3.00/MMBtu. The Fayetteville's most prolific spots seem to be competitive economically with many dry gas areas in the Marcellus. Southwestern Energy (NYSE:SWN) sees a two-year drilling inventory of high-graded locations on its acreage (approximately one thousand additional wells) that are economic at $3.50/MMBtu. The company now projects, based on last week's update from the company's CEO Steve Mueller at an industry conference, that the average drilling location in its 2013 development plan will have 4 Bcf EUR and $2.7 million D&C cost. Based on our analysis, this equates, in rate of return terms, to approximately 8-10 Bcf per well in the Marcellus dry gas areas (depending on assumptions for the royalty rate, gathering cost and price realizations).
Like other dry gas plays, the Fayetteville has seen a dramatic decline in its rig count. According to Baker Hughes (NYSE:BHI), the number of gas-directed rigs active in the play has dropped from 33 rigs in February 2011 to just 13 rigs currently.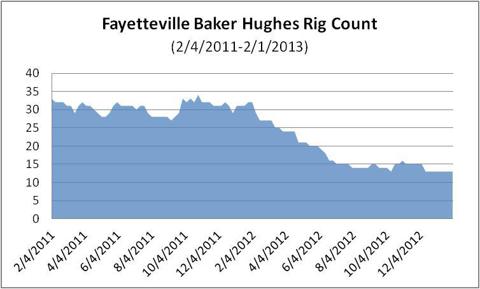 (Source: Zeits Energy Analytics; Baker Hughes Survey data)
The continued production growth, in spite of the sharply lower rig count, is explained by the truly remarkable gains in rig productivity and operating efficiencies as the transition towards the full development mode in many areas is beginning to bear fruit. In 2013, Southwestern projects to drill its average well in just 6.5 days, re-entry to re-entry, compared to 11 days in 2010. The comparison is even more impressive given that the average length of the lateral is expected to increase by over 10%.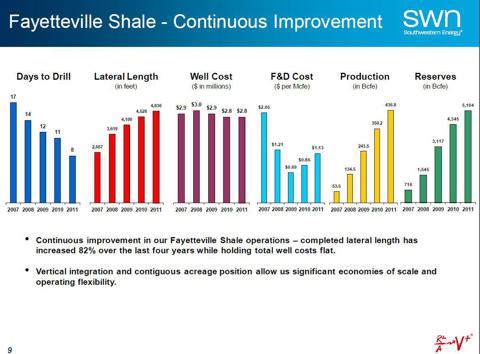 (Source: Southwestern Energy January 2013 Presentation)
Where Are The Play's Sweet Spots?
While the Fayetteville Shale deposition is quite extensive, only select areas have been proven economic. The map from University of Arkansas' study "Revisiting the Economic Impact of the Natural Gas Activity in the Fayetteville Shale: 2008-2012" shown below illustrates that the highest level of gas production in 2011 occurred in Van Buren County, followed by White, Conway, Cleburne and Faulkner counties.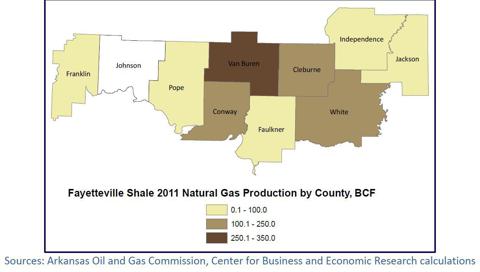 (Source: University of Arkansas Study)
The drilling location map provided in Southwestern Energy's most recent presentation provides well distribution by productivity, which shows the highest concentration of wells with >3 MMcf/d IP rates (red dots) by area. Interestingly, the map also shows a not insignificant number of blue stars that represent wells with IP rates over 6 MMcf/d (which, in our estimate, may roughly correspond to wells with 6+ Bcf EURs).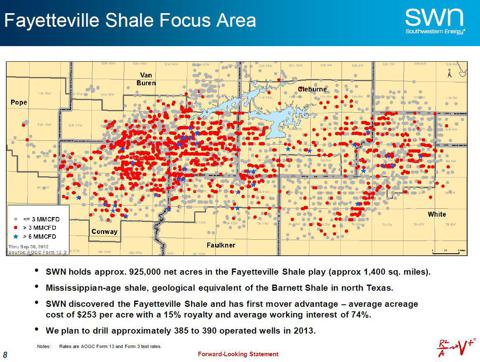 (Source: Southwestern Energy January 2013 Presentation)
Who Is Drilling In The Fayetteville?
Since the play's inception, the Fayetteville has been dominated by a small number of large players. As of November 2012, three operators -- Southwestern, Exxon Mobil (NYSE:XOM) and BHP Billiton (NYSE:BHP) -- accounted for over 99% of gross operated production from the field, according to the State of Arkansas data. The three companies hold close to 2 million net acres under lease in the play (combined gross operated acreage exceeds 2.3 million acres, in our estimate). Southwestern, with 925,000 net acres and just under three thousand operated wells drilled to date, is by far the largest operator among the three companies, and accounts for about two-thirds of the field's total production volume. Exxon and BHP are approximately equal in terms of their acreage and gross operated production.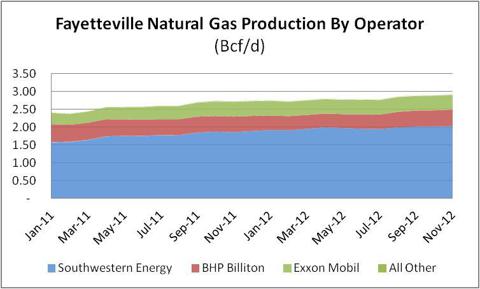 (Source: Zeits Energy Analytics, AOGC data)
The play's history explains the very high concentration of operatorship in the field. The credit for the Fayetteville's commercial discovery goes to Southwestern. While the hydrocarbon potential of the area has been widely known in the industry since the publication of the Arkansas Geological Survey in 1930, earlier attempts to produce gas from the Fayetteville Shale with vertical wells yielded non-commercial amounts. It was not until 2002 that Southwestern came up with the thesis that the Fayetteville could be potentially producible using the horizontal drilling and completion technology that by that time had proven successful in the geologically similar Barnett Shale just a few hundred miles away. (Southwestern had noticed that the quantities of gas produced from the sandstone immediately above the Fayetteville Shale were materially greater than from sandstones located elsewhere in the stack, leading to the shale play concept.) In 2002, Southwestern re-worked an older well in western Arkansas, which confirmed the commercial potential of the shale.
Southwestern started "stealth leasing" acreage in the Fayetteville in 2003. By the time the company drilled its first horizontal frac test in 2004, the Thomas 1-9 in Conway County, it had already accumulated over 450,000 net acres in what the company had identified as the most prospective part of the play. Once the Thomas 1-9 results became known to the industry, Chesapeake Energy (NYSE:CHK) and XTO Energy joined Southwestern in aggressively acquiring leases in the area. Several smaller companies were also able to build acreage positions, some of which were subsequently consolidated (among the names involved in the Fayetteville were Hallwood Energy, Tepee Petroleum, Edge Petroleum, Alta Resources, Aspect Energy and a dozen of others), but the operatorship in the field has remained highly concentrated in the hands of the three big players.
In September 2008, BP (NYSE:BP) purchased one quarter of the interest held by Chesapeake (approximately 135,000 net acres) for $1.9 billion to become the fourth largest producer of natural gas in the Fayetteville (although from non-operated acreage).
Southwestern Energy
Southwestern has been able to capture not only the largest, but also the most productive part of the play (the map above). The company currently holds approximately 925,000 net acres with a low 15% average royalty burden (which is remarkable given the intensity of competition for acreage in the Fayetteville once peers arrived in 2005). After several years of meteoric growth, Southwestern's operated production in the Fayetteville increased by a moderate 9% from November 2011 through November 2012.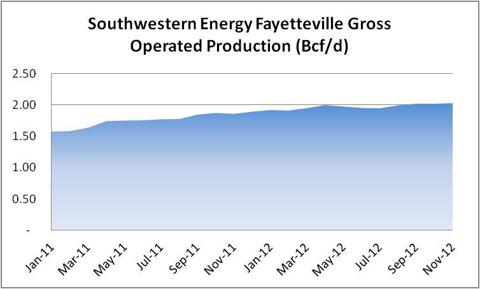 (Source: Zeits Energy Analytics, AOGC data)
As of November 1, 2012, the company was running 11 rigs in the Fayetteville, of which four rigs were pre-drilling vertical sections of the wells and seven rigs were drilling the remaining portion of the wellbore, including the horizontal lateral section.
During 2013, Southwestern's guidance calls for the company's gross operated production in the field to grow approximately 4%. In 2013, Southwestern plans to invest approximately $900 million in the field, including $830 million to drill 385-390 gross wells (all operated) and $70 million for the midstream and other investments. The company's average 2013 completed well cost is estimated to be $2.7 million per well with a 5,100 average horizontal lateral, compared to an estimated $2.8 million well cost with an average horizontal lateral length of 4,600 feet in 2012.
Exxon Mobil
XTO Energy spud its first Fayetteville well in 2007, and in less than two years, was running seven rigs in the play.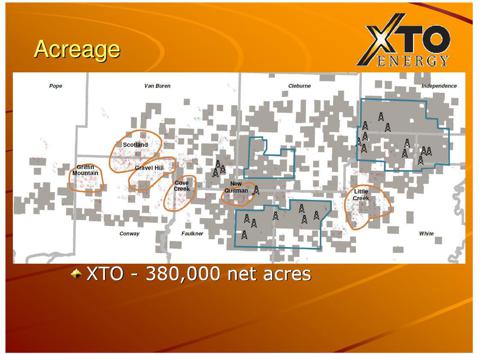 (Source: XTO Energy 2009 Presentation)
After being acquired by Exxon Mobil, XTO further increased its Fayetteville position by purchasing 150,000 net acres, including 299 Bcf of proved reserves, from Petrohawk in December 2010 for $575 million in cash. XTO also acquired associated midstream assets for $75 million. The transaction increased XTO/Exxon's total leasehold in the play to almost 600,000 net acres.
In November 2012, XTO/Exxon Mobil produced 409 MMcf/d in the play on a gross operated basis.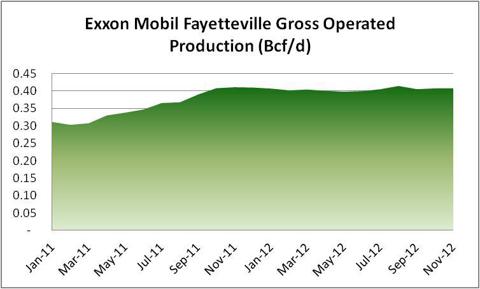 (Source: Zeits Energy Analytics, AOGC data)
BHP Billiton
In February 2011, another big transaction took place in the Fayetteville: Chesapeake agreed to sell its entire 487,000 net acre position, including 415 MMcf/d of net production and midstream assets, to BHP Billiton for $4.75 billion in cash.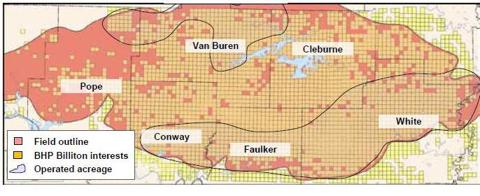 (Source: BHP Billiton 2011 Presentation)
At the time of the acquisition, BHP estimated total risked resource potential on its newly acquired acreage at 10 Tcf, based on a 70-acre spacing. BHP planned to increase its active rig count from 6 rigs at transaction time to up to 20 rigs. In fact, following the acquisition, BHP placed newbuild orders for the entire rig fleet it was planning to deploy in the field, anticipating many years of development ahead.
Like Exxon, BHP substantially scaled back its drilling activity in the face of collapsing gas prices, but re-accelerated drilling during the summer of 2012, placing on production as many as 15 wells per month, possibly to hold expiring acreage. In November, BHP was producing 472 MMcf/d from the Fayetteville on a gross operated basis.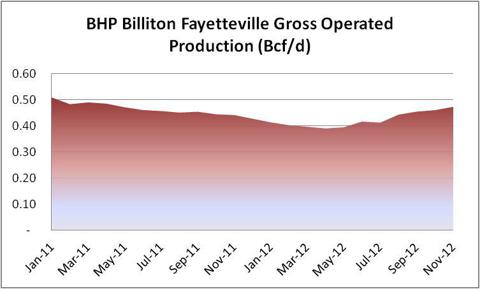 (Source: Zeits Energy Analytics, AOGC Data)
Drilling To Meet HBP Requirements Is Still On-Going
With the enormous amount of land leased, the operators are still drilling to hold acreage by production (NYSEMKT:HBP). At the end of 2011, Southwestern still had slightly over 200,000 acres not held and expiring in 2013. With approximately 460 wells drilled in 2012 and 385-390 wells planned for 2013, the company should be able to retain the majority of its operated acreage, particularly in the areas deemed most prospective. It is less clear if Exxon and BHP would be able to hold all of their leases. Given that leasing activity in the Fayetteville peaked about five years ago, expirations should have accelerated during the second half of last year and in 2013. With a substantial slowdown of drilling activity relative to the original plans by both Exxon and BHP, holding acreage may be a challenge. However, given that at this time the field has been thoroughly delineated, the operators should have little difficulty identifying the most economically valuable leases and focusing their retention effort, through drilling or "top-leasing," on those areas.
Economics Of The Fayetteville Natural Gas Supply
The cost of supply in the Fayetteville's most productive areas is impressively low. Assuming Southwestern's high-graded wells will yield 4 Bcf EURs at $2.7 million D&C cost, on average, and applying 15% royalty rate, one would arrive at a development cost of approximately $0.79 per Mcf.
Drilling economics benefit further from relatively low operating costs. Natural gas from the Fayetteville typically requires only dehydration to meet pipeline specifications. Based on Southwestern's Q3 2012 data, the company's LOE costs were $0.79/Mcf (the largest component of which is gathering costs, mostly an inter-segment item) and G&A costs were $0.21/Mcf. (The data is for the entire company and includes the Marcellus Shale, however, the Fayetteville accounted for the majority of the company's production volume.) We estimate Southwestern's severance taxes in Arkansas to be approximately $0.10/Mcf based on $3.50/MMBtu Nymex. As a result, total estimated cash operating costs are ~$1.10/Mcf.
Fayetteville's sole disadvantage is the significant discount to the Nymex price: Southwestern sells its gas at a ~$0.50/Mcf markdown to Nymex due to transportation costs and basis differentials.
Using a $3.50/MMBtu Nymex price assumption, Southwestern's cash "netback" is approximately $2.04/Mcf (assuming 1,040 MBtu heat content), which translates in solid IRRs at the well level (20%+ based on our decline curve assumptions). At $3.00/MMBtu Nymex, IRRs decline to a breakeven on the cost of capital.
Southwestern likely has significant economic advantage in the Fayetteville over Exxon and BHP Billiton due to its larger and often more productive operated acreage, lower royalties and very high degree of operating integration. SWN owns most of its drilling rigs; has recently invested into two frac spreads, which should be sufficient to meet half of the company's completion needs; owns approximately two-thirds of its required field compression capacity; and owns and operates a 2.3 Bcf/d gathering system (vertical integration is also part of Exxon and BHP's operating model). As a result, Exxon's and BHP's costs of supply are likely a notch higher than Southwestern's.
Another highly important aspect of the Fayetteville's cost structure is the relatively high fixed cost component that is driven by transportation commitments and vertical integration. In the example of Southwestern, drilling at below the "optimal" pace would mean potential demand penalties on firm capacity transportation, reduced utilization of the midstream assets (which, in our estimate, generate $0.40+ of EBITDA per Mcf of throughput on the margin), idle drilling and fracking equipment, underutilized supply chain, redundant personnel, etc. On the margin, the fixed costs can add up to over $0.80/Mcf, in our estimate. As a result, supply response to fluctuations in natural gas price may be a lot less pronounced than one might expect by looking at incremental well economics in isolation from other factors.
New Pipelines Have Created Ample Off-Take Capacity For Fayetteville Production
Two large pipeline projects serving the Fayetteville with a combined design capacity of 3.3 Bcf/d have been put in service in the past few years to accommodate volume growth from the play:
The Fayetteville Express Pipeline (FEP), a $1 billion, 2.0 Bcf/d pipeline jointly owned by Kinder Morgan Energy Partners (KMP, KMI) and Energy Transfer Partners (ETP, ETE) was placed in-service in January 2011.
The Fayetteville (1.3 Bcf/d) Lateral pipeline and Greenville Lateral (1 Bcf/d) pipeline have been constructed by Texas Gas Transmission, a subsidiary of Boardwalk Pipeline Partners (NYSE:BWP).
The new pipelines provide the Fayetteville gas with access to natural gas markets in the eastern United States and interconnect with Texas Gas Zone 1, Tennessee Gas Pipeline 100, Trunkline Zone 1A, ANR, Tennessee Gas Pipeline 800, Columbia Gulf Mainline, TETCO M1 30" and Sonat price indices.
The FEP and Fayetteville and Greenville Laterals have added to the capacity on the already existing 0.5 Bcf/d Ozark Gas Transmission system owned by Spectra Energy (NYSE:SE).
Fayetteville Express Pipeline
The 2.0 Bcf/d FEP, a 185-mile, 42" natural gas pipeline system originates in Conway County, Arkansas, continues eastward through White County, Arkansas, and terminates at an interconnect with Trunkline Gas Company in Panola County, Mississippi.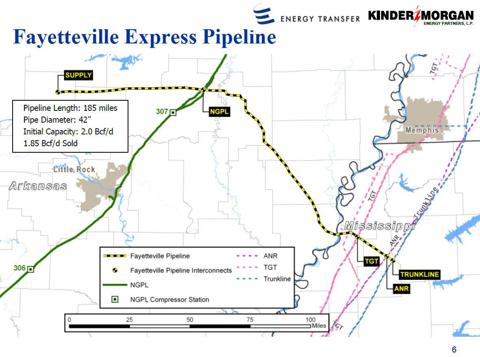 (Source: Kinder Morgan Energy Partners, L.P.)
Fayetteville and Greenville Laterals
Texas Gas has constructed two laterals to transport gas from the Fayetteville Shale area to markets directly and indirectly served by its existing interstate pipelines:
The Fayetteville Lateral, consisting of approximately 165 miles of 36-inch pipeline will originate in Conway County and proceed southeast through the Bald Knob area to an interconnect with Texas Gas' mainline in Coahoma County, Mississippi.
The Greenville Lateral, consisting of approximately 95 miles of 36-inch pipeline originates at Texas Gas' mainline near Greenville, Mississippi and proceeds east to the Kosciusko, Mississippi area. The Greenville Lateral allows customers to access additional markets, primarily in the Midwest, Northeast and Southeast.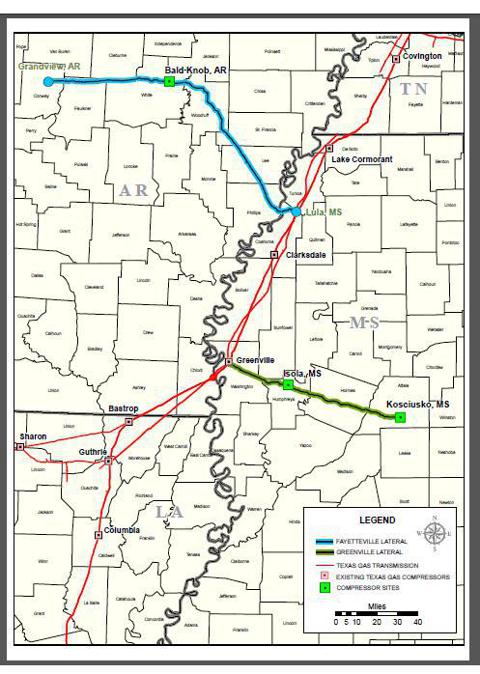 (Source: Texas Gas Transmission)
The pipelines provide access to the following key end markets:
· Henry Hub via Gulf South and Texas Gas
· Midwest via Texas Gas and Columbia Gulf
· Gulf Coast via Gulf South
· Northeast via Transco and Texas Eastern
Ozark Gas Transmission
Spectra Energy Partners owns the 565-mile Ozark Gas Transmission (OGT) FERC-regulated interstate natural gas transportation system. The system extends from southeastern Oklahoma through Arkansas to southeastern Missouri and has significant interconnectivity. OGT interconnects with Spectra Energy Corp.'s Texas Eastern Transmission system, Mississippi River Transmission (Centerpoint), Texas Gas (Boardwalk) and NGPL (Operated by Kinder Morgan). Ozark Gas Gathering (OGG) system is a fee-based, 365-mile gathering system that accesses Fayetteville Shale and Arkoma production that feeds into OGT.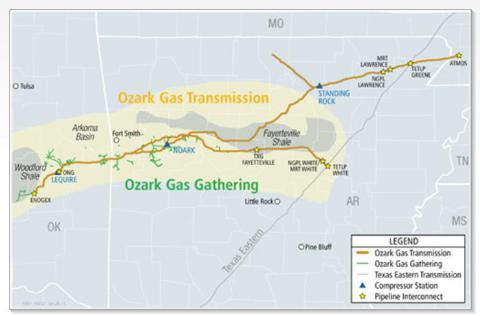 (Source: Spectra Energy)
Fayetteville's Strategic Challenge
Seemingly, the supply of drilling opportunities in the Fayetteville is vast, and transportation infrastructure is sufficient to accommodate significant growth. Assuming that a total of 2 million acres will be held by production by the three largest operators by the end of 2013, approximately 20,000 drilling locations (and over 50 Tcf of potentially recoverable gas) will remain in the inventory based on 80-acre spacing and ~5,000 wells already drilled. This represents over 30 years of drilling based on the current pace of ~600 wells per year.
Importantly, however, the most prolific locations are being drilled first. Southwestern indicates that its high-graded inventory of wells that is competitive at $3.50/MMBtu Nymex includes ~1,000 locations (the inventory of similarly prolific locations on Exxon- and BHP-operated acreage is probably smaller). Even assuming that the company's assessment is conservative and such inventory is in fact twice as large, the Fayetteville may still run out of its most profitable "cherry picked" locations in just four years, and operating margins will go in decline.
Firm transportation commitments by the operators may stand in the way of significant reduction in production volumes. The $1 billion Fayetteville Express Pipeline had 1.85 Bcf/d of the 2.0 Bcf/d of its design capacity under long-term (10 years) firm transportation agreements with key producers in the Fayetteville (contract terms began in January 2011 when the pipeline was placed in service); the Fayetteville and Greenville Laterals were contracted at fixed rates for substantially all of the operational capacity of these laterals, with the contracts having a weighted-average term of 9.9 years.
Conclusions
The Fayetteville should remain an important component of the U.S. natural gas supply, with the field's output remaining stable at around 3 Bcf/d. Production may grow at a modest pace in the next few years should natural gas prices recover towards the $4/MMBtu level.
Cost of supply from the Fayetteville, similar to other large resource plays, has a wide dispersion and varies by area, by operator and even by individual lease. Therefore, it would be appropriate to think of the field's cost of supply as a scaled curve rather than a single price point.
The high embedded fixed costs from the firm transportation commitments and vertical integration make gas supply from the field largely immune to short-term fluctuations in natural gas price. Sub-$3/MMBtu price environment would be required to impact the Fayetteville production in a material way. However, price levels above $4.00/MMBtu Nymex are needed for expansion.
Off-take capacity in place is sufficient to accommodate growth in the near term should natural gas prices strengthen.
The above discussion is fundamentally relevant for natural gas (NYSEARCA:UNG) and the natural gas producer stocks. My natural gas producer index includes:
Chesapeake Energy
EnCana Corporation (NYSE:ECA)
Devon Energy (NYSE:DVN)
Southwestern Energy
Ultra Petroleum (UPL)
EXCO Resources (NYSE:XCO)
WPX Energy (NYSE:WPX)
Cabot Oil & Gas (NYSE:COG)
Range Resources (NYSE:RRC)
QEP Resources (NYSE:QEP)
Quicksilver Resources (NYSE:KWK)
Forest Oil (NYSE:FST)
Bill Barrett (NYSE:BBG)
Disclaimer: This article is not an investment recommendation. Any analysis presented in this article is illustrative in nature, is based on an incomplete set of information and has limitations to its accuracy, and is not meant to be relied upon for investment decisions. Please consult a qualified investment advisor. The information upon which this material is based was obtained from sources believed to be reliable, but has not been independently verified. Therefore, the author cannot guarantee its accuracy. Any opinions or estimates constitute the author's best judgement as of the date of publication, and are subject to change without notice.
Disclosure: I have no positions in any stocks mentioned, and no plans to initiate any positions within the next 72 hours. I wrote this article myself, and it expresses my own opinions. I am not receiving compensation for it (other than from Seeking Alpha). I have no business relationship with any company whose stock is mentioned in this article.