On Friday, ARMOUR Residential REIT (NYSE:ARR) issued its 7.875% Series B Cumulative Redeemable Preferred Stock. A summary of the pertinent information is below and can be found in the prospectus: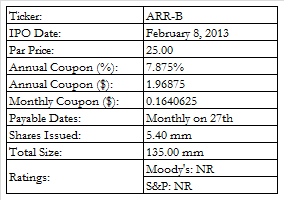 *Note that the position is currently trading OTC under the ticker ARRPP. ARR-B is the ticker that it will trade under once it moves to the NYSE.
Business
ARMOUR is a mortgage REIT that invests in agency securities. Unlike the two largest Agency mREITs, American Capital Agency Corp (NASDAQ:AGNC) and Annaly Capital Management (NYSE:NLY), ARMOUR pays its dividend monthly (on both the common and the two preferred issues). As of January 2013, ARR has a leverage target of 9.0x and is currently levered 8.97x, whereas at the end of 2012Q4 AGNC is levered 7.0x and Annaly is levered 6.5x.
Monthly Dividend
Like Armour Residential's common stock and other preferred stock (ARR-A), ARR-B will make monthly dividend payments on the 27th of each month.
Larger First Dividend
The first dividend payment on ARR-B will occur on March 27, 2013, and will be $0.2461 per share (instead of the typical $0.1640625).
Relative Value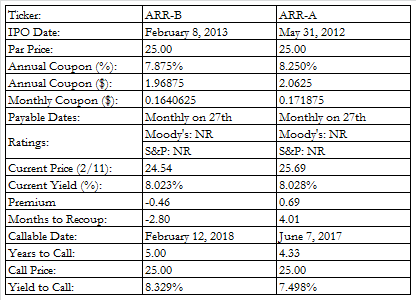 ARR-B offers great relative value compared to ARR-A. Both positions trade with a Current Yield ~8.02%, but ARR-B trades below par while ARR-A trades with a premium that will take four months to recoup. Because of the difference in premium and the time until the call date, ARR-B offers a much more attractive Yield to Call of 8.329% compared to the YTC on ARR-A of 7.498%.
Agency mREIT Preferreds
It's important to compare the preferred to other Agency mREIT preferreds that are in the market as well. As I mentioned above, ARMOUR pays a monthly dividend while Annaly and AGNC make quarterly distributions. AGNC has one preferred outstanding while Annaly has three.

In the above list, ARR-B is the only position that is trading at a discount. It offers the second-highest current yield (slightly behind ARR-A) and the highest Yield to Call of the group. On a comparative basis, ARR-B is a compelling position to own.
Final Thoughts
ARR-B offers a solid monthly coupon and stacks up very well against other Agency mREIT Preferreds that are in the market. For investors who are comfortable with the risks associated with the mREIT industry but want the stability of a preferred, ARR-B is a great investment opportunity.
Disclosure: I am long ARR, AGNC, NLY. I wrote this article myself, and it expresses my own opinions. I am not receiving compensation for it (other than from Seeking Alpha). I have no business relationship with any company whose stock is mentioned in this article.