The search for yield has investors looking beyond bond and equity dividend ETFs, and into alternative income investment themes such as mortgage real estate investments trusts (REITs). Year-to-date inflows into real estate focused exchange traded funds and mutual funds combined are at about $4 billion.
"The real estate sector is currently benefiting from a number of tailwinds that include the general search for higher yield (REITs pay dividends) and lower volatility, better data emerging from key markets and the U.S. Federal Reserve's continued focus on the mortgage and housing markets, EPFR Global said in a press release on Friday," Kenneth Rapoza wrote for Forbes.
The iShares Mortgage REIT Capped ETF (BATS:REM) has started 2013 with an upswing. The ETF has a 30-day SEC yield of nearly 12%. The 0.48% expense ratio is reasonable. The profit comes from the difference between the interest earned on the securities and the interest rate on the short term loans used to buy them, reports Abby Woodham for Morningstar. The bullish stance for mortgage REITs is that mortgage rates will go up while short term interest rates stay low. REITs are a hybrid investment that give a bond-like yield with the chance for capital appreciation, reports Woodham.
Investors should not focus on investment such as REM for the yield alone, there is much more involved with a REIT. REITs should also be held in an account that is tax-deferred because the dividends are taxed as ordinary income.
Equity REITs are based on managing properties and collecting the rents, whereas mortgage REITs are based on the spread between interest rates on the securities and loans used to buy them. There is much more involved in the profit of a mortgage-backed REIT, so the payout is generous.
The current low interest rate climate has helped mortgage REITs over the past year, and should continue to do so in 2013. However, as mortgage rates are in a downtrend, the spread is getting smaller, and the yield for REM will be forced lower in response. Another alternative to REM is the Market Vectors Mortgage REIT Income ETF (NYSEARCA:MORT).
iShares Mortgage REIT Capped ETF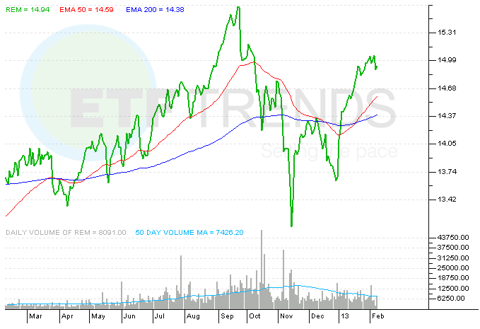 Tisha Guerrero contributed to this article.
Full disclosure: Tom Lydon's clients own REM.
Disclosure: I am long REM. I wrote this article myself, and it expresses my own opinions. I am not receiving compensation for it. I have no business relationship with any company whose stock is mentioned in this article.