Oncolytics Biotech Inc. (ONCY) seems poised to see its stock price climb higher in the coming year. The stock price shot up to $4.89 per share on the heels of news, released pre-market on Friday, February 8, that 19 out of 20 evaluable patients had seen 33.7% shrinkage of cancerous tumors when treated with REOLYSIN. That price ultimately settled back down at $4.35 at the time of closing bell on Friday, up $.98 from its close the previous day. (Press release from Oncolytics available here)
ONCY's stock price later fell to $4.03 at the close on Monday, February 11, 2013, up 12.88% from prior to the announcement of clinical success when it was priced $3.57. Although certainly not the immediate boom that some speculators might have hoped for, it does show that good news will lift push the price up.
Delving deeper into the institutional holdings of ONCY, we find that 29% of all stock is held by institutional investors, the lion's share of which goes to Acuity Investment Management, a Canada-based holder with $1.1 billion in total market value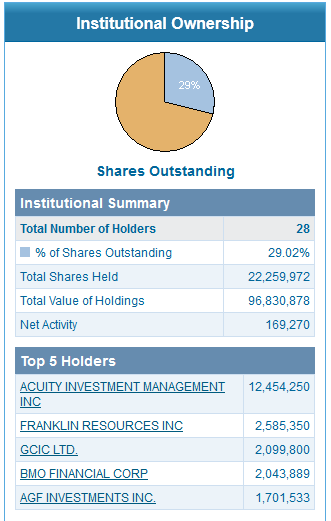 A common refrain from the most bullish of fans of this stock on message boards in the past few days is that shorting is keeping the stock down. There might be some evidence of this, as taking a look at the actual short interest in ONCY we see that short interest and days to cover has increased over the past two months.

There were 42 days to cover ten days ago, much of that due to a declining average trading volume. 42 days to cover short positions back when average daily share volume was 162k. Now, with over eight million shares traded on Friday, and another 1.5 million shares traded on Monday, the time for shorting might be finished. It will be interesting to see where the shorts stand come Friday, February 15.
The 12-month price target on this stock is $5.15-$12.20, with the consensus pegging it at $9.15. Of the 6 analyst firms making recommendations on this stock, 5 suggest a buy or strong buy, and the sixth is a hold. With a stock price in the low $4 range, this seems like a good time to buy as Oncolytics is either greatly underpriced, or the consensus target is dead wrong.
Disclosure: I am long ONCY. I wrote this article myself, and it expresses my own opinions. I am not receiving compensation for it (other than from Seeking Alpha). I have no business relationship with any company whose stock is mentioned in this article.