VIX - Market Sentiment:
Tuesday S&P futures were mostly flat heading into trading as the market prepared for President Obama's State of the Union address. Futures chopped between 1508 and 1512 before making a push again higher towards the end of the day, moving to yet another high of 1519. Both Kors (NYSE:KORS) and Coca Cola (NYSE:KO) both reported positive earnings beats, beating on both the top and bottom line. McGraw-Hill (MHP) and Fossil (NASDAQ:FOSL) also reported decent quarters, with MHP trading down and FOSL trading up 3.6%. AOL Online (NYSE:AOL) continued to rip higher yet again as bulls continue to make shorts pay in this name. The market continues to be building a very solid base and is again attempting to get through the 1520 level, possibly setting up for a run to 1540. The NYMO is now solidly in the neutral state, continuing the thesis the market is priming to move higher with a reading of -7.67, a 10.96 point decrease from Friday's close. The technicals of this market continue to be solid, but some cracks are starting to form, as I outlined in my market outlook article (here).
Spot CBOE Volatility Index (VIX) and futures moved slightly higher again today until the market found legs, yet again moving both lower fractionally on the day. Volatility ETF (VXX), 2x ETF (TVIX) and alternative 2x ETF (UVXY) caught a bid in early trading, but saw selling as the markets picked up steam. An interesting trade today came in the March 55 strike calls, which went off 10K times for .03 -- a possible short volatility close. February VIX settlement is tomorrow, and current open interest again would favor a 13.00 settlement for February, killing the 129K 13 strike puts and the 27K 13 strike calls. A really big gain for option writers would be a settlement near 14, killing the additional 150K open interest puts, but that would be a very difficult number to hit.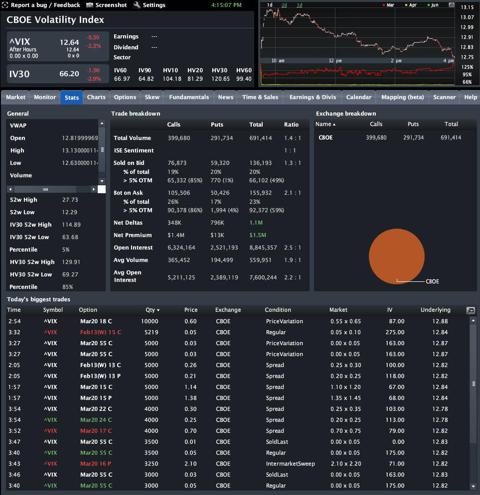 Statistics and Screenshot Provided By LiveVol
VIX futures are below.
Yesterday
· February VIX futures 13.45
· March VIX futures 14.85
· April VIX futures 15.80
Today
· February VIX futures 13.10
· March VIX futures 14.75
· April VIX futures 15.68
Options Paper:
Monday saw the slowest option paper of the year, trading just over 12M contracts. Tuesday did see a little more volume, but some volume was masked by dividend action. No shocker here, as the S&P ETF (NYSEARCA:SPY), Apple (NASDAQ:AAPL), and Bank of America (NYSE:BAC) led the way in terms of option volume. However, only BAC was above average option volume, along with the Russell 2000 ETF (NYSEARCA:IWM). Pitney Bowes (NYSE:PBI) traded more than 325K contracts but again, this is part of the dividend captures I point out on the sonar regularly. Big banks Citigroup (NYSE:C) and BAC both saw heavy bullish activity betting these names are ready to break out. BAC saw more than 1.4M in net premium bought by 1:00, and C saw another 966K. Heavy buyers of the C March 45 strike calls and BAC saw strikes all over the place in larger blocks all the way to the February calls expiring this week. Option activity was more than 150% average daily volume, with calls outnumbering puts almost 2 to 1.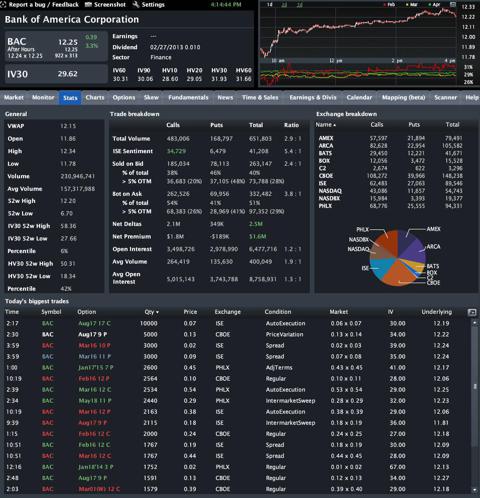 Statistics and Screenshot Provided By LiveVol
Cisco Systems (NASDAQ:CSCO) is another name that appears on the sonar report quite often. Of late, larger bullish bets have been placed, believing CSCO will go higher post earnings. Today, however, the action was mixed at best, as both bulls and bears loaded up on calls and puts, driving implied volatility to 27.29%. The biggest moves today were a buyer of the February 20 strike puts 8K times for .15, and buyers of the February 22 calls 1K times in several block orders. CSCO has been a real mover post-earnings of late, and the straddle is pricing in just a 1.10 move or less than 5%. The low volatility environment allows for options traders to make bets to the up or downside without risking much premium. Options volume was average today, with calls and puts in a dead lock in terms of volume trading almost exactly 1 for 1.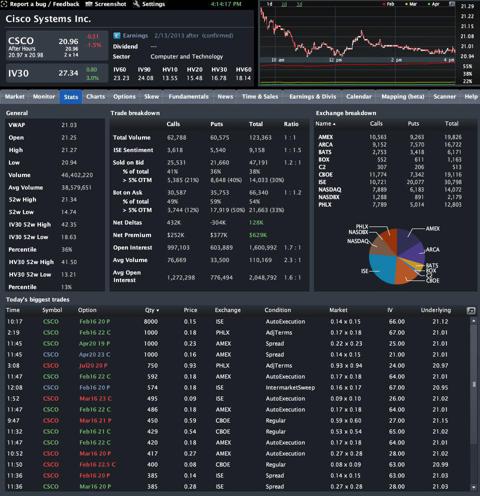 Statistics and Screenshot Provided By LiveVol
Popular ETFs and equity names with bullish/bearish paper:
Bullish Option Flows - ISE & % OTM calls bought on offer
Novartis (NYSE:NVS) 96% - 3.5K OTM calls bought on offer
Yingli Green Energy (NYSE:YGE) 72% - Never saw this name until popped on scanner today
Brookdale Senior Living (NYSE:BKD) 69% - 8K OTM calls bought
Riverbed (NASDAQ:RVBD) 62% - 5.8K OTM calls bought
ITT Education (NYSE:ESI) 3.3K ISE calls bought
Plains All American (NYSE:PAA) 1.8K ISE calls bought
Waste Management (NYSE:WM) 1.5K ISE calls bought
General Dynamics (NYSE:GD) 1K ISE calls bought
Ironwood (NASDAQ:IRWD) 1K ISE calls bought
FLIR Systems (NASDAQ:FLIR) 1K ISE calls bought
Bearish Option Flows - ISE & % OTM puts bought on offer
VeriSign (NASDAQ:VRSN) 96% - Possible short put closing position
SandRidge (NYSE:SD) 81% - Put buying continues in this name
Materials ETF (NYSEARCA:XLB) 76% - 6K OTM puts bought
Goodyear (NYSE:GT) 73% - 11.5K OTM puts bought
Delta Air Lines (NYSE:DAL) 69% - 4K OTM puts bought as airlines have soared.
JDS Uniphase (JDSU) 5.1K ISE puts bought
TD Ameritrade (NASDAQ:AMTD) 3K ISE puts bought
Expeditors (NASDAQ:EXPD) 2.3K ISE puts bought
Disclosure: I am long AGNC, AVGO, BA, CBB, CONE, F, INTC, KERX, KORS, KOS, MOS, MTGE, NRG, PCLN (straddle), PG, TUMI, VHC, VOD, and I am short (BWLD volatility), CMG, DDD, EDU, PCLN (strangle), SPY.
Trades Today: Shorted AAPL and closed short at close.
I wrote this article myself, and it expresses my own opinions. I am not receiving compensation for it (other than from Seeking Alpha). I have no business relationship with any company whose stock is mentioned in this article.
Disclaimer: The opinions in this document are for informational and educational purposes only and should not be construed as a recommendation to buy or sell the stocks mentioned or to solicit transactions or clients. Past performance of the companies discussed may not continue and the companies may not achieve the earnings growth as predicted. The information in this document is believed to be accurate, but under no circumstances should a person act upon the information contained within. I do not recommend that anyone act upon any investment information without first consulting an investment professional as to the suitability of such investments for his or her specific situation.