ServiceNow Background - Remarkable Trajectory
ServiceNow (NYSE:NOW) has been recognized for achieving significant revenue growth in a challenging economy with a relatively small workforce that has recently expanded. ServiceNow is an Enterprise IT cloud company. Their solutions transform enterprise IT by standardizing and automating business process and consolidating IT across the global enterprise. Their solutions are considered business critical, meaning an enterprise IT department cannot properly function without solutions like these. For two years running (2010/2011), ServiceNow was one of the Top 50 Venture-Funded Companies on The Wall Street Journal's coveted "Next Big Thing" list, one of only 14 companies to have achieved this multi-year distinction. ServiceNow was also featured #5 and #33 on Deloitte's Technology Fast 500 Ranking in 2011 and 2012, respectively. In January of 2013, ServiceNow received a Hire Power Award from Inc. Magazine as the number one job creator in the software industry.
In IT Service Automation, ServiceNow is unrivaled with more than 1,512 enterprise-level customers, nearly-doubling YoY revenues, and an exceptional 98% renewal rate. Since strong demand continues for ServiceNow solutions and services, the number of employees has also more than doubled in 2012, following an 880% increase from 2008-2011. It was announced in the Q4 earnings call that they are still capacity constrained in sales and plan for additional headcount to meet the added demand. With their recently added headcount ramping up and new headcount soon to be factored in, ServiceNow is uniquely positioned to continue their remarkable growth, innovation, and revenue trajectory as a publicly traded company serving many more accounts.
ServiceNow remains one of the fastest growing companies in the technology sector.
Recent Moves in the Stock Price
NOW has seen a 33% correction off its peak of $41.77 in September. With positive news and projections coming from the company, the stock is beginning to trend up from its lows. Quarterly earnings generously beat expectations at 75.2 million, a 92% increase compared to the fourth quarter of 2011, and 2013 guidance topped estimates. For Q1, the company now sees revenue of $81.5 million to $82.5 million, which is above the old consensus of $78.1 million. ServiceNow sees revenue of $387 million to $392 million for the full year, well above the street estimate of $368.3 million.
The stock has since traded lower as the overhang of the February lockups weighs on shares. Short sellers continued their smear campaign just ahead the first lockup expiry in attempt to create a stampede for the exit. Note the timing of the reports fall right between earnings on Jan 30 and the lockup expiry on Feb 1. The share price actually closed up 1.4% for the day. Recall that Facebook, which traded lower leading up to the lockup (much like ServiceNow has), saw the share price go up more than 12% on the lockup expiry.
"While the lockup is expiring, there is nothing requiring anybody to sell," said Tim Ghriskey, chief investment officer at Solaris Group in Bedford Hills, New York. "Given the low price, these long-term holders are deciding to hold the stock, and that is lifting it here as the fear of the expiration subsides." Just a couple of weeks ago Splunk saw their shares rise on the day of the lockup expiration as well. The company's stock rose 6.9 percent to $33.46 at the close, its highest price at the time since Oct. 4. It's clear that the pending lockups in February are weighing on NOW's share price, which has created a buying opportunity. Once the fear of the last lockup in mid-February passes, the share price should begin to appreciate again, especially as the company expects to shift into profitability later this year.
Valuation is Warranted
Of key importance is to note that high-growth companies with business critical Software as a Service/SaaS or cloud offerings typically have higher valuations compared to traditional software companies due to the associated high growth velocity and recurring revenue streams. Compare ServiceNow to its nearest competition; it's evident that dramatically higher YoY revenue growth warrants a higher valuation. Investors are willing to pay more for considerably faster growth, as those companies are capable of quickly growing into their valuations.
The aim of the following table is to highlight ServiceNow's explosive growth trajectory especially when compared to its two closest competitors. Revenue growth is important in determining potential future stock price as the company and share price grows with increased revenue.
Revenue Growth Compared to Competition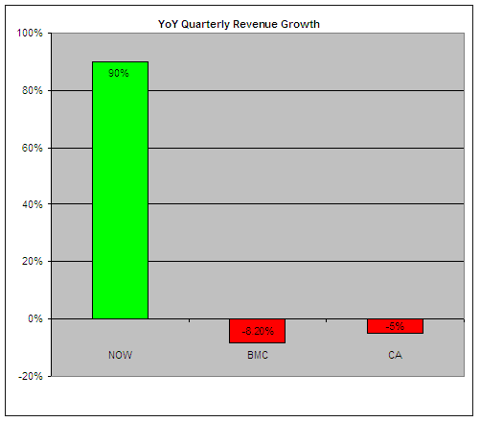 Sources: most recent company filings (10-Q reports)
Closest ServiceNow competitor BMC's most recent YoY quarterly revenue within their ESM Solutions (which competes with NOW) was -8.2% suggesting that business is contracting. From their 10-Q: "Within our ESM-Solutions segment, where we evaluate performance on the basis of license bookings, total license bookings for the quarter decreased by $10.3 million, or 8.2%, from the prior year quarter".
NOW Competitor CA posted -5% YoY quarterly revenue. From their 10-Q: "Total revenue for the third quarter of fiscal 2013 decreased 5% to $1,195 million compared with $1,263 million in the year-ago period primarily due to a decrease in subscription and maintenance revenue and to a lesser extent a decrease in software fees and other revenue".
Let's look at CA Technologies (NASDAQ:CA), a company that has seen its profits and earning per share consistently increase over the years. Yet, top line growth has been modest - it took 8 years for revenue to increase 45% from $3.3B in March '04 to $4.8B in 2012. The following chart shows a little growth or fluctuation in stock price. This example confirms that flat revenue growth equals a flat or negative stock price.
CA Share Price 2004-2012
Microsoft is another example of a flat stock. It took 8 years for Microsoft revenue to double from $36.84B in June '04 to that of $73.72B in June of 2012. Profitability and earnings per share have steadily increased but the stock has remained essentially flat.
Microsoft Share Price 2004-2012
Now let's take a look at Salesforce.com (NYSE:CRM), another cloud company like ServiceNow. This is a company that has also seen sustained top line growth. Its revenues went from $96.02M in January of '04 to more than $2.27B in January of '12, and the stock price has followed course. The real growth started taking place as the SaaS model started becoming more favorably viewed and adopted by IT departments. While there are some Salesforce critics, it's hard to argue with a 990% return on investment. People who sold CRM in its beginning days are probably kicking themselves for not holding. The price of CRM back then was right about where NOW is trading today, and revenues were in the same neighborhood as NOW's revenue is today. However, ServiceNow is experiencing a greater growth rate than Salesforce was at similar revenue amounts (90% vs. 60-75% in '05 / '06). ServiceNow sure looks positioned to follow a similar trajectory and selling this early would appear to immensely contradict the buy low sell high rule.
Salesforce.com share price 2004-2012
Examine how ServiceNow's valuation compares to that of peer technology companies that offer business critical solutions and are also delivered via the cloud - NetSuite (NYSE:N), Salesforce, Palo Alto Networks (NYSE:PANW), Splunk (NASDAQ:SPLK), Workday (NYSE:WDAY) - with a recurring revenue stream that compounds annually. There is a strong correlation between rapid revenue growth and higher valuation. The data further reinforces that investors place more value and are willing to pay in advance on companies with appreciably higher revenue growth rates.
Revenue Growth vs Valuation of Cloud Technology Companies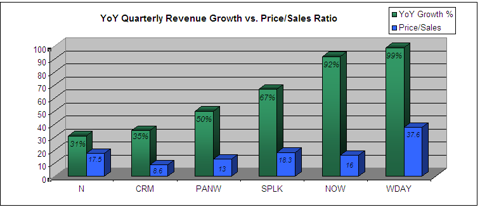 Sources: Google and latest company filings. (10-Q's)
If we value NOW on the current year expectations of $387 to $392 million representing 59% to 61% year over year growth and current $3.6B market cap; we arrive at a P/S ratio of approximately 9.2. Looking at their revenue growth of prior years, 59% to 61% revenue growth for 2013 may be a conservative estimate, especially taking into account the additional workforce that could ramp up quicker than anticipated. Like CRM, early investors of ServiceNow will undoubtedly see great returns in the years ahead as revenue continually increases due in part to the compounding effect of recurring revenue that the SaaS model brings.
By modeling this compounding effect of ServiceNow's recurring revenue and factoring in new anticipated revenue growth, we can estimate they are on track to likely exceed $1 billion in revenue sometime in 2016. In building this chart, the YoY percentages were even decreased by 10% each year (from 60% in 2013 to 30% in 2016), yet the total revenue amount still grows considerably. CRM seems to have leveled off in the 30-35% range; we would expect ServiceNow to do the same or better in the out years. After all, they just nearly doubled their revenue for 2012. It becomes clear that ServiceNow will quickly grow into its valuation.
Hypothetical Future Revenue Estimates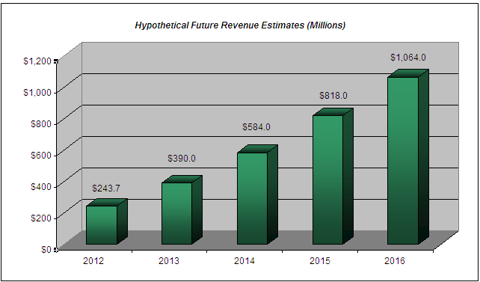 Sources: for '12 & '13, company filings (10-Q). 2014+ estimates are hypothetical forecasts.
The Financial Analysts Remain Bullish
ServiceNow had its price target raised by Barclays Capital from $33.00 to $36.00 in a research note released on 1/7/13. They currently have an overweight rating on the stock. The analysts covering ServiceNow remain bullish on their growth and have price targets ranging from $30 (NYSE:UBS) to $44 (Wells Fargo).
ServiceNow's Market Goes far Beyond IT Help Desk
According to Gartner, the IT Service Desk market was $1.5B in 2010. That market only includes applications such as Incident, Problem, Change, Knowledge, Self-Service, SLA management. As we can see, ServiceNow's pool of offerings addresses a market considerably larger than just a service desk and is accessible from a variety of browsers and mobile devices. ServiceNow caters to a multi-billion dollar market that is likely more than 10X the IT Service Desk market.
ServiceNow's Platform of Offerings
Prospective customers that would like to access a live demo instance of ServiceNow without hassle are free to do so. ServiceNow keeps everything in the open and lets the product speak for itself…and it does so in grand fashion. There's nothing to hide here and no need to contact a sales rep or fill out a lengthy form to gain access, just simply log in.
Upon accessing the ServiceNow system, we can see a full list of applications loaded on the left navigation menu. It's extremely intuitive and easy to customize through a simple point and click interface. Research analyst Gartner also reinforced this point as a key strength in their report.
A Host of Choices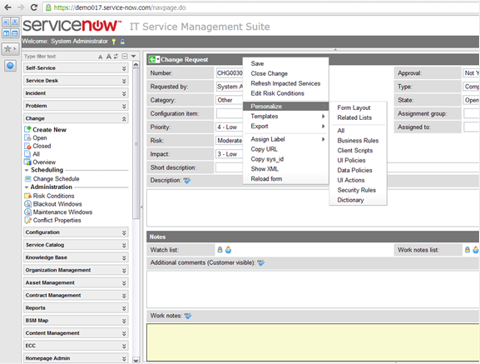 Source: Screen-shot of ServiceNow's public demo instance
In keeping with the theme of full transparency, ServiceNow also provides full access to their Wiki. It is neatly organized and provides screen-shots and videos along with step-by-step instructions that even a technology-challenged person could follow. All of the product documentation is readily accessible and customers are also offered a live forum to ask questions, post ideas, etc.
ServiceNow Regarded as an Industry Leader
ServiceNow has received numerous accolades from varying analysts and publications. A quick glance at their website will highlight some of these achievements. One of the most recognized analysts, Gartner, released a new research report and Magic Quadrant in August for ITSSM or IT Service Support Management. BMC barely edged ServiceNow for first place, but ServiceNow is positioned to quickly close up the small gap. The rest of the competition has a ways to go to catch up. In the report, Gartner concluded that ServiceNow is the fastest growing company among the vendors they evaluated.
Loyal Customer Following
ServiceNow is a prime example of a company that listens to its customer base and actively embraces feedback to help drive future growth strategies (Gartner also called this out as a key strength). Customers value this ingenuity as evidenced by ServiceNow's 98%+ renewal rate and 55% YoY Q4 customer growth rate. Equally impressive is their long list of blue-chip customers who continue to make the switch from varying competitors to adopt ServiceNow's extensive platform of solutions. ServiceNow has swiftly built up a substantial list of success stories and case studies and I strongly encourage readers to give it a look. A considerable portion of these case studies discuss the many reasons for making the switch and some also feature unique ways in which they continually extract additional value out of the platform beyond IT Service Automation capabilities.
With a loyal following comes ServiceNow's annual five day user conference called Knowledge held in May each year. It attracts thousands of users from around the globe and features more than 180 sessions - many of which are put on by the customers themselves. There is an Innovation of the Year award which highlights customers that have used the ServiceNow platform to deliver new breakthrough solutions in their line of business. It is this type of interaction that fuels innovation, new applications, and solution adoption rates which in turn drives new revenue streams.
Creating Irreplaceable Value with their Platform
The ServiceNow customer case studies are very telling in that the solutions ServiceNow brings to market are not only highly flexible and modern, but they play an integral part in helping IT transform from a cost center into a service provider by continually finding new ways to add value back to the business. Customers use their extensible platform to build custom applications for automating activities unique to their business requirements. Not only is ServiceNow separating itself from the competition by a hefty margin, but they are also making their footprint irreplaceable. Concurrently, ServiceNow is building markets outside of traditional ITSM with its platform, further contributing to the bottom line. Companies like ServiceNow are nearly impossible to duplicate or replace.
Conclusion
Considering ServiceNow's explosive growth especially compared to the competition, financial analyst positioning, extensive product and service markets, recognized industry leadership, and extremely loyal customer base - questions on the company's valuation and future growth prospects quickly begin to fade. It becomes clearer that ServiceNow is uniquely positioned for sustainable long-term growth. This is not a company that is simply going to fade away or take a back seat on technology innovations.
ServiceNow is a market leader and is proving they will continue to innovate to retain their leadership position into the foreseeable future. ServiceNow has a strong track record of execution that is well proven through its transformation from a hopeful startup into an industry leader. It is very likely that ServiceNow will continue to raise the bar by paving the way into new markets and tapping into new revenue sources that the competition will surely have a difficult, if not impossible, time following.
Given the compounding effect of revenue the SaaS model brings and their 98% renewal rate, ServiceNow's revenue will only continue to grow as the quarters and years pass. In a few short years they should exceed $1 billion in revenue. Once the fear of the February share lockups have subsided and passed, we should see the share price begin to appreciate again, especially if ServiceNow expects to shift into profitability in the second half of the year. The share price at these levels represents a great buying opportunity in a company that has a very bright future. Taking into account all of the points raised herein, we can now see why ServiceNow is an excellent long-term investment.
Disclosure: I am long NOW. I wrote this article myself, and it expresses my own opinions. I am not receiving compensation for it. I have no business relationship with any company whose stock is mentioned in this article.
Disclaimer: The information here is for informational purposes only. No guarantees are made and you should always consult with a financial advisor before making any investments.