EVENT FQ2 Revs $283.4M (+2.1% Above Street); Sees FQ3E Revs $175.0M (-28.4% Below Street)
CAUSE "Almost A Total Shutdown Of Purchases For New Equipment"
IMPACT Environment Expected To Continue "For At Least The Next Six To Eight Quarters"
ACTION Continue To Avoid Semi Equipment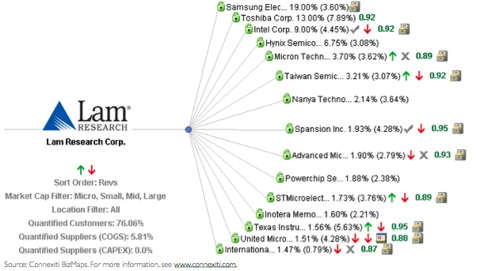 SUPPLY CHAIN EVENT TRACKER
11.12.08 Competitor AMAT sees FQ4 revs -24.2% below Street expectations
12.8.08 Customer Samsung suggests its 2009 CAPEX may decline by -30% Y/Y
12.18.08 Industry ASML guides Q1 revs -56.3% below Street expectations
12.19.08 Company LRCX sees FQ2 revs -7.5% below Street expectations
12.23.08 Supplier MKSI sees Q4 revs -11.1% below Street expectations
12.23.08 Customer MU sees F09 CAPEX $650-700M, -73.3% Y/Y
1.15.09 Industry CYMI sees Q1 revs -21.3% below Street expectations
1.15.09 Customer INTC sees 2009 CAPEX flat to down slightly Y/Y
1.22.09 Customer TSM sees 2009 CAPEX down "significantly" from 2008
1.26.09 Customer TXN sees 2009 CAPEX down -60.7% Y/Y
1.26.09 Supplier UCTT guides Q4 revs -4.7% below Street expectations
1.27.09 Customer STM sees 2009 CAPEX down -50% Y/Y
1.29.09 Customer Toshiba (OTCPK:TOSBF) sees F09 CAPEX down -60% Y/Y
EVENT: SLASHES GUIDANCE. Thursday after the close LRCX reported FQ2 revs of $283.4M (+2.1% above Street). More importantly, mgmt guided FQ3 revs of $175M +/- $15M (-28.4% below Street expectations). Management sees 2009 wafer fab equipment spending for the industry down -50% Y/Y.
CAUSE: PROFOUNDLY NEGATIVE COMMENTARY. Any investor with even a passing interest in the industry would be well-served to listen to yesterday's conf call or else read the transcript. Management likened the current environment to "a full-blown Category 5 hurricane of unprecedented speed and force," and has seen "almost a total shutdown of purchases for new equipment." More importantly, management believes the current environment will persist for "at least" the next six to eight quarters. It is one thing to believe a bottom has been put in and to look through it to the growth on the other side; it is quite another to have to wait 1.5-2 years. One might wonder how LRCX could think the environment could last that long, given the lack of visibility. The answer lies in a combination of the massive amount of excess capacity; efficiencies gained from 300mm vs 200mm; the smaller amount of equipment purchasers; and all this exacerbated by a very weak macroeconomic environment.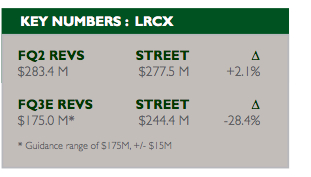 IMPACT/ACTION: CONTINUE TO AVOID SEMIS, FOUNDRIES, DISTIS. We have been negative on semi equipment for some time, and a steady stream of negative supply chain data—both deteriorating semiconductor unit growth and CAPEX cuts—has only strengthened our resolve, despite the occasional, temporary stock rally (see "Supply Chain Event Tracker," right). While LRCX's guidance has changed sentiment back to negative, we note that several names are well off their November lows, and Street estimates do not assume revenue deterioration in line with Lam's (We note that LRCX's guidance should not be interpreted as company-specific; rather, it is emblematic of the whole). For example, the Street is looking for AMAT's Apr-Q revs (the analog for LRCX's FQ3) down just -1.79% Q/Q.
It will be much worse. Similar conclusions can be made for AEIS, MKSI, NVLS, VSEA, etc. We maintain a negative bias on the entire sector. For more information, see our BizMaps at www.connexiti.com.