The last time I visited our local movie theater with my family, I was reminded of the unique advantage stock investors have in hedging their spending.
Investment-minded movie goers may find they can take the sting out of pricey tickets by owning shares in movie theater companies such as Cinemark (NYSE:CNK).
Movies Aren't Cheap
In 2012, industry receipts totaled $10.8 billion, up 6.5% from 2011, and the second biggest year on record. Q4 receipts climbed an impressive 14%, thanks to high profile movies including the James Bond flick, "Skyfall", and "The Hobbit".
A lot of the growth is being driven by upgraded auditoriums featuring high-end audio and digital projection influenced by the success of IMAX theaters (NYSE:IMAX).
The results from such investments are significant.
Cinemark expects returns from its Extreme Digital Cinema format, which features floor-to-ceiling, wall-to-wall screens, plush seats and 3-D, will top 20%.
Latin America's Growing Movie Appetite
Cinemark has been building theaters in Latin America since 1993, and its 162 theaters account for 30% of total revenue.
A young population is supporting rapid market growth. 25% of Brazil and Argentina's population is younger than 14. That compares to 20% here in the United States. And as these emerging Latin American countries gain wealth, younger people are enjoying a night out at the movies.
As a result, the Latin American market has grown a compounded 16.7% annually from 2007-2011 -- far faster than North America's 1.5% rate.
This is a great trend for Cinemark.
Its early entry and ongoing expansion has made it the largest operator in Brazil, where it holds 32% market share. The company is also the leading operator in Chile and Argentina, where it owns 38% and 42% market share, respectively.
But the company isn't complacent about its success. Instead, it plans to keep expanding in the region. In 2012, it opened 6 new theaters, spending $72 million to solidify markets and improve auditoriums.
Cinemark Is Growing In The U.S., Too
In the United States, Cinemark is adding new theaters and consolidating smaller operators.
In Q4, Cinemark planned to open 8 new theaters. And another 28 new theaters are in the pipeline.
Additionally, Cinemark agreed to acquire Rave Cinemas in a deal adding 32 theaters in 12 states last November -- significantly boosting Cinemark's reach into New England.
Overall, Cinemark's investments helped sales grow 6.8% in the first 9 months of last year to $1.86 billion. Admissions revenue and concessions increased 5.7% and 9.5%, respectively.
Investors also benefit from Cinemark's strong operating performance. The company's operating margins outpace peers Regal (NYSE:RGC) and Carmike (NASDAQ:CKEC).
Source: E.B. Capital Markets, LLC

As for the Street, analysts predict Cinemark will grow earnings per share to $1.87 this year, up from $1.77 estimates 90 days ago. If so, earnings will expand a solid 15% from 2012.
Given the company has beaten analysts in each of the past four quarters; there's a chance analysts remain too complacent.
Finally, investors can take comfort in knowing shares tend to reward through springtime. Shares have finished April higher than they start February in each of the past five years.
This suggests it's a good time to think about hedging your popcorn and soda purchases by picking up shares.
Source: Seasonal Investor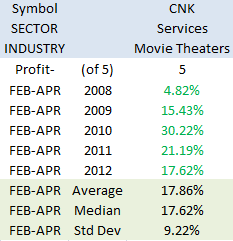 Disclosure: I have no positions in any stocks mentioned, and no plans to initiate any positions within the next 72 hours. I wrote this article myself, and it expresses my own opinions. I am not receiving compensation for it (other than from Seeking Alpha). I have no business relationship with any company whose stock is mentioned in this article.