On June 26th, News Corporation (NASDAQ:NWS) (NASDAQ:NWSA) announced that it was considering a corporate restructuring to separate its business into two distinct publicly traded companies. On June 28th, which was two days later, News Corporation confirmed that it would split into two companies. One of the companies would be focused on its newspapers and other publishing operations such as News International, Dow Jones & Company, HarperCollins, the New York Post and others. The other company would be focused on News Corporation's fast-growing and more profitable media content operations such as its Fox Cable Networks, its Filmed Entertainment, TV and Satellite operations. Fox Cable Networks continues to be News Corp.'s workhorse in terms of operating income and profit growth.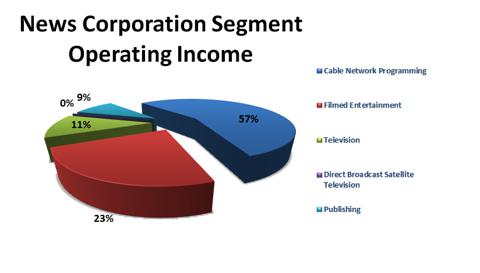 Source: News Corp's Q2 2013 Earnings Release
News Corp's Business Segment Performance:
Fox Cable Network Programming continues to be the star performer for NWS. This division's performance accounts for 28.5% of News Corporation's revenues and 60% of its operating income before corporate and other expenses. The reason why News Corporation is even on our investment radar is because of the strong performance of Fox Cable Network Programming. The division's operating margins were nearly 37%, and are comparable to other leading media content providers like Scripps Networks Interactive (NYSE:SNI), Discovery Communications (NASDAQ:DISCK) and AMC Networks (NASDAQ:AMCX). The division generated $945M in operating income in Q2 2013, which was a 7% increase versus the prior year's period. This was driven by 18% revenue growth, which was partially offset by higher costs at the RSNs related to the benefit recognized in the prior year as a result of the National Basketball Association ("NBA") lockout. The division enjoyed 9% operating income growth from its U.S. domestic channels such as the FX Network, Fox Regional Sports Networks and Fox News Channel. Fox International Channels saw 3% operating income growth as local currency operating income growth was mostly offset by the adverse impact of the strong U.S. dollar.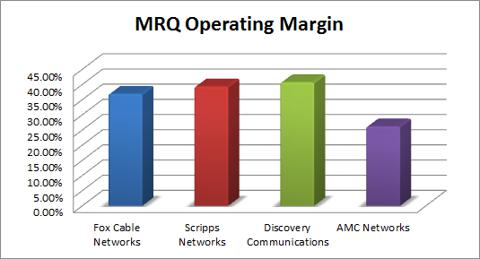 Source: MRQ Reports for News Corp., Scripps, Discovery Communications and AMC Networks
Fox Filmed Entertainment's revenue was flat in Q2 2013 versus Q2 2012, and its operating income declined by 2.5% during this time period. Fox Filmed Entertainment still generated $383M in operating income for the quarter and $783 during H1 2013. Division performance was driven by higher worldwide theatrical revenues, partially offset by lower television production revenues. The increase in worldwide theatrical revenues was a result of the success of "Taken 2" and "Life of Pi". The decrease in television production revenues was due to a decrease in the number of shows delivered internationally and lower syndication and digital distribution revenues.
Fox Television's revenue increased by nearly 1% in Q2 2013 versus Q2 2012, but its operating income was $224M and increased by 19% versus the prior year period. This increase reflects higher retransmission consent revenues while advertising revenues for the three and six months ended December 31, 2012 decreased as a result of lower primetime ratings and lower MLB revenues due to the broadcast of three fewer World Series games in the current year. These decreases were partially offset by higher political advertising revenues at the company's television stations due to the 2012 election. The absence of the Emmy® Awards, which was broadcast on FOX in fiscal 2012, and the broadcast of the Summer Olympics on a different network also impacted advertising revenues for the six months ended December 31, 2012. These improvements were partially offset by lower national advertising revenues, primarily reflecting lower primetime ratings and the market impact from the Olympics in August. Operating income increased due to the incremental revenue growth achieved as well as lower programming costs.
News Corp.'s SKY Italia Direct Broadcast Satellite TV division continues to see sagging performance in its revenues and profits. Q2 2013 operating revenue of $890M declined by $57M (-6%) relative to Q2 2012 due to a net 28,000 decrease in subscribers and strengthening of the U.S. dollar sharp decline in revenues. This was partially offset by a 2.2% increase in its average monthly revenue per user and profits in Q1 2013 versus Q1 2012 as weak local currency revenue growth of 1% was more than offset by the sagging performance of the euro currency in relation to the U.S. dollar. The division saw its operating profit and loss decline from $6M in Q2 2012 to -$20M in Q2 2013 due to higher subscriber acquisition costs and higher sports programming costs resulting from expanded UEFA League coverage.,
News Corp.'s soon to be former Publishing Division includes Dow Jones (The Wall Street Journal, Barron's and Marketwatch.com), News International, the New York Post and Harper Collins Publishers. We are glad to see that it is profitable, as well as more profitable than the New York Times (NYSE:NYT) and McClatchy (NYSE:MNI) combined. However, we believe that the publishing unit has outlived its usefulness as a cash cow because in our opinion, the poor growth prospects for the unit are serving as a valuation headwind on the combined enterprise.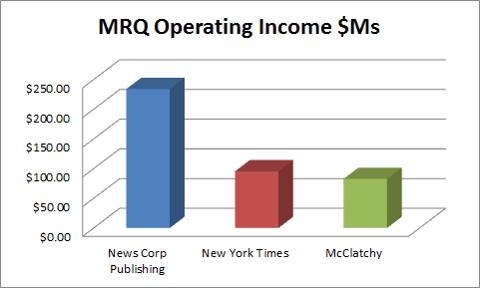 Source: Morningstar Direct
News Corp. Publishing's revenues increased by 0.9% due to high revenues at its British newspaper publications and the inclusion of revenues from the Thomas Nelson Christian book publishing business that was acquired in Q1 2013. The increase at the U.K. newspapers was primarily due to the launch of the Sunday edition of The Sun in February 2012 and third party printing contracts, and this helped offset advertising revenue declines. The weakening of the U.S. dollar against local currencies resulted in a revenue increase of approximately $25 million for the three months ended December 31, 2012 as compared to the corresponding period of fiscal 2012. For the three months ended September 30, 2012, operating income at the Publishing segment increased $16 million, or 7%, as compared to the corresponding period of fiscal 2012, primarily due to the revenue increases noted above and cost-saving initiatives, which were partially offset by the inclusion of expenses at Thomas Nelson and higher depreciation and amortization expenses.
Conclusion:
In conclusion, we are bullish on News Corp. We are pleased to see News Corp.'s CEO and leading stockholder Rupert K. Murdoch take steps to unlock shareholder value, especially in the wake of the News International phone hacking scandal. We are impressed with the fact that News Corp.'s publishing business is still more profitable than other similar firms. However, we can admit that print media is at best a cash cow and at worst, a declining business. Even if News Corp. did not have the phone hacking scandal with News of the World, it would make sense to sell or spin off the publishing division to allow shareholders direct exposure to News Corp.'s higher profit, higher growth entertainment properties. We believe that NWS will see its financial performance enjoy strong growth once the publishing spin-off is completed, and we believe that will bode well for the company's share price going forward. While the entertainment group assets (which will be held by Fox Group, Inc.) are more desirable to us than the publishing assets (which will be held by the new News Corporation), we're not surprised that the publishing division is content to muddle along in the mediocre operating environment for publishing assets. We based this on speculation and deal-chatter involving News Corporation and the L.A. Times. We were also surprised to see that Australian pay-TV assets will be included in the new News Corporation.
Disclosure: I am long SNI. I wrote this article myself, and it expresses my own opinions. I am not receiving compensation for it (other than from Seeking Alpha). I have no business relationship with any company whose stock is mentioned in this article.
Additional disclosure: This article was written by an analyst at Saibus Research. Saibus Research has not received compensation directly or indirectly for expressing the recommendation in this article. We have no business relationship with any company whose stock is mentioned in this article. Under no circumstances must this report be considered an offer to buy, sell, subscribe for or trade securities or other instruments.