Background:
Joy Global Inc.(NYSE:JOY) manufactures and markets underground and surface mining equipment. A weekly correlation analysis of the last 3 years shows the top 10 competitors to be: Caterpillar Inc (NYSE:CAT), Terex Corp (NYSE:TEX), Eaton Corp (NYSE:ETN), CNH Global N.V. (NYSE:CNH), Cummins Inc (NYSE:CMI), Parker Hannifin Corp (NYSE:PH), Agco Corp (NYSE:AGCO), Deere & Co (NYSE:DE), Manitowoc Company Inc. (NYSE:MTW), Kennametal Inc. (NYSE:KMT). The following table compares Joy Global to these competitors on both a trailing and forward earnings basis.

Source: Mercury Global Holdings
Note: JOY may or may not describe all of these companies as competitors, but the correlation strongly indicates the market is not differentiating strongly between them.
On both a price and enterprise basis, Joy appears to be tremendously undervalued relative to its peers. This piece is meant to investigate this relationship, and whether it is validated by weaker than average company fundamentals, or whether this price to value discrepancy represents an investment opportunity.
Analysis Approach
A stock selling at a discount to its peers does not, in and of itself, indicate an investment opportunity. First, we need to answer questions on the following topics:
Profitability
Comparison to Peers
Future Prospects
Risks
If it proves to be a good opportunity, we will then discuss a catalyst to facilitate the market recognizing its error and low risk entry points based on the current price action.
Profitability
Joy has an average ROE of 41.7% over the past 5 years. This is a spectacular return to shareholders, but how has the trend looked?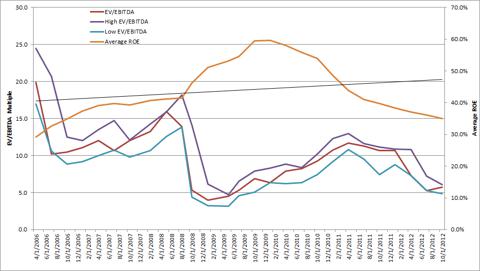 Source: Mercury Global Holdings
While the long term linear trend line is still positive, the large bump in ROE that started around the financial crisis begs for investigation. Additionally, the long term comparison of Enterprise Value to EBITDA (Cash Flow Proxy) shows that Joy is currently priced near its Great Recession lows.
My previous article went through a long term ROE decomposition to get a better understanding of the drivers of Apple's (NASDAQ:AAPL) ROE. In that situation we determined strong and steady net profit margin growth were the source of the high returns to shareholders. Let's see what we find here: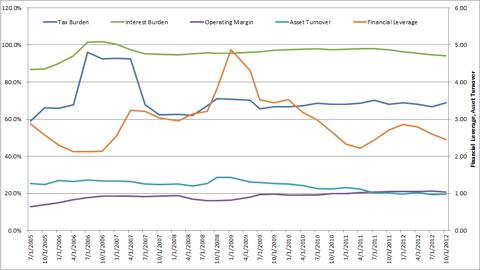 Source: Mercury Global Holdings
Unfortunately, fitting all of the components of an extended Dupont decomposition on a single graph, while keeping a meaningful axis range, is a bit challenging. For quick reference, the Operating Margin (purple), Tax Burden (blue), and Interest Burden (green) are all graphed to the left axis while the Financial Leverage (orange) and Asset Turnover (aqua) are graphed to the right.
To start with, we can see that interest burden-- a measure of how much interest payments to debt holders drains away money that would have gone to shareholders-- has been stable for the last 30 quarters and is not driving any changes in ROE. Additionally, the company has faced a fairly consistent tax burden with the exception of a 1 year period from the middle of 06' to the middle of 07' ,where the company was able to apply foreign tax credits to reduce its tax burden temporarily during that period.
The spike in Financial Leverage from mid 08' to mid 10' is the number one thing that jumps out of the graph as a driver of that bump in ROE we observed above. Combing through the company filings during this period shows that there was a one time reduction in equity of 41% that accounted for this increase in A/E. This reduction in equity was the result of the $2 billion share repurchase program which the company acted aggressively to enact at the extremely depressed share prices of Fall 2008. This demonstrates timely, shareholder friendly action on behalf of Joy management, although temporary in nature. For the long term, investors should rely on the company to drive ROE through sales efficiency and profit margin, but investors should be pleased to have a board that has proven its willingness to act decisively in their favor, should the opportunity arise.
The graph flattens the Operating Margin and Asset Turnover ratios a bit, but for context, the Operating Margin increased from 12.8% in FiscalQ3 of 05' to 20.7% in FiscalQ4 of 2012 or compound quarterly growth in margins of 1.6%. This is a number I will be interested in at the earnings release in a couple weeks as the margin compressed by .5% at the last filing.
Moderating this very strong margin growth is the decrease in Operating Efficiency, as evidenced by the -0.8% compound quarterly growth rate. While not alarming, this is another number that I will closely watch at the upcoming earnings release. Overall, the data suggests that an ROE of roughly 35% is a sustainable target given margin growth, financial leverage and turnover.
Comparison to Peers
How does a 35% sustainable ROE compare to the industry? If this is below average it might explain the market pricing the company at a discount to its peers.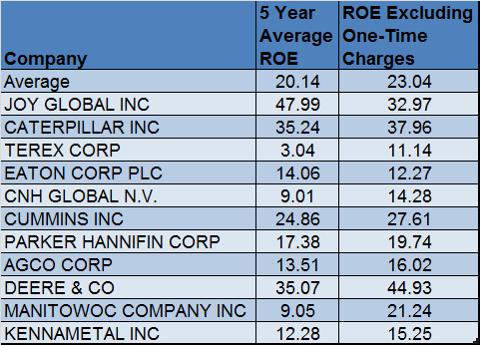 Source: Mercury Global Holdings
Conversely, a sustainable ROE of 35% looks to be at the very top among its most closely traded peers. Indeed, compared to the average, it is 2.4 times as profitable on a 5 year average basis, and 1.4 times as profitable at last filing. We know that the 48% long run ROE is inflated because of excess leverage during this period, which after re-levering is where I come up with my 35% estimate. Comparing this to the long run average of its peers, it is 1.8 times more profitable. Therefore on this basis alone, a P/E of 22 would fairly value Joy relative to its peers at a price of $156 based on TTM earnings. However, this is purely based on historical performance, and to be prudent, discounts to this P/E based upon future earnings prospects and uncertainty (risks) need to be taken into account.
Future Earnings Prospects
As an investor, I consider myself a generalist. I don't have extensive knowledge or experience in any one industry to the extent that I feel it could give me an edge by investing only in that sector or industry or investing with a view contrary to the accepted industry outlook. Therefore, I don't pretend to be an expert when it comes to predicting specific sector or industry trends. I leave that to the professionals who get paid to do that, and instead spend my time where I feel I have the edge-- identifying opportunities.
We have already established through the analysis of ROE that Joy is better at making money in its industry than most other competitors. Let's assume that, due to the extended time horizon the company has achieved this, it is unlikely Joy management will forget how to do this in the next few years.
Therefore, the main thing left to examine is the industry outlook as written by an expert, keeping in mind the main countries of concern are: Australia, China, South Africa, India, Russia, Brazil, The United States, and our lovable neighbors to the north, the Canadians. For that, I point you to Zack's. The full article can be found here.
For your convenience, here is the main point:
Conclusion: Prospects Bright

Despite the prevailing global uncertainties, rising needs of better infrastructure, modernized methods of agriculture and growing complexity of mining/manufacturing methods will boost demand for technologically advanced equipment in these industries. Moreover, looking ahead on the growth path, the emerging and developing nations will inevitably be an attractive destination for machine makers worldwide.
Risks
+Potential $1 billion write-down on acquisition of IMM. For more detail on this I encourage you to read this article by my fellow SA contributor. The fantastic dialogue in the comments is an interesting read as well.
-My take on the write-down risk is that while this was a great catch by the author and a reasonable question to ask, it seems at this point that a major write-down is unlikely. However, unlikely does not mean impossible and a discount to the value must be applied.
+Slower than expected demand for mining equipment.
+Extended Slowdown in developing market demand for commodities.
+Increased competition and margin pressure following recent industry consolidation.
-As a generalist, the above three risks are those you accept when investing in an industry where your knowledge does not exceed the industry norm. One way to moderate exposure to this is to buy the "best of breed" within an industry, which is a category Joy certainly falls into. By buying "best of breed" you assume that the management that has proven exceptionally capable at handling a volatile industry will continue to acquit themselves admirably in their job of generating earnings for shareholders.
Catalyst
Joy reports earnings on the 27th of February pre-market. This will also be an opportunity for the company to comment further on the potential IMM write-down concerns.
Recent company guidance surrounding its operating environment and economic headwinds has been exceedingly negative. However, since the most recent company guidance, there have been multiple positive industry indicators out of China. Obviously this is important because China is the biggest consumer of the products Joy's customers are selling: Raw mined commodities.
Chinese Steel PMI back in expansionary territory:
Iron ore prices improving on the back of Steel Expansion: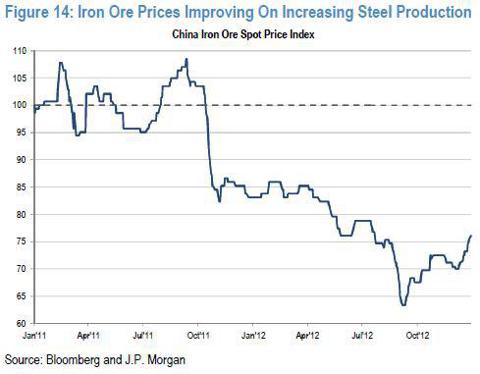 Finally, 30% of Joy's revenues are tied to U.S. Coal production. Increases in the price of Natural Gas has made the majority of U.S. mined coal the preferred economic alternative, which should ultimately benefit Joy's customers and thereby supply the free cash flow needed to order more equipment from Joy.
Recent Price Action
The below graph shows the last 3 years of price action for Joy Global with the most recent earnings releases and the IMM acquisition marked. The green Es indicate an earnings beat; Red Es indicate an earnings miss. The blue A indicates the two purchases of IMM. As you can see, Joy traded near $100 several times in the last two years before the recent slow patch in the industry compressed valuation multiples. As you can see it has beaten earnings expectations 8 out of the last 11 quarters. I would also point to the large pullback in price from the IMM acquisition as having already significantly priced in the new acquisition risk.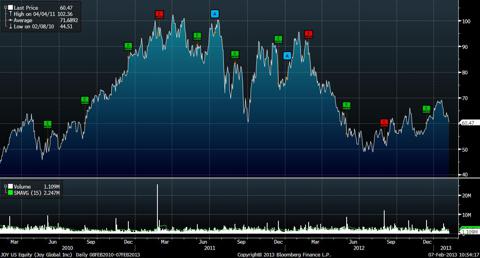 Source: Bloomberg
This next chart indicates that based on the price trend channel over the last year or so, $59 to $62 would be a low risk entry range.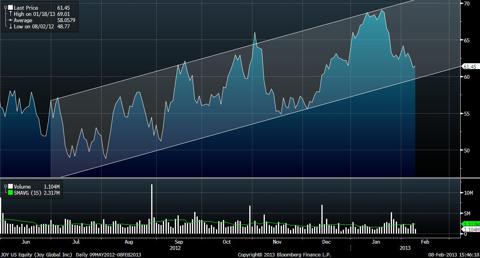 Source: Bloomberg
Action
I have no magic formula for discounting the 4 major risks I outlined above. However, logic would indicate to me that a conservative estimate would be to reduce the fair value of the company by about 25% to account for the uncertainty it faces in its industry outlook and with its recent IMM acquisition. This would reduce my earlier P/E from 22 down to 16.5 and a target fair value price of $117.15 based on current earnings. This is a return of 93% from current pricing. Based on the above, Joy is a clear BUY.
Disclosure: I am long JOY. I wrote this article myself, and it expresses my own opinions. I am not receiving compensation for it (other than from Seeking Alpha). I have no business relationship with any company whose stock is mentioned in this article.