We may have found a place to park some of our funds, but any move today shall be predicated upon market direction and how the stock opens as it is a somewhat thinly traded issue. One day does not make a trade, or a trend for that matter, but it does give us some comfort in knowing that at least support was held (in regards to Gulfport here) without ever really having to test that level and rely on buyers to come to the rescue.
We included two charts of gold in the article yesterday and we want readers to pay attention there as we are at what we think could be a pivotal moment in that market with either a bounce off of support or a collapse in the overall market and another period where the bears take control of the direction of the precious metals market. Remember, the longer that central bankers are forced to maintain an easing environment the harder it will be to cap inflation and inflation is what is the real driver behind gold price appreciation.
Commodity prices this morning are as follows:
Gold: $1647.70/ounce down by $1.90/ounce
Silver: $31.045/ounce down by $0.026/ounce
Oil: $97.65/barrel up by $0.14/barrel
RBOB Gas: $3.0602/gallon up by $0.0099/gallon
Natural Gas: $3.245/MMbtu up by $0.015/MMbtu
Oil & Natural Gas
Gulfport Energy (NASDAQ:GPOR) announced yesterday that their secondary had been priced at $38/share which was right at the support level we have discussed over the past week or two. The announcement calmed investor nerves regarding the secondary and how strong the market was after having just raised additional capital for a similar deal within the past two months. Share rose $1.01 (2.61%) on the news to close at $39.69/share and volume was almost 4.2x normal as 5.6 million shares were traded. We did like that we saw the shares get stronger as the day moved on and that they were green with bulls buying whenever weakness appeared.
Oftentimes we are critical of how the US handles deals and business with China and vice-versa, however we also like to give credit where credit is due and for their approval of the Nexen (NXY) deal with China's CNOOC we have to give our stamp of approval. The deal was expected to face headwinds in Canada but with that country's regulators approving the deal it fell to those in the US to approve the new proposed owner of the small portfolio of assets held here in the US. The situation very well could have been politicized, which has happened in the past, but US policymakers and regulators did not resort to this tactic which we believe shall have long-term benefits for the American-Chinese relationship and future deals involving US assets. Shares in Nexen rose $0.56 (2.08%) to close at $27.43/share.
One E&P play which we certainly do not talk enough about these days is Gran Tierra Energy (NYSEMKT:GTE) which trades on the AMEX and is a play on South American oil. The company announced earlier this week an oil discovery in Peru which pushed shares up $0.44 (8.04%) to close at $5.91/share on volume of 3.8 million shares. With all the attention that domestic producers have gained over the years it has taken away from names such as Gran Tierra and left the company somewhat underappreciated. Yes there is the issue with the South American exposure, but the company has a great track record on the continent and management, in our opinion, has more than proven themselves. The press release about the company's results in Peru and Colombia can be located here.
Magnum Hunter Resources (MHR) had an operational update yesterday where the company explained that their 2013 capital expenditure budget would be about $300 million. Based on this rate of spending, the company is guiding for a 2013 exit rate of 23,000-25,000 BOEPD in production. Volume was 4.02 million in yesterday's session and shares fell $0.08 (2.04%) to close at $3.84/share as investors were not told anything groundbreaking yesterday. The company will spend most of their cap ex on wells and only about 5% of their total in leasehold additions. For more details on the company's plans you can read the press release here.
Uranium
We noticed yesterday that UR-Energy (NYSEMKT:URG) has fallen rather sharply recently and was in fact lower by $0.0497 (5.87%) yesterday to close at $0.7965/share. There have not been any press releases out, but there is the ongoing environmental issue which was a last minute objection by an environmental group - something which could cause trouble if certain events were to occur. Volume was roughly 4x normal and there was heavy selling taking place in the early morning. It appeared to us that someone was trying to exit a position, but not having been in front of our Level II or other trading screens we cannot confirm that. The stock is however looking very attractive for long-term investors and we may be tempted to open a position here depending on the open and other circumstances this morning. Readers know we are bullish uranium and we have been waiting for the pullback in these names to give us an attractive entry point which we are beginning to see in a few names now, with UR-Energy among them.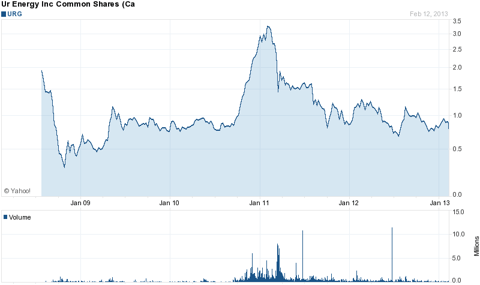 It sure looks like we are around support at these levels, but a delayed project could be detrimental to any hopes of getting started in the near-term if the company were to lose another season to permits and licensing red tape.
Chart courtesy of Yahoo Finance.
Disclosure: I have no positions in any stocks mentioned, but may initiate a long position in URG over the next 72 hours. I wrote this article myself, and it expresses my own opinions. I am not receiving compensation for it (other than from Seeking Alpha). I have no business relationship with any company whose stock is mentioned in this article.
Additional disclosure: I may initiate a position in URG today, dependent upon market conditions, among other things.