Facebook Inc. (NASDAQ:FB) has had a rough journey since its initial public offering. The stock has been bombarded by sentiment, posting an average volume of 72.23 million for the last year. Initially appearing at $38 per share, Facebook has dipped to as low as $18. The stock is currently holding steady at around ~ $27, but the company's unique position makes it a great long-term buy.
Facebook, just like other social media companies, makes its money through advertising. The corporation's latest earnings report showed that it can monetize properly, with a net income of $43 million. After two quarters of negative net income, Facebook finally broke out and started cashing in on its user base. They also experienced a massive increase in cash flow from the quarter prior, going from $248 million to $681 million. Evidently, Facebook has started making money. What we must now ask is whether its model is sustainable. It turns out that Facebook's model is not only sustainable, but will yield huge returns because of the future of the industry.
Currently, Facebook is the top choice for social media advertising.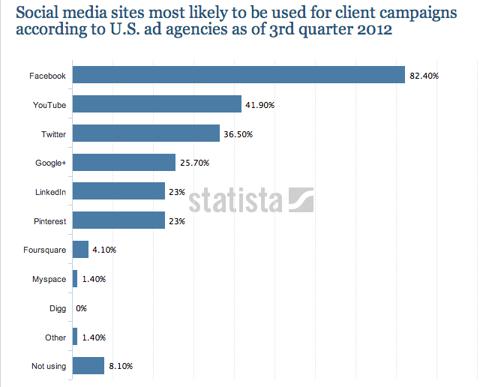 Source: eMarketer, Statista
According to the most recent report from eMarketer, Facebook is by far the most popular website for United States advertising agencies trying to advertise their product or service through social media. The percentages don't add up to 100%; this is because most firms use more than one social media source. About 4/5 firms will use Facebook, however, cementing it as the social media advertising kingpin.
Facebook has positioned itself as the go-to source for social media advertising. Social media is a relatively new phenomenon, however, so how much could companies really be spending on it?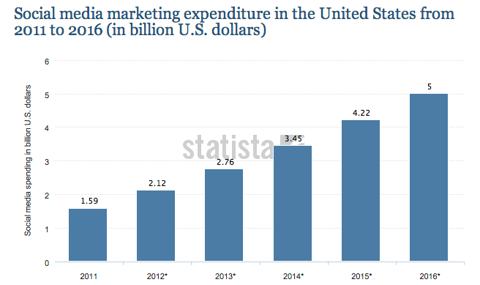 Source: Forrester Research, Statista
According to a model from Forrester Research, social media marketing expenditure is projected to increase rapidly over the next several years. The trend is obvious: more companies are spending more money on increasing their digital presence. Corporations know that you spend a larger portion of your day on social media than ever before, and they want to market to you. The glamorous Facebook fan pages of the largest companies (e.g., McDonald's (NYSE:MCD)) evidence the heightened attention that these companies are putting into social media marketing. Other research firms think that social media marketing expenditure will jump even higher: Bloomberg thinks that the industry will reach a whopping $9.8 billion by 2016, a much higher estimate than that given by Forrester. If anything, the number will be higher rather than lower. Social media has integrated itself into our lives like nothing else, and for companies to skimp on this valuable new marketing frontier would be a poor decision.
While Internet advertising may have been "the next big thing," social media has quickly overcome it. Also known as "Web 2.0," social media has been one of the most rapidly growing phenomena in the digital era. Its prevalence can be validated by anyone anecdotally: Facebook has become a universal tool for connecting people, even those who didn't grow up with it. Social media's vice grip on society can be validated by simple usage statistics: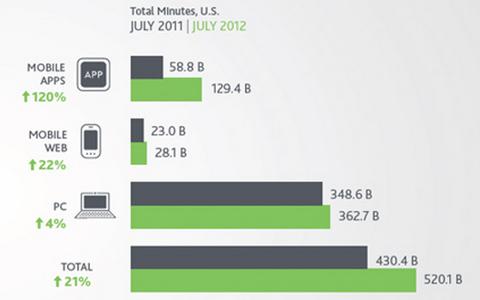 Source: Nielsen
People continue to spend more of their time on social media, and the trend has no reason to reverse itself. The more time that consumers spend looking at their online profiles, the more time they can spend looking at advertisements. Everyone in the marketing industry knows this, and they are scrambling to better situate their own firms to use this new technology.
We can look at Facebook from Warren Buffett's value-based investing perspective. Forget the income statement and the balance sheet: what we have here is a corporation that is the best in its industry. It also turns out that this industry is on pace to become the very heart of modern day marketing. Few experts would tell you otherwise: social media marketing is the future. Facebook is currently the number one choice for social media, and will rake in huge profits as a result. Going long Facebook is a great way to capitalize on the trends within the marketing industry.
Disclosure: I am long FB. I wrote this article myself, and it expresses my own opinions. I am not receiving compensation for it (other than from Seeking Alpha). I have no business relationship with any company whose stock is mentioned in this article.