Akamai Technologies, Inc. (NASDAQ:AKAM) provides content delivery and cloud infrastructure services for the delivery of content and applications over the Internet. Akamai offers application and cloud performance services, solutions for digital media and software distribution and storage, Website optimization services, network operator solutions, online advertising-related services and other specialized Internet-based offerings. While slow web pages lead to lost sales and lost customers, many companies spend money on web acceleration and content delivery technologies, especially those of market leader Akamai.
Recent Highlights
Q4, 2012 earnings: On February 6, 2013, AKAM reported lower-than-expected Q4 revenue and guided to higher spending on higher sales staff. AKAM reported EPS of $0.54 per share, which was above analysts' estimate of $0.50 per share. The EPS was up 20% from $0.45 earned in the year-ago quarter and surged 25.6% sequentially, which was well above management's guided range of $0.48-$0.52 per share. The significant improvement in EPS was primarily driven by strong revenues and operating margin growth, as reported by Zacks. Q4 sales rose 17% to $378 million, below analysts' expectation of $381.3 million. However, revenue from CDN services to media and entertainment companies rose 15% to $158 million, as it was boosted by online video growth.
Margins: According to Zacks' report, adjusted EBITA margin increased 20 bps year-over-year and 50 bps sequentially to 45.8%. Operating margin expanded 80 bps from the year-ago quarter and surged 210 bps sequentially to 25.3%. The strong growth was driven by higher gross margin base and lower-than-expected increase in operating expenses. Net income margin also increased 50 bps on a year-over-year basis and jumped significantly from 15.6% posted in the previous quarter to 19.8%. The margins are expected to improve as the company plans to phase out "uneconomical" contracts in Q1. Further, the company is expected to reduce depreciation expense going forward as Akamai continues to manage its server networks in an efficient way. However, there will be margin pressure in the near term as noted by Gray Powell, an analyst at Wells Fargo & Co. in New York.
Outlook: AKAM forecasts the Q1 sales forecast of $0.50-$0.52 with revenue of $352M-$362M. Analysts surveyed by Thomson Reuters had previously forecast Akamai to earn $0.47 a share on $370.1 million in sales for the quarter. Akamai sold its advertising business in December, 2012, which could contribute to lower revenue forecast. The full earnings call transcript for AKAM's management discussion for Q4, 2012 results can be accessed here at Seeking Alpha.
Strong demand: The strong demand for cloud infrastructure solutions, security, mobile products and online video will continue to drive top-line growth for AKAM. Akamai has been chosen by Apple Inc. (NASDAQ:AAPL) and News Corp. (NASDAQ:NWS) due to its edge to provide high-quality service at a much lower rate. eBay (NASDAQ:EBAY) has also selected AKAM to provide the web application services.
Concerns/Analysts' Calls
On February 7, 2013, AKAM was downgraded by Jefferies from Buy to Hold with a price target of $40.00 (from $44.00) following Q4 results and outlook. Janney Montgomery Scott also downgraded AKAM from Buy to Neutral with a price target of $40.00 (from $45.00) after the Q4 earnings report.
Key Stats and Valuation
AKAM has an enterprise value of $5.85B with a market cap of $6.54B. AKAM has a total cash of $437.58M with zero total debt. AKAM generates an operating cash flow of $530.41M with a levered free cash flow of $308.25M. By using Morningstar's data, AKAM's key stats will be compared with its peers in the software application industry. AKAM has higher revenue growth (three-year average) of 13.6, as compared with the industry average of 6.4. AKAM has higher operating margin of 22.6%, ttm, and net margin of 14.8%, ttm, comparing to the averages of 20.4% and 13.2%, ttm, respectively. AKAM's ROE of 8.9 is lower than the industry average of 15.5. AKAM's P/E of 32.8 is lower than the industry average of 36.2 and lower than AKAM's five-year average of 34.4. AKAM's forward P/E of 16.3 is higher than S&P 500's average of 14.0.
Technical Analysis
AKAM closed at $36.74 with 4.05% gain on February 12, 2013. AKAM had been trading in the range of $25.90-$42.53 in the past 52 weeks. AKAM has a low beta of 0.83. The MACD (12, 26, 9) indicator had been showing a bearish trend, but the MACD difference started to converge in the last trading day. The momentum indicator, RSI (14), is picking up and indicating reduced selling momentum. AKAM had closed above its 200-day MA of $35.73 in the last trading day and is still below its 200-day MA of $39.67, as seen from the chart below.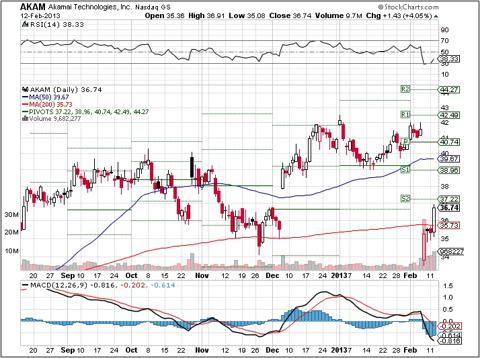 Source: StockCharts.com
Reviewing Options
Despite the mixed Q4, 2012 earnings, the fundamentals for AKAM remains solid with steady growth, profitable margins, strong cash flow, and a zero-debt balance sheet. For long-term investors, a credit put spread options play will be reviewed below.
Short May 18, 2013 put at the strike price of $32.00 for the credit of $1.14
Buy May 18, 2013 put at the strike price of $30.00 for the cost of $0.64
The maximum profit is $0.50, and the maximum risk/margin requirement is $1.50 ($2.00 loss - $0.50 credit received). If AKAM closes above $32.00 on May 18, 2013, 33.33% return on margin will be gained. If AKAM falls below $32.00 upon options expiration, AKAM stocks will be acquired at $31.50, which is 14.26% below the current price of $36.74.
Note: All prices are quoted from the closing of February 12, 2013 and all calculations are before fees and expenses. Investors and traders are recommended to do their own due diligence and research before making any trading/investing decisions.
Disclosure: I have no positions in any stocks mentioned, but may initiate a long position in AKAM over the next 72 hours. I wrote this article myself, and it expresses my own opinions. I am not receiving compensation for it (other than from Seeking Alpha). I have no business relationship with any company whose stock is mentioned in this article.