Despite repeated quarters of double-digit growth, Lihua's (NASDAQ:LIWA) stock has failed to rise. A combination of short selling and skepticism towards Chinese RTOs has left LIWA with an unreasonably low stock price despite two independent financial reports confirming the validity of their operations. In their last quarter (3Q), LIWA reported 53.5% year-over-year revenue growth as well as a 27% increase in net income. With a market cap of 160mm and a share price of 5.20, LIWA reported an adjusted EBITDA of 23.6mm, which annualized equates to a 1.43 times EBITDA. Lihua International's balance sheet also shows a lack of debt and $130.5 million in cash on September 30, 2012. As of right now, the company has a book value of $8.00.
Their most comparable Chinese peer, Fushi Copperweld Inc., traded at roughly 5x LIWA's P/E before the company was taken private in December. American peer, Encore Wire Corp. (NASDAQ:WIRE), trades at about 8x LIWA's P/E. Both of these comparisons would equate to a value of at least mid 20s on LIWA without even taking into account their cash or growth rate.
LIWA stock chart Nov 12 2010-Feb 8 2013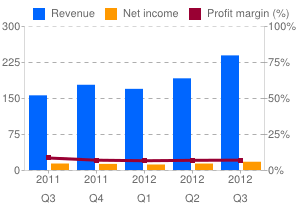 LIWA income statement - inversely proportional to its stock quote

Gross Profit, Revenue, and Non-GAAP Net Income are also contradicted by LIWA's stock quote.
In the near future, I believe 5 key catalysts will compel LIWA to rise:
1. Expansion: In order to keep up with rising copper product demand, LIWA announced the construction of an additional smelter, which should be complete in 2013. As LIWA's second and third smelters near their maximum capacity of 135,000-145,000 tons of refined copper per year, this should (based on the capacity of previous smelters) boost production capacity by 25,000-30,000 tons (+25%).
2. Increased Demand For Copper: As China ramps up infrastructure spending, copper demand shows no signs of stalling. By 2015, China intends to invest up to $1.6 trillion in expanding its alternative energy, high-end equipment manufacturing, and advance technology industries among others, from 3% of economic output to 8%.
(click to enlarge)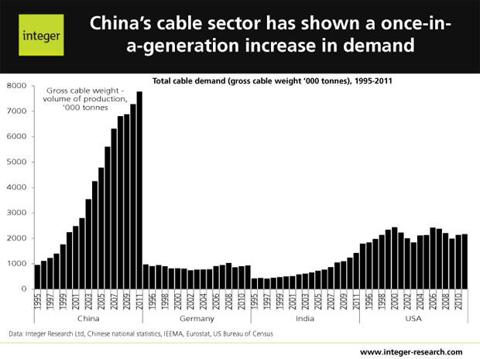 3. Technological Innovation: LIWA recently completed test production with the Shanghai Electric Cable and Wire Institute on a strategically innovated copper-clad aluminum superfine wire. This new product would be able to "transmit energy and other high-conductivity applications." Thus, LIWA would be able to capitalize on the further development of China's power grid in the coming years.
4. Q4 Earnings and Conference Call: Based on previous earnings and increasing production capacity, I estimate that LIWA's Q4 earnings will exceed $0.60 (Q3 had $0.58) for an annualized $2.50 EPS. At a conservative 8 P/E ratio with these earnings + cash, LIWA would trade at about $25.00, a 400% return from current levels. Their conference call will describe earning predictions for 2013 and with 20%+ growth in 2013 LIWA has $3.50 EBITDA per year. The conference call should also clarify questions related to Cash/SEC Filings/SAIC Filings, and with 130.5mm cash on hand there is a possibility for stock buybacks and dividends.
5. Short Covering and Key Technical Indicators: LIWA stock shows a strong cup and handle pattern on its one-year chart and a strong breakout point at $5.50. This would be potentially devastating for the 1.32mm shares short interest as of January 15, which have already seen LIWA rise almost 15%. Such a rise would signal a key turnaround for the stock, redirect market attention to the company, and restore high trading volume.
Disclosure: I am long LIWA. I wrote this article myself, and it expresses my own opinions. I am not receiving compensation for it. I have no business relationship with any company whose stock is mentioned in this article.