Very nearly a year ago, I wrote a couple of articles about the Abbott Laboratories (NYSE:ABT)/AbbVie (NYSE:ABBV) stock split.
As we are so fond of doing it is time now to check up on how this opportunity is playing out, since the actual split took place at the start of 2013.
| | |
| --- | --- |
| | $/Share |
| Price as of 4-1-2012 | 61.5 |
| Current AbbVie Price | 35.42 |
| Current ABT Price | 34.3 |
| Total | 69.72 |
We did a lot of work in the previous article to try to figure out the value of the company at the time and came up with three cases, of which the low was around $72 per share, and so our estimate that there was considerable upside in this deal proved to be pretty close, and anyone who went long on that basis is doing just fine.
So naturally, the question of the day is: What to do? Do you cash out, sit on your investment for awhile longer, with the hopes that we are headed for the "high case" where the deal might be even more, or even double down because the value of the deal is still a little lower than we had predicted a year ago?
As of a few days ago the ABT portion of the investment was lagging behind a little in the marketplace, per the following chart: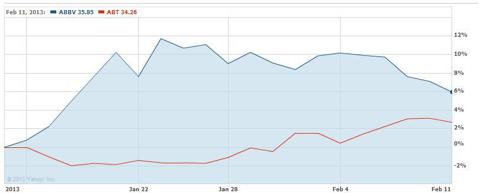 Even though ABT was ostensibly the more conservative of the two investments, we will focus on that one for the moment.
There is a company overview on this link. Company sales are supposed to be $22B, with market leadership in nutritionals, established pharmaceuticals, a Medical Device business, and a Vascular business, which included a line of stent products.
The gross operating margin of this set of businesses is on the order of 55% and based on the net margin estimates we came up with last year, of around 23%, we can arrive at a revenue estimate as follows:
| | | |
| --- | --- | --- |
| 2013 Update | 2013 Est ((NYSE:M)) | 2012 Est |
| Total Sales | $22,000 | $ 18,360 |
| Nutritionals | $6,160 | $ 5,989 |
| Diagnostics | $5,940 | $ 5,228 |
| Medical Devices | $4,400 | $ 1,730 |
| Established Pharmaceuticals | $5,500 | $ 5,413 |
I've also included the estimates I came up with a year ago, and have to say I am not too unhappy with the accuracy of those numbers.
Now, for the estimate of earnings, based on the above sales and expected margins:
| | |
| --- | --- |
| | 2013 Est |
| Sales | $22,000 |
| Gross Operating Margin % | 0.55 |
| Gross Operating Margin | $12,100 |
| Net Margin based on Segment Estimates | 0.23 |
| EBIT | $5,060.00 |
| Est EPS (based on 75% EBIT/EPS) | $3,795.00 |
| Shares Outstanding | 1600 |
| EPS | $2.37 |
| JNJ Average of Forward and Trailing PE | 16.00 |
| EST ABT Price/Share | $ 37.95 |
Based on the operating margin assumptions above, including the net margin estimates for this business we arrived at last year, we come up with about $2.37 per share for the coming year. As a figure check, we can compare that with the analyst estimates for the upcoming year of about $2.10 this year, and $2.55 next year, so this is in the realm of plausibility.
If you do a stock screener, of greater than $5B companies in the Pharmaceutical industry, with a profit margin of 23% and a growth rate of 5%, you get a list of two companies: Novo Nordisk (NYSE:NVO) and Allergan (NYSE:AGN) with an average PE of 19.5, and a price-to-sales ratio of an average of 6. If the marketplace eventually gives ABT exactly that much respect, the upside is somewhere between $46 and $82.
If you do a stock screener on just the nutritionals business, and for the sake of argument call it the "food business," with revenues of about $5B, a profit margin of greater than 15% and a growth rate of 5 percent, you get "zero companies", that business by itself would be the best investment in that otherwise relatively low margin industry.
If you use the same valuation method we used before, price-to-sales ratio, and assume that the management is able to run the business equally as effectively as rivals Johnson and Johnson (NYSE:JNJ), you get the following:
| | |
| --- | --- |
| JNJ Price/Sales | 3.11 |
| ABT Price based on current JNJ Price/Sales | $68,420 |
| ABT Price/Share | $42.76 |
Side issue: The company has already declared a dividend of 14 cents per share for the first quarter, which amounts to a 2% insurance policy. The AbbVie stockholders are getting 40 cents per share, the total of 54 cents per pre-split ABT amounts to a 3 cent per share dividend increase.
So where are we on all of this?
Based on a couple of different valuation methods, and comparing ABT with similar companies in its industry with comparable growth rates, and profit margins, we can still be pretty comfortable in predicting an upside of at least 10%, and potentially more.
The headwind, of course, is that we are heading into a period of government-induced headline peril, which has a chance to spook the overall market, and if that happens, we will have to rethink the situation.
Also, as we are fond of saying, every time in the above article that you see the words "if." "estimate," "might" and "could" there is some uncertainty factor.
The world is full of chaos, and there are no guarantees on anything. We will have to do some work now on AbbVie to see whether that part of the trade is fairly valued.
Disclosure: I am long ABT. I wrote this article myself, and it expresses my own opinions. I am not receiving compensation for it (other than from Seeking Alpha). I have no business relationship with any company whose stock is mentioned in this article.
Additional disclosure: I entered the trade yesterday at a price of about $34.50