Open cloud provider and innovator Rackspace (NYSE:RAX) reported a record quarter for total revenues ($352.9 million), operating income ($49.6 million), net income ($29.9 million), GAAP earnings per share ($0.21), and cash flow from operations per share ($0.85) for the quarter ending December 2012. Though the best financial results ever reported by CEO Lanham Napier, this was considered a miss of $2.5 million on revenues ($355.4 million expected) and a miss of $0.01 on GAAP earnings per share ($0.22 expected). After reviewing the quarterly report, I consider this a mild disappointment at most.
Margins were surprisingly encouraging in what CEO Napier calls the "new cloud world" and expects a 2013 "margin profile" similar to 2012. Both gross profit margin (72.9%) and operating margin (14.1%) were exceptionally strong and are multi-year, if not all-time, highs. Net margin (8.47%) was a 4-quarter high and appears to be the second best ever. I wanted to see an 8+% net margin and Rackspace delivered nearly 8.5%.
Year-over-year growth of revenues slowed for the 5th consecutive quarter to +24.6%. This was just below expectations of +25.5%. Last quarter was +26.9% and the 4-quarter average is +27.9%. Analysts are projecting a small acceleration for the next 2 quarters, March 2013 and June 2013, of +25.2% and 24.9%, respectively.

Year-over-year growth of GAAP earnings per share slowed for the 4th consecutive quarter to +16.67%. This was below expectations of +22.2%. Last quarter was a much higher +35.7% and the 4-quarter average is an even higher +40.2%. Analysts are projecting an improvement for the next 2 quarters, March 2013 and June 2013, of +35.3% and +44.4%, respectively.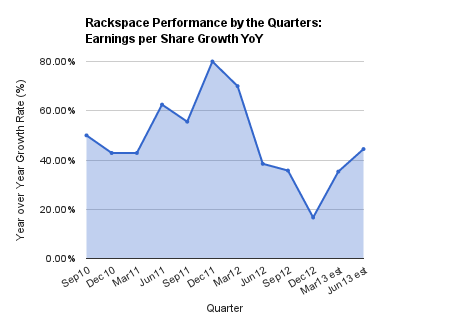 Revenues, operating income, and net income reached record highs for the quarter ending December 2012. Earnings per share did also, but missed investor expectations.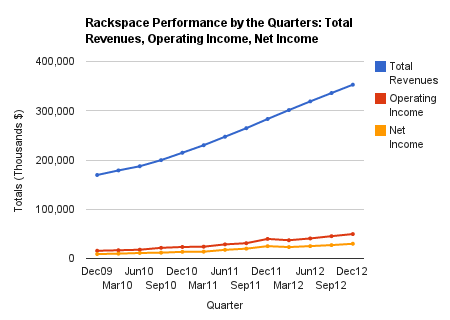 Rackspace has been able to maintain competitiveness and innovation in open cloud technology (computing, storage, networking). This sector is crowded with both open and closed (proprietary) cloud providers, including technology heavyweights such as Google (NASDAQ:GOOG), Microsoft (NASDAQ:MSFT), Amazon (NASDAQ:AMZN), IBM (NYSE:IBM), even HP (NYSE:HPQ), et al. Rackspace has fostered efficiency and innovation through joining Facebook's (NASDAQ:FB) Open Compute Project and being co-founder of the OpenStack platform.
CEO Lanham believes the open cloud market is in the beginning phases and there is plenty of room for expansion and penetration by Rackspace and competitors. Further, the OpenStack platform, launched in 2012, is just hitting its "stride" in adoption and revenues. This implies an increasing migration of customers from private (proprietary) cloud platforms to the open cloud platform where Rackspace is positioned.
Rackspace continues as an attractive long position in 2013 and I consider RAX a buy. With this latest miss, RAX stock has a more attractive entry point. Just keep in mind growth has slowed and the stock rise will most likely be slower than in the past. After this latest earnings report, RAX stock has dropped below the 100-day average on the miss and a test of the 200-day and even 300-day averages is possible. These averages were tested this past summer 2012.
Though speculative at this time, the projections for the quarters ending March 2013 and June 2013 are encouraging. A close monitoring of margins is necessary with the ongoing, and fierce, cloud competition and to offset slower revenues growth.
Rackspace is opening a data center in Australia and further expansion to Asia is planned. CEO Lanham said future geographic expansion will be "slanted" towards Asia. Western Europe has been the past focus for growth.
Disclosure: I have no positions in any stocks mentioned, and no plans to initiate any positions within the next 72 hours. I wrote this article myself, and it expresses my own opinions. I am not receiving compensation for it (other than from Seeking Alpha). I have no business relationship with any company whose stock is mentioned in this article.