This article is primarily written to answer lingering questions raised by the investing public (see 1, 2) about the sustainability of Nvidia's (NVDA) share gains. As of last year, Nvidia has had some share gains in the discrete graphics add-on market for PCs, in particular for gaming. We do not think these gains are sustainable because there has been no fundamental reasons for these gains. Therefore, historical precedence suggests recent Nvidia market share gains are likely to be reversed. There are three major factors that favor this trend reversal for Advanced Micro Devices (AMD) :
1- Upcoming consoles (PS4, Xbox720) utilizing the latest AMD Radeon Graphics Core Next Architecture (GCN). As games are made for the new devices they will migrate to the PC optimized for AMD's GCN.
2- AMD's increased activity in the server HPC accelerator segment.
3- AMD's Gaming Evolved program and the increasing maturity of OpenCl compared to Cuda. This coincides with better developer support from AMD.
In the rest of this article we will focus on the first two factors along with some opportunities in servers.
Some people argue along the lines that since Nvidia has a larger market share AMD is doomed or that AMD will dominate because of the next generation console wins. In truth, neither view is historically supportable. No one argues Nvidia has better performing products, and there has been no compelling technical reason for the market share to stick. Reasons like better marketing, and in the last generation better power consumption on laptops, made Nvidia win back Apple (NASDAQ:AAPL) Mac designs. Nvidia's power consumption advantage was partly because of the fact that AMD was behind in migrating to a 28nm process for mid range GPUs. Readers should be aware that a lower nm manufacturing process typically reduces the power requirements. Today, neither AMD nor Nvidia control the manufacturing process and both use TMSC (TMSC) while AMD also uses GlobalFoundries. Technologically, Nvidia is not leaps and bounds ahead of AMD. In fact, Kepler trails GCN in some performance benchmarks at very high resolutions.
Integrated Graphics
Integrated graphics from both Intel (INTC) and AMD (marketed as APUs) contribute to the reduction in demand for discrete add-on graphics parts. It is important to note that Nvidia no longer competes in the integrated graphics market outside of the mobile area (see Tegra section below) so market share data from Steam was omitted. Currently, Nvidia only manufactures GPUs integrated with ARM CPUs for the mobile market. The reason AMD has won most of the console designs is its APUs or CPUs with integrated Radeon graphics.
Current Market Share For Discrete Graphics
(Source)
Current GPU market share, as of compiled records for 2012, has tilted towards Nvidia with 64% share, while historically Nvidia has held an average of just above 55% share in discrete GPUs. The 10% gain in discrete graphics market share can quickly be reversed as happened in the past. Two years ago AMD had a share price increase as it gained market share. In this round, the catalysts could be the fact that next-gen games are being optimized for custom versions of the Radeon GCN architecture. Most consoles (Sony PS4, Xbox-720, Nintendo Wii U) will be using a variant of the GCN design from AMD rather than Kepler. AMD's APUs (integrated graphics into the CPU) are also at an advantage here as future games will be optimized for built in GPUs.
Last year's gains, though, could also be attributed to the increasing use of the AMD branding as opposed to the older ATI branding. AMD for many consumers is synonymous with cheaper and lower performing desktop CPU components. If we were running the show we would avoid AMD branding on Radeon GPUs.
Consoles and Tegra 4
Another aspect that may be lost on private investors is that Nvidia tried to market the Tegra 4 to the large volume console makers, and it lost this round of consoles to AMD. The integrated GPU on Tegra 4 is great for saving power, but does not have enough performance for a console connected to the mains. Performance wise, it is obliterated by a current A10 CPU from AMD. This is the reason Nvidia lost this generations (Nintendo, Sony), and possibly XBOX-720 design wins. The final Xbox/Playstation consoles will probably use a variant of an A10 successor chip, though the current A10 has been used in early PS4 developer versions.
Apple is another prominent case where AMD lost GPU market share. This can also be temporary since Apple switched from Nvidia to AMD for MacBooks just last year, and Apple may again switch the iMac to AMD. The switch to Nvidia was mainly due to more power efficiency. However, many fail to note that most of AMD's mid range notebook GPUs were on an older 40nm process using VLIW4 architecture and not GCN or GCN2. The reviews of the new AMD 8000 series mobile processors show a good performance improvement with little or no power increase. The jury is still out if this can cause a gain in market share.
After running benchmarks and playing games on both the AMD Radeon HD 8790M and Radeon HD 7690M we can safely say that there is a major difference between these two graphics cards. The AMD Radeon HD 8790M features GCN technology on the 28-nm manufacturing process and it easily outperforms the Radeon HD 7690M built on the 40-nm process with the TeraScale architecture.
Technical Analysis
AMD has not changed much since we last covered it, and there is a moderately rising channel with support at $2.50 range. Nvidia nearly had another breakout pattern but the resistance below $12.51 has held. As the chart below shows, technically the Nvidia share price is still in a sideways movement with $12.51 resistance. There is not much else to say in this respect except AMD still has more positive catalysts in the short term despite its weaker financial position.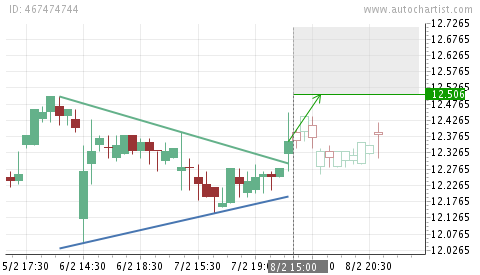 In the last three months returns for AMD have been much better, while Nvidia has been largely range bound but with a longer term downward sloping trend (200 day moving average). AMD has had a steeper upward sloping trend since late November 2012 with a sharper year on year downwards trend.
AMD Out of Servers Market?
People write off AMD in servers as its market share has steadily dropped from a high of up to 20% to less than 5%. However, with the new products and pricing, AMD has a chance that many analysts dismiss. Bulldozer architecture is not power efficient per se, but it is extremely power efficient under no load with Windows 8, or Windows Server 2008. If you run Intel's Ivy Bridge Xeon at no load and a Bulldozer Opteron at no load, you actually can get less power consumption on the Opteron. So there are server applications which only need power in bursts and remain idle for some time (niche web servers) that benefit from AMD's chips.
The point here is that while not the best performing, I would not write off AMD in servers yet, a segment which performed better than expected in Q4. Certain Opterons like the 6176 (above) are competitive for tasks that need better performance than ARM or Intel Atom servers while at the same time having low idle power usage. In short, AMD is not totally out of the server market place yet and this is not even counting SeaMicro servers. Nor are we counting in this analysis Nvidia's entry into the ARM server world.
In the HPC accelerator market, Nvidia dominates (>90% share). This is primarily because of software support not performance. For instance, AMD's Tahiti (7900 series) can meet or exceed Nvidia's Kepler HPC accelerators, according to the products that were showcased at the Super Computing 12 conference. Despite this, we think share gains in this space for AMD is less likely than in the gaming market; it is due to the dominance of Cuda, a Nvidia specific language. Meanwhile the discrete GPU and HPC market is expected to be eroded by Intel with its Haswell integrated graphics and Xeon-Phi accelerator boards.
Conclusion
It is not relevant to investors to debate fanboys about Nvidia or AMD being better; the reality is that for many years long-term market share gain by either has been unsustainable. In this respect, investors believing in the future of discrete graphics can look to buy the company that is less favored by the market. Both companies derive a significant chunk of their revenue from discrete graphics. This has been true even in light of the weaker marketing and management within AMD in the last few years. Furthermore, these stocks are correlated to each other. If you like to profit, as a long-term investor, do not count on Nvidia or AMD making significant double-digit gains in GPU market share when their technology is not significantly worst or better. Instead, I would worry about the future of the discrete GPU, just like the math co-processor and the 3D accelerator cards that once were prominent in the PC world. In light of this, I tend to make use of technical analysis when investing in these companies, as if they turn out to be a bad investment (for longer-term holders) you can still profit from market dynamics (e.g. short covering). In the current circumstances, it appears buying Nvidia below $12 has positive return and buying AMD below $2.6 has positive return. In addition, as explained above AMD has more short term positive catalysts and a much higher percentage of shares shorted. Thus, in the near term it may continue to rise faster and be more volatile than Nvidia.
Disclosure: I am long AMD, INTC. I wrote this article myself, and it expresses my own opinions. I am not receiving compensation for it (other than from Seeking Alpha). I have no business relationship with any company whose stock is mentioned in this article.