The recent results of Aflac's (NYSE:AFL) 4th quarter 2012 earnings report resulted in a fairly substantial fall in its stock price, as investors voiced some disapproval with the results. Among what appears to be their biggest concerns is the fact that the company's business in Japan, which accounts for a full 75% of their revenues, is exposing it to substantial exchange rate risks. But the concerns are largely ungrounded, due to one important fact which can't be stressed enough; the Yen/Dollar exchange rate is not something which effects the real economic performance of this company much at all.
It is only on rare occasions that the company actually exchanges its assets. For all intents and purposes Yen is not converted to Dollars within the company. The major impact the exchange rate has on the company is one which is a reporting issue.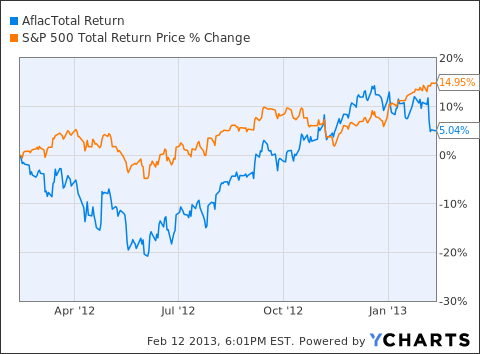 AFL Total Return Price data by YCharts
The Yen/Dollar Exchange
Aflac does the translation from Yen into Dollars using an average exchange rate for the time period it is reporting on in regards to the income statement, and uses the exchange rate at the end of the time period in regards to the balance sheet. With three quarters of their revenue coming from Japan this impact on the numbers it reports can be fairly substantial. Regardless of whether it is rational or not, speculative people are going to respond to these numbers while mostly ignoring or being ignorant of the very important caveat previously mentioned about it. For a long-term investor this can present good buying opportunities.
To get a clearer picture of their health, their financial figures should be viewed excluding the impact of foreign currency. Aflac's own preferred metric for understanding the company's profitability drivers is operating earnings, which it defines as "profits derived from operations before realized investment gains and losses from securities transactions, impairments, and derivative and hedging activities, as well as nonrecurring items."
The effect of foreign currency on operating results is as follows for the most recent quarter:
| | | |
| --- | --- | --- |
| 3 Months Ending 12/31/12 | Including Currency Changes | Excluding Currency Changes |
| Premium Income | 6.0% | 9.6% |
| Net Investment Income | 2.0% | 4.5% |
| Total Benefits and Expenses | 6.6% | 10.0% |
| Operating Earnings | 2.0% | 5.0% |
| Operating Earnings Per Diluted Share | 2.1% | 4.8% |
As you see, when viewed like this, there is a substantial difference between the two sets of numbers. From late June, 2007, when 1 US Dollar was equal to north of 120 Yens, there was a slow and steady march of the Yen strengthening until that 1 US Dollar had a worth in Yens that was fluctuating in the mid 70's in the early part of 2012. For the full year of 2012, the weighted-average exchange rate was 79.81. Since then it has risen into the mid 90's.
These are some numbers the company puts forward as possible scenarios for 2013 with their earnings per share numbers under various different potential exchange rates:
| | | | |
| --- | --- | --- | --- |
| Average Exchange Rate | Annual Operating EPS | % Growth Over 2012 | Yen Impact |
| 85 | 6.60-6.80 | 0.0-3.0 | (.26) |
| 90 | 6.37-6.57 | (3.5)-(.5) | (.49) |
| 95 | 6.17-6.37 | (6.5)-(3.5) | (.69) |
| 100 | 5.99-6.19 | (9.2)-(6.2) | (.87) |
For 2013 the company predicts a USD/Yen exchange rate averaging 90, meaning that EPS will see a drop from 2012, most likely. However, on a currency neutral basis operating earnings per diluted share are anticipated to rise 4-7%. With the Yen already moving strongly into the mid 90's as early in the year as we are, perhaps 90 was a bit too optimistic of a prediction. There is some reason, however, to believe the precipitous rise might be coming to a halt.
Japanese Central Bank
This institution and statements surrounding it by Japanese politicians is one of the main reasons why that 90 exchange rate number might have been too optimistic. After a period of some reticence towards taking action, new Japanese Prime Minister Shinzo Abe has been very vocal in offering promises to create a weaker Yen. And new Finance Minister Taro Aso has promised to "take truly meaningful measures" to help fight the Yen's strength. These comments appear to have been taken seriously, and it has been posited by some strategists that hedge funds shorting the Yen could be a favorite trade of theirs for 2013.
But these comments have become strong points of interest for G7 officials who have voiced concern over possible excess moves in Japanese currency. They would prefer to see "market-determined" exchange rates instead of what they fear could turn into "currency wars" so to speak, which could occur in reaction to Japanese actions. While a weaker Yen is in Japan's best interests, this of course may not be the case for other countries.
US Treasury officials stated that while competitive devaluations were something which should be avoided, Washington stood behind Japan's efforts to end deflation and reinvigorate their growth. Taro Aso seems to have moderated in his stance, claiming that in fact the Yen weakened more than intended during its recent run. The fact that already the international community has given their input into the situation at this early of a date should help stave off extreme measures and movements. However, it should be seen as unlikely that the Yen will be strengthening much substantially and return to prior levels.
Conclusion:
Despite the fact that Japan has a national healthcare system its citizens still are faced with sizeable out-of-pocket healthcare costs. With Japan not in the most optimal fiscal shape, the burden of these extra costs is likely to not be lifted from the shoulders of the Japanese. Aflac has for 4 decades proven it is adept at servicing this opportunity. If people can ride the tide of any foreign currency movements, understand the actual impact they have on the company, and collect and reinvest a dividend yield at present of 2.8%(with Aflac raising that amount by over 10% on average annually over the last 5 years, and increasing their dividends for 30 years straight), they will have what is a very stable and consistent company as part of their portfolio.
Disclosure: I am long AFL. I wrote this article myself, and it expresses my own opinions. I am not receiving compensation for it (other than from Seeking Alpha). I have no business relationship with any company whose stock is mentioned in this article.