In a previous article on SA entitled "For Nokia, Microsoft Is Dead Weight," the author argued that Nokia (NYSE: NOK) would have been better off without getting into an exclusive licensing relationship with Microsoft (NASDAQ: MSFT) for Nokia handsets. The argument was premised on the fact that in a prior life Nokia was a leading handset manufacturer while Microsoft was going through anti-trust issues. Like most assertions, there is an element of truth to it, but in this case that element of truth is minuscule at best if not totally negligible. You could also argue that in prior lives Palm was one of the leading smart phone manufacturers, Apple (NASDAQ:AAPL) was hovering on the brink of death and black and white TVs ruled the market. All of these have some truth to it but are not relevant today. Elop was hired to a struggling Nokia that was trying hard to defend market share, had no direction with innovations, had lost tremendous market value and was spinning out of control. This is what he said when he took over, "My job is to take the organization through a period of disruption and ensure that we are meeting the needs of customers while delivering superior financial results." If nothing else, he is delivering on his promise of disruption and meeting customer needs. The company has also shown a pulse on delivering financial results even though there is a long way to go.
Market value and Performance:
I pulled up 2 charts comparing stock performance and total revenue for Nokia and Microsoft. The first one is for the stock performance between 02/11/08 to 02/11/10 which covers a period before Elop and also right around when Nokia entered into a relationship with Microsoft. Nokia returned -64.47% to Microsoft's -0.32%. I would not have been invested in either company with this knowledge, but if I was forced to pick one in hindsight it would have been Microsoft.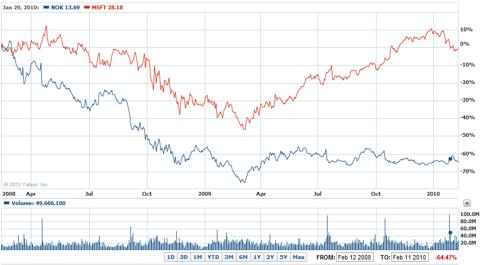 Source: Yahoo Finance
The revenue chart below tells a similar story. The chart supports an interpretation that Microsoft has not done well in the revenue growth department. It also supports the fact that Nokia was falling really quickly into oblivion. With the distortions in strategic choices like ditching Symbian and partnering with Microsoft, it is unfair to draw a trend line on Nokia's line below. But, with the launching of the iPhone in 2007 and the drastic drop in revenue from 2008 to 2009, it is foolhardy to assume that Nokia would have all of a sudden sold more phones in North America. For kicks I drew a line anyway and it shows that if Nokia had not corrected in 2012, it would have been bankrupt by the end of 2012 or early 2013. Nokia always performed well outside of the U.S., but the new wave of phones were being driven from the U.S. to other markets and that was a major issue for Nokia.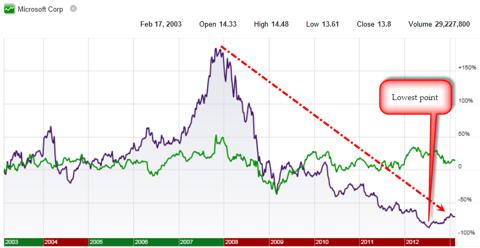 Source: Scottrade
I Am a Mac. And I Am a PC.
(Title borrowed from For Nokia, Microsoft Is Dead Weight by Kofi Bofah)
As much as the above tagline helped with the messaging of what Apple was trying to convey, it ran at a time when Apple was a hunter not the hunted. It had no choice but to go after Microsoft which was the dominant player in the sector. I personally trace Apple's momentum back to the iPod. It was not until the iPod took off that Apple's ecosystem started coming together with products, services and barriers that made it difficult for its customers to switch out of its ecosystem. Once Apple got the platform, to its credit, it churned out one hit product after another. Apple is no longer the hunter and it is feeling the pressures of what it means to be hunted. My guess is that objects in Apple's mirrors are looking much closer than they were before and all of a sudden Apple cannot match the ridiculous expectations that were put on it. The computers sector is one of the few sectors that could actually have multiple winners and PC does not go out of business because Mac does well.
The Ecosystem Argument:
It is a cliché sometimes to say competition is healthy. Mike Tyson competed in his prime, but I doubt that his competition liked to compete with him as much as he liked knocking them down after one round. For Nokia this is a six of one and half a dozen of the other argument. Samsung (OTC:SSNLF) and Apple are like Mike Tyson in his prime and Nokia and the rest of the manufacturers are scrambling to find an edge so they can get past the first two rounds. Nokia probably hopes that the above two can stagnate a little bit so it can make up ground. They are the competition that is not necessarily good for Nokia at this time.
Competition in the Windows space is completely healthy for Nokia even if at times it does not look that way. Adoption is the name of the game for the Windows ecosystem and it should be attained by any means necessary as long as it is fair to all stakeholders. It should not matter initially where it comes from because ultimately everyone wins when the platform wins. The more the merrier because it opens the ecosystem up to: developers, accessory manufacturers, new form formats, and also start converging users around the ecosystem. Once the ecosystem becomes more robust and fully developed, it is a question of manufacturing/design capability for the OEMs. If they lose to Microsoft on hardware design, then maybe they need to get out of the business entirely.
BlackBerry Ltd (NASDAQ: BBRY)
BlackBerry has too much of a fight in its hand and is technically fighting the Windows platform not Nokia. It is fighting to keep its corporate customers, lost most of its market value and need to be phenomenal just to be relevant. The fact that it is a standalone entity makes it a good acquisition target and that will be the only reason I will look at it as an investment. Visa (NYSE:V) is being bypassed and losing a lot of business with all the new payments systems being rolled out and adopted by its core customers. I would not expect it to do any less but to me it is a relationship of convenience for both partners. BlackBerry would need to give away its phones for free if it wants to change its current market share and I don't see that happening.
Conclusion:
Nokia had to make a choice whether to be a small fish in a big pond or a big fish in a small pond. It chose the latter because it needed to be different from the pack and also because it needed Microsoft's cash for marketing and to subsidize sales. Stephen Elop, due to his previous employment, was in the best position to assess if Nokia would have a fighting chance with Windows and he picked Windows. He will either be considered a genius or a villain when history is written, but it is a very fine line that separates the two.
Android would have been an easier option but it would have put Nokia in a difficult situation with no cash and in tougher competition with Samsung, Sony, LG and you name it. I would say Nokia sees the light at the end of the tunnel but cannot quite tell if it is the sun or a train. At the very least it is starting to see what it needs to do to succeed:
Reduce supply chain constraints
Manufacture good quality and differentiated phones
Hoard cash to finance recovery
Expand into tablets and other form factors
Monetize other services including HERE maps
Nokia will continue to be a volatile stock even though chunks of its shares are owned by corporations. I would feel comfortable buying at around $4.00, but I strongly recommend using stops to limit losses in case something unforeseen happens. Microsoft seems to be gaining momentum and a buy at $27.88 with a dividend yield 3.30%.
Nokia is not struggling today because of Microsoft, it was struggling before Microsoft but together they have a chance.
Disclosure: I am long MSFT, NOK. I wrote this article myself, and it expresses my own opinions. I am not receiving compensation for it (other than from Seeking Alpha). I have no business relationship with any company whose stock is mentioned in this article.