The following stocks were selected through fundamental analysis and value analysis. Stocks that we like display catalysts for upside, strong fundamentals, and good value comparisons (P/E, forward P/E). Stocks/ETFs that we do not like display negative catalysts, overvaluation, and weak value comparisons. The following companies will be analyzed using fundamental analysis, as well as recent news that we believe can be a catalyst for near-term upside or downside as part of a long-term outlook. Investors will be able to understand recent trends and our short-term and long-term outlook, as well as receive actionable ideas to buy and sell stocks.
We like Ford (NYSE:F) and General Electric (NYSE:GE) long, and Facebook (NASDAQ:FB) and ProShares Silver (NYSEARCA:SLV) short. Ford displays near-term catalysts in emerging market auto sales and great valuation comparisons to competitors as it outperforms most competition in profitability metrics. GE also displays very solid value that has only gotten better with a recent share buyback plan, which also acts as a catalyst. Facebook, on the other hand, displays strong overvaluation with a forward P/E at 35, along with near-term headwinds as questions about mobile strength arise. SLV shows a combination of near-term headwinds in currency issues, strength in bonds, and weak industrial demand.
Ideas:
We see Ford as a definite buy right now. We recently reiterated the stock as a Buy and increased our price target to $20. You can read our full opinion on F here. Our main opinion on Ford is that the company looks like it could see significant upside in 2013 due to great value, expansion internationally, and lineup trends. First off, Ford has excellent value, as it trades at less than 10x future earnings, which is well below its peers. At the same time, the company outperforms many of its peers. For example, Ford's net margin at 4.4% is well above the industry average at 3.2%. Further, its return on equity (ROE) outperforms 96% of its peers.
The biggest catalyst moving forward for Ford is potential growth in emerging markets. The company is seeing tremendous growth in each of these places. China, for example, just saw auto sales grow nearly 50% year/year. Further, we believe that the weakness in Europe that Ford is seeing is fully priced into shares at this time. While Europe is weak, shares are discounted beyond necessary as a result.
Another positive that we like is the development of the EcoSport. The EcoSport is entering South Africa, the Middle East and Indonesia in 2013. Indonesia, for example, is currently experiencing 6% GDP growth, and is actually home to the fourth largest population in the world and a part of the next generation of emerging markets (MIST: Mexico, Indonesia, South Korea, and Turkey). This car also capitalizes on a variety of trends that are popular for consumers. It is an appealing compact car, but also has an SUV-style body. The car offers great MPG, so it appeals to cost-conscious buyers as well as green buyers. We believe this vehicle is an attractive development, and could potentially be as popular as the Ford Focus.
Look for short-term catalysts from China auto sales, a technical break of $13.50, and a continued secular bull market.
Trade: Ford, Long
Buy Point: 13.50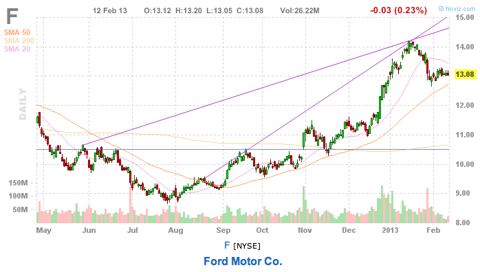 Another long that looks very interesting right now is General Electric. On Tuesday, the company announced two very bullish developments that we believe offer solid upside and limited downside risk. First, GE announced that it is implementing an extensive share buyback plan. The company raised its share buyback plan to $35B and accelerated the buyback to $10B for 2013. Share buyback plans are very attractive because they remove shares from the general market, thus making remaining shares more attractive. EPS ratios grow as shares decline, even if earnings do not grow. That will then make ratios like P/E and forward P/E more attractive as well. This sizable buyback of $10B will buyback around 440M shares, reducing shares outstanding to 10B, and alone increase EPS about 0.06, reducing P/E from 16.2 to 15.5.
GE was able to come up with the money for this buyback after it sold its remaining 49% stake in NBCUniversal to Comcast (NASDAQ:CMCSA). The deal went for over $16B, and $10B is immediately being returned to shareholders. We believe the deal is a solid catalyst for the company because it can refocus its attention on more important ventures that make sense, such as in industrial machinery. The other $6B can be reinvested into R&D, machinery, etc. Further, we see GE as a great value at its current levels. The company is currently trading at 12.3x future earnings, which is a solid discount to the 15x level we look at for value. The company's growth potential looks very solid for the year. GE is predicted to see around 10% earnings growth in 2013 and 2014. The best way to play GE right now is a bull put spread, as the stock has limited downside risk, but we like it a lot if it does show weakness at cheaper prices. The spread we like is the May20 21/20 bull put spread for a potential 18% gain.
Options Trade: GE, May20, 21/20 Bull Put Spread
Max Gain: 18%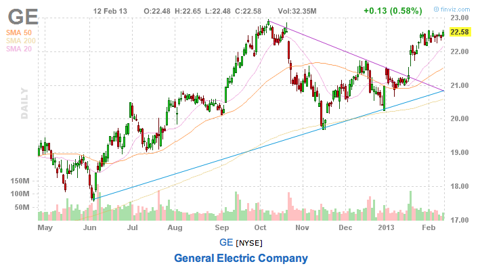 One stock that we like short right now is Facebook. The problem for FB is that we believe it lacks a near-term catalyst since its latest earnings report. The company seems to have priced in on a lot of future growth at this time, as can be seen by its future P/E of 35. Specifically, FB seems to have priced in a lot of the monetization from mobile. A note from Bernstein comments on this:
"Facebook's mobile inventory and Exchange still present significant untapped monetization opportunities, but much of this upside is now in consensus and the pace at which these have evolved over the last two quarters justifies some caution."
The latest quarterly report showed some solid growth in mobile revenue, as it grew 3x quarter/quarter per day, and came in well ahead of expectations at $140M. Analysts only expected $50M in mobile earnings. With so much strength, what is there to worry about? FB lost some key support at $28 yesterday, and we believe that the value is too high right now. Another issue for the company is that it is going to need to see some increase in the pricing power of ads from current levels to realize an expansion of its future P/E. Right now, FB mobile ads make up over 23% of total ad revenue, and in Q4, the company saw more mobile users than web users. It is imperative that mobile grows, but it is probably even more important that mobile grows margins.
One worry for most FB investors is profitability. Despite extremely strong growth in revenue, margins are still very thin for the company. Those can improve as costs from development come down, as well as if pricing power can get better. However, we believe this will be quite challenging. First, FB will need to show good click-through for customers for some time, as well as show that the ad dollars spent are useful. That development will take several quarters in our opinion, and pricing power will not exist until FB can show it can dominate mobile the way it has the web. It's a conundrum for FB. The world is moving to mobile, but FB has, thus far, only dominated the web. The stock is pricing as if it will dominate mobile as well...yet we believe FB is a long way from doing that.
Position: FB, Short
Sell Point: Under $28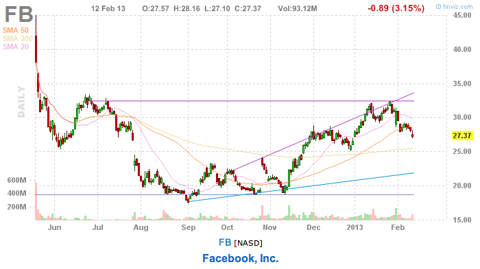 Finally, we believe that silver looks weak, and should continue to be held in check or decline further from these levels. We believe that silver has limited upside right now for several reasons, including currency issues, more attractive bond yields, and limited industrial demand. Silver is much different than gold in that it has broader uses in technology and industry. As such, silver demand can weaken in much different ways than gold, and it is not a safe haven play that works in tough markets. Right now, industrial demand is weak for silver. Another issue for the commodity is strength in the dollar. The euro has been on a steady decline over the past week since the ECB rate decision and comments from ECB President Mario Draghi stating that he was afraid that a strong euro would lead to inflation. Since then, the euro has been dropping, while the dollar has increased. As the dollar increases, it weakens commodities.
Another issue for silver right now is that Treasury yields continue to increase. As bonds become more attractive, commodities become less so. We believe that the set end date on Fed monetary policy at the end of the year puts bonds back into play, as yields should grow again. That trend will cause general weakness for gold and silver as money moves from these metals back into bonds. Right now, SLV looks perfect for a bear call spread, as we believe these trends will stay put for the next several weeks with Europe looking shaky again and no changes in Fed policy expected. Specifically, we like the Mar16 32/33 bear call spread, going for 11-12% max gain.
Trade: SLV, Mar16, 32/33 Bear Call Spread
Max Gain: 11-12%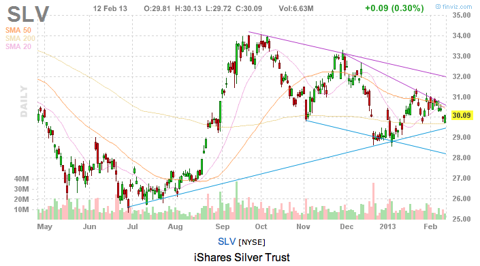 Charts courtesy of finviz.com
Disclosure: I have no positions in any stocks mentioned, and no plans to initiate any positions within the next 72 hours.
Business relationship disclosure: The Oxen Group is a team of analysts. This article was written by David Ristau, one of our writers. We did not receive compensation for this article (other than from Seeking Alpha), and we have no business relationship with any company whose stock is mentioned in this article.