It's been one crazy ride so far this year. We've taken some larger calculated risks on the options side in 2013, and took our lumps on the Apple (NASDAQ:AAPL) earnings report. However, we profited significantly more with Green Mountain Coffee Roasters (NASDAQ:GMCR) and Newcastle Investment Corp (NCT). So now we are left with some profits to reinvest, and numerous screens seem to indicate that Garmin (NASDAQ:GRMN) could be a potential play. The company seems to be fairly valued, they have been buying back stock and increasing their dividend, and there is plenty of brand exposure. However, a closer examination of the facts shows that there are also some reasons to be hesitant before going long.
What They Do
It is hard to imagine that there are many people left who are not at least familiar with this brand. Garmin is a provider of navigation, communications, and information services which are enabled through a network of global positioning system satellites. Garmin products include both hand-held and mountable products for the Automotive, Marine, Aviation, and Outdoor Recreation markets. If you have ever been in a vehicle with a GPS navigation system, then you have at least been exposed to the technology. More recently the company has expanded product lines to include items such as pet obedience products or devices tailored to individual sports such as golf or swimming.
Recent Price Performance
Garmin has not been an outperformer recently. In fact, with a 52-week range of $35.55 to $50.67, Garmin is trading at just over 7% its low price for the past year. Looking at a one-year price chart, we see that the stock has dropped 13.65% in that time period. During the same period, the S&P500 is up almost 13%.

A basic look at the 20, 50, and 200-day moving averages shows that the 20-day average recently moved below the 50-day average. While the 50-day and 200-day averages will mathematically move downward in the coming days, the 20-day shows hints of reversing course. This is not guaranteed, but appears likely.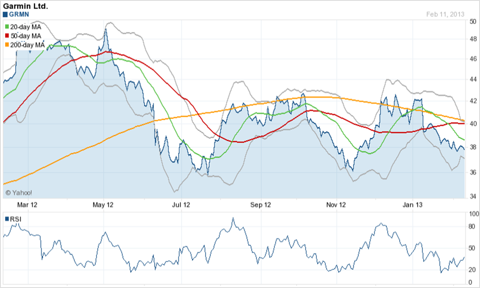 Earnings are forecast to contract slightly in FY 2013 (~$2.92 to $2.80). But with an expected 4% drop in earnings the stock has dropped three times that amount, and even more if you calculate from the peak. However, looking back at the earnings since 2009 we see it has been a fairly bumpy ride for a few years now. Between 2009 and 2012 there have been several significant shifts in earnings, both positive and negative. The resulting effect on the share price has been one of significant moves as seen in the charts.

At this point, future earnings beyond 2013 are unclear. What is clear is the company's position in their market. Despite the existence of competing products and services from competitors such as Magellan or TomTom, Garmin is very likely to remain a major player in the GPS-related market.
Valuations and Technical Data
Garmin is a moderately-sized company with a market capitalization of near $7.5 billion. The TTM P/E is currently around 13, although a forward P/E assuming $2.80 for next year places the ratio somewhat closer to 14. The current S&P500 P/E stands at 17.25, so the market as a whole seems to have priced in the declining earnings and future outlook.
The decrease in price has resulted in an increasing dividend yield, which now stands at over 4.7%. There are many people who might see this dividend alone as a reason to invest in the stock. On an annual basis, Garmin's dividend increased from 75 cents in 2009 to $1.50 in 2010, $1.60 in 2011, and now $1.80. The company is sitting on a cash pile of over $1.2 billion, indicating that the payments should be secure into the foreseeable future. The fact that Garmin carries zero debt also provides some assurances into the financial stability of the company.
This stock has recently trended towards the lower Bollinger band, which generally tends to happen before a move towards the opposite band. What remains to be seen is if this could result from a bounce in the stock price, or if it would result from a change in volatility and widening of the bands. Interestingly, the RSI has shown an increase in recent days despite a declining price. The RSI currently sits at 36.8 having climbed from 20 just a few weeks ago. This seems to indicate that even as the stock price continued to fall, the strength behind the number continued to improve.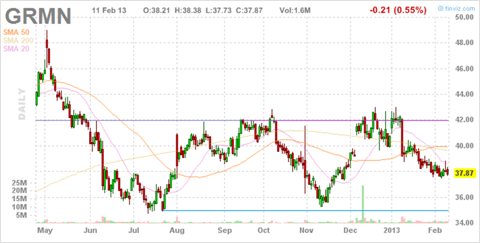 This chart seems to display a consolidation near the $38 price point. The stock does not have a history of trending sideways for an extended period of time, and naturally the risk is that the stock continues a slide in the coming days. However, when taken in combination with many of the other numbers, current price levels begin to look acceptable and anything much lower could be a bargain.
Analyst Expectations and Earnings
There are eight analysts providing price targets on Garmin. The price targets range from $34 to $53 with a mean target of $44.38, indicating that there likely is some room for the stock to make a move to the upside in the future. The average recommendation lies between Buy and Hold, so the overall sentiment is neutral to positive. I personally don't think this stock will outperform the market overall in the medium term (~one year), but that there will be opportunity to capitalize on the YTD 10% drop as well as any further hiccups below the $37-38 range to profit in the next one to six months.
The company is scheduled to report quarterly earnings on February 20th. Estimates range pretty widely between 64 and 90 cents, with a mean estimate of just under 74 cents. If there is any lesson to be learned from recent earnings reports, it is to understand that the earnings number itself is not always the driving force behind the resulting price action. So even if Garmin meets or exceeds the consensus 74 cents, the price could go anywhere based upon statements made about next quarter, next year, or even about competing companies and products.
Possible Strategies
I am not convinced that this is a great stock to hold for an extended period of time, despite the dividend. This is primarily due to limited ability to grow earnings or expand into related products and services.
That being said, those who prefer taking long stock positions could profit from such a position in Garmin. Purchasing the stock at price levels below $38 provides an opportunity to profit if the price does trend upward in the coming weeks. The stock will pay a dividend in March, and the ex-dividend date is three weeks post-earnings. A more conservative investor might choose to wait until after the earnings report to see which way the price will go. A 5% drop from current levels would in turn drive the dividend yield to above 5% on an annual basis. Likewise, if the price returns to the $42 range the result is a quick 10% gain. This is completely possible.
Those who prefer options strategies have many more choices available. A covered call strategy would allow an investor to hold the stock and collect premiums, effectively reducing the cost basis of the shares as long as the strike price is not reached. As an example, purchasing 100 shares at $38 will cost $3800. A $40 call can be sold for July 2013 for around $1.35, resulting a $135 premium received now, reducing the cost basis of the shares to $3665. Doing the math, the investor profits ~9% in five months if the stock is over $40 on the expiration date. If the stock remains below $40, the investor keeps the 3.6% premium, receives the dividend payment, and is free to repeat the process.
Those who hold a generally bullish opinion could hedge any bet by creating a spread to place a limit on how much can be lost, as well as how much is profited. For example, again looking at July 2013, a $35 call can be bought for $3.80. If an investor then sells a $40 call for $1.35, the net debit is $2.45 to own a $5 spread. This means that if the stock is above $40 on the expiration date, the investor profits the maximum, or 104%. If the stock is below $35 on that date, the entire investment turns to zero. The breakeven point on this trade would be $37.45, but you will need to adjust your own calculations to account for your brokerage fees.
The Bottom Line
There is potential to profit in this stock despite the declining earnings and recent poor price performance. The dividend has become more enticing as the company increased payouts and the price dropped, driving up the yield. Some investors might think twice given the price drop, but looking at the company's financial statements we see there is sufficient capital on hand to support the payouts. The company carries no debt and is sitting on a pile of cash. It is hard to argue against a profitable, zero-debt company with cash in the bank.
Anyone considering this stock should be at least a little nervous going into earnings. There are option strategies which can minimize the bite of any downward movement, but the best strategy might be to wait until after the earnings report comes out and make any decision from there. Determining your own personal risk threshold is key on this particular stock. As always, enjoy crunching your own numbers and be careful out there.
Disclosure: I am long AAPL, NCT. I wrote this article myself, and it expresses my own opinions. I am not receiving compensation for it (other than from Seeking Alpha). I have no business relationship with any company whose stock is mentioned in this article.
Additional disclosure: I may initiate a long position in GRMN using longer term options before the upcoming earnings report.