Past Two Years
Newmont Mining's (NYSE:NEM) stock decline is only partially due to events taking place at the company itself. A large part of the decline is related to issues like the relative stagnancy of gold prices (GLD) over the last 18 months. A large portion of the gold mining sector, including other leaders like Barrick (NYSE:ABX) and Yamana (NYSE:AUY), and smaller companies like Nevsun (NYSEMKT:NSU), have languished as well. This is related to gold standing relatively still compared to prior years, increasing gold production costs, the preference to purchase a gold ETF, when years ago the only vehicle was gold futures and gold miner stocks, and disruptions related to locality of mines.
Because central banks continue to ease and diversify reserves into gold (see Russia), and because international risks still abound in the Middle East and elsewhere, gold prices do have good odds to continue rising, but when? Although my belief is that gold and gold miners will start to move upward again this year, the immediate future for both looks contained.
Chart 1 (Weekly)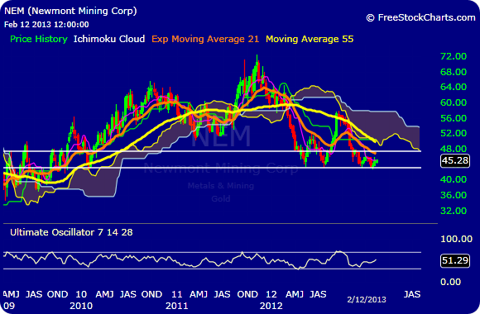 Valuation
On the positive side, the company has the highest dividend yield in the industry and has a forward P/E ratio of 10.17. It has a moderate long-term debt-to-equity ratio of .46 and it has solid gross margins of 59%. Nine analysts have it rated a "buy," nine others a "hold," and none a "sell." It trades at a price-to-sales ratio of 2.13, which is half that of Barrick, and slightly less than GoldCorp.
On the negative side, it is expected to have its EPS decrease 4% per year, over the next five years. With average cost of production having risen to around $1000 per ounce (according to AngloGold Ashanti CEO) for the gold mining industry, it's no surprise that analysts expect EPS to decrease. Therefore, cost control should be a major focus for the company. Hopefully the announcement of Gary Goldman being chosen as CEO and board member will bring better cost controls to the company.
Another major headwind for the company is the delay of the $5 billion Minas Conga Project in Peru. It has been stalled while the Peruvian government discusses objections to its impact on the local water supply. Newmont has constructed reservoirs to ease resident concerns over water supply, but issues remain. Two weeks ago the Peruvian Premier and the President of the region that would be home to the mine met to discuss objections to the mine project. The Premier has been an ardent supporter of the project, while the more local President has opposed it with his constituents. The Environmental Minister of Peru said he expects that it will take numerous meetings to make headway on the issue.
Chart
Newmont has bounced between $47 and $43 since mid-November. As you can see in the longer term chart above and in Chart 2 below, it has support at $43, and that level has been resistance or support many times in the past. Below the current price are the 55 exponential moving average or "EMA," 21 EMA, and the Kijun (pink line) and Tenkan (green line), which are Ichimoku analysis moving averages that commonly act as support and resistance.
Above the current price is resistance in the form of the $47 price level, which has proven to be a key level before. Also above the current price is the Cloud (another part of Ichimoku technical analysis) which tends to act as resistance or support depending on which side of it the price is on. For these reasons, I believe that Newmont will trade sideways between these two prices for a while longer before resolving its stock direction.
Chart 2 (Daily)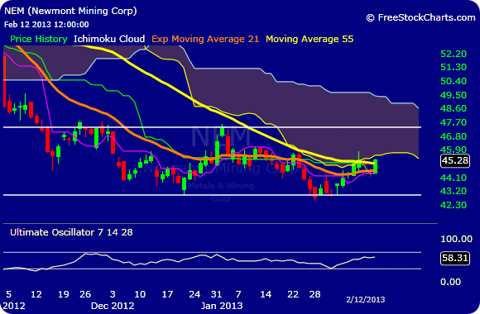 While I believe gold will rise this year and many gold miners will follow, Newmont lacks a clear "buy signal," for me until it crosses above the Ichimoku Cloud, so it's a Hold in my book until it breaks above about $48.50. What other options are there?
The Trade
Despite the low implied volatility, a March 2013 42/45/48 Butterfly for about $1.05 is what I am contemplating. It is a play on the stock going nowhere over the next few weeks. If the stock is at $45 on expiration the butterfly ends worth $3, a gain of $2 or 200%, but I would generally sell it before expiration. I would use $42.50 and $47.50 as stops. A March/April calendar spread could also be a strategy, and provides better protection from a spike in implied volatility. Because gold could fall this week due to the Asian holiday and decrease in demand, I would simply watch Newmont this week and see if $43 support continues to hold, and then act next week.
If you don't know about options, you should familiarize yourself before trying either of these, since they're not a beginner trading strategy.
Disclosure: I have no positions in any stocks mentioned, and no plans to initiate any positions within the next 72 hours. I wrote this article myself, and it expresses my own opinions. I am not receiving compensation for it (other than from Seeking Alpha). I have no business relationship with any company whose stock is mentioned in this article.