The growth in shale gas production is one of the most significant developments in the last couple of decades for the United States (and global) energy dynamics. It is estimated that the recoverable shale gas reserves could enable US to become a net exporter of natural gas within the next couple of years while alone providing another 100 years of domestic gas supply. This gives rise to an exciting opportunity in the gas supply chain infrastructure including gas gathering systems, pipelines and storage terminals absolutely critical to support this increased volume. Naturally the industries that are expected to benefit from this boom include Oil & Gas Equipment and related Services and Oil & Gas pipelines, which is our focus here.
Comparable to a toll road, the transportation and storage business model is also based on stable fee due to relatively inelastic demand to transport and store the commodity with a significantly lower direct exposure to price fluctuations in natural gas. The industry is also characterized by significant barriers to entry due to high capital costs, development time/experience, and most importantly a jump through all the bureaucratic snags. We have outlined a few active players in the market that are worth looking at from a long-term perspective. These companies are not assumed to have vacant transport and storage capacity which will come under utilization all of a sudden, but it's critical to develop a preliminary list (though not exhaustive) which we can look at in more detail to pick the most attractive of these.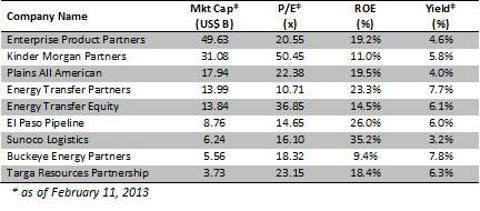 Source: Yahoo! Finance, Bloomberg, Estimates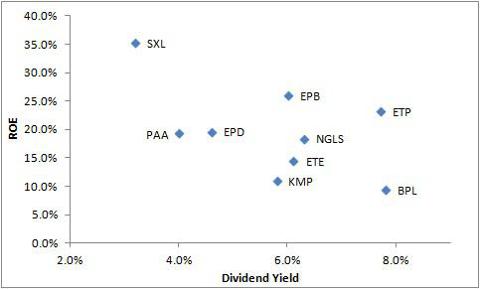 Source: Yahoo! Finance, Bloomberg, Estimates
Kinder Morgan is a family of companies with MLPs like Kinder Morgan Energy Partners (NYSE:KMP) and El Paso Pipeline Partners (NYSE:EPB) as part of the group. The company operates a combined 75,000 miles of natural gas pipeline connected with every important natural gas shale play including Eagle Ford, Marcellus, Utica, Uinta, Haynesville, Fayetteville and Barnett with a transport capacity of c.1.9mmbbl/day. Key assets in the pipeline segment include the Texas Intrastate Pipeline Group, Natural Gas Pipeline Company of America, (which serves the high-demand Chicago market), Tennessee Gas Pipeline (serving New York City and Boston), Southern Natural Gas (serving the Southeast United States), and the El Paso Natural Gas pipeline that serves the entire southwest United States.
Most of the commodity price exposure is claimed by the company to be limited while in some segments the company has no direct exposure to this risk. Going forward, the company strategy is to focus mainly on expanding its assets base as it intends to spend US$12.6 billion over the next five years on different projects. These include natural gas and other products pipelines, storage/docking terminals and Kinder Morgan Canada (expansion of export capacity to West coast and Asia).
Energy Transfer Partners (NYSE:ETP), Energy Transfer Equity (NYSE:ETE) and Sunoco Logistics (NYSE:SXL) are part of the "Energy Transfer" family that operates a combined 69,000 miles of natural gas, natural gas liquids, refined products, and crude oil pipelines. It has 200 crude oil transport trucks and approximately 120 crude oil truck unloading facilities. The Terminal Facilities segment consists of c.42 million shell barrels of refined products and crude oil terminal capacity (including c.22 million shell barrels of capacity at Nederland Terminal on the Gulf Coast of Texas and c.5 million shell barrels of capacity at the Eagle Point terminal on the banks of the Delaware River in New Jersey).
The group acquired Louis Dreyfus' NGL storage, fractionation and transportation operations in 2011 and Southern Union Company, which is a diversified natural gas company adding 20,000 miles of pipelines to the portfolio. More recently, Sunoco lnc., including its interest in Sunoco Logistics Partners L.P. , was acquired as the group entered the crude oil and refined products business.
The group has been actively pursuing expansion in its transportation, processing and storage facilities network positioning itself well enough to benefit from the surge in shale gas production.
Enterprise Products Partners (NYSE:EPD) owns and operates 50,000 miles of pipelines transporting natural gas, NGL crude oil, and other refined products. It has a storage capacity of c.200 million barrels (mmbbls) and c.14 billion cubic feet of natural gas. It also has 24 natural gas processing plants, 58 tow boats, 125 barges, 6 offshore hub platforms, and 20 NGL and propylene fractionators. The company announced significant capital growth projects (US$7.2 billion) focused on the newly developing shale plays in the Eagle Ford shale area in South Texas. The expansions in that area will include over 2,500 miles in pipelines, gathering systems, gas processing facility, as well as NGL fractionators.
Plains All American (NYSE:PAA) is engaged in the transportation, storage, terminalling and marketing of crude oil, refined products and NGL. The company operates 18,000 miles of pipelines and gathering systems transporting active crude oil, NGL and refined products, has 20 million barrels of storage capacity, 70 trucks and 424 trailers, 83 transport and storage barges and 46 transport tugs through its interest in Settoon Towing. The company currently has 93 billion cubic feet of natural gas storage capacity, fractionation facility (260,000 bbl/day), natural gas processing (8 Bcf), and 4,200 railcars.
The company has made acquisitions of US$9.3 billion worth since 2001-2012 with the primary focus to establish/expand footprint in existing or new core areas. The company also has plans to invest US$4.1 billion in areas of recent and anticipated crude oil production growth including Canada and United States (Bakken, Rockies, Southern Texas/Eagle Ford, and Permian Basin). The company intends to further enhance its flexibility by continuing to expand its rail assets and related staff to accommodate the growth.
Buckeye Partners (NYSE:BPL) owns and operates over 6,000 miles of pipeline, 91 liquid petroleum products terminals with aggregate storage capacity of over 70 million barrels at its domestic and international sites. Buckeye also operates and maintains third-party pipelines for major oil and chemical companies, owns a high-performance natural gas storage facility with approximately 29 billion cubic feet of working gas capacity in Northern California. This storage site is connected to Pacific Gas and Electric's intrastate gas pipelines serving customers in the San Francisco and Sacramento areas. The company spent almost US$2.15 billion in 2011/2012 to acquire transportation and storage assets including marine terminals.
Targa Resources Partners (NYSE:NGLS) is a provider of natural gas and NGL products with existing gathering and processing facilities of 12,500 miles in pipelines and 20 plants. Its services include gas gathering, processing, treating, fractionation, storage terminalling, and transportation throughout the United States. The company has access to the oil and gas producing regions including the Permian Basin, Fort Worth / Bend Arch Basin, South Louisiana Basin and deepwater, deep shelf Gulf of Mexico natural gas reserves.
Like other MLPs, NGLS is also targeting various shale gas concessions through acquisitions and capital expenditure (US$1.9 billion planned for 2012-2014) to strategically position itself. This includes export-oriented infrastructure with the company currently spending US$480m to add pipelines and docks to almost triple the current capacity by Q3-2014.
As the United States advances further on its natural gas consumption, it would be a good idea to evaluate these midstream players as they benefit from the boom without taking a direct (and prone to high risk) bet on the commodity price. Meanwhile the dividend yield above 5%, if maintained at current levels, only adds to the overall sweetness.
Disclaimer: The opinion in this document is for informational purposes only and should not be considered as a recommendation to buy or sell the stocks mentioned or to solicit transactions or clients. I do not recommend that anyone act upon any investment information without first consulting an investment professional as to the suitability of such investments for his or her specific situation.
Disclosure: I have no positions in any stocks mentioned, and no plans to initiate any positions within the next 72 hours. I wrote this article myself, and it expresses my own opinions. I am not receiving compensation for it (other than from Seeking Alpha). I have no business relationship with any company whose stock is mentioned in this article.