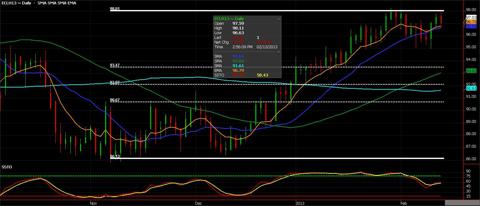 For the last 3 weeks, Crude oil has been range bound, trading in a $3 range, which for this commodity is flat. Futures continue to wander on both sides of their 8 and 18 day MAs. These two levels serve as pivot points, as I am slightly bullish above these pivot points, and slightly bearish under these levels. In recent weeks, I have advised clients to be short futures while simultaneously selling out of the money puts 1:1 in May and June contracts.
My stance remains that we get a risk off trade that drags metals and energies lower. Metals have already started to break lower, with gold off 6.3% in the last 2 ½ months and silver lower by 4.6% in the last 3 weeks, while energies continue to push higher. Look for relationships and correlations for guidance… if and when a trade higher in the dollar resumes, or if we ever get a break in stock indices, I think the outside market influence could help push energies lower. I am not looking for a bear market, but just a trade. I think futures could trade back to $92/93 barrel.
The recent uptick was on the dollar backing off, which was an overreaction to the G7, in my opinion. Also, news that OPEC may be lifting global demand, but that, to me, has been factored in, and is why Crude oil is near $100 and not in the mid-80s. If we make a new high, those that are not hedged off with options would be advised to take their loss.
Risk Disclaimer: The opinions contained herein are for general information only and not tailored to any specific investor's needs or investment goals. Any opinions expressed in this article are as of the date indicated. Trading futures, options, and Forex involves substantial risk of loss and is not suitable for all investors. Past performance is not necessarily indicative of future results.
Disclosure: I have no positions in any stocks mentioned, and no plans to initiate any positions within the next 72 hours. I wrote this article myself, and it expresses my own opinions. I am not receiving compensation for it. I have no business relationship with any company whose stock is mentioned in this article.