The Federal Reserve's near-zero interest rate policy has taken the allure out of money market funds and savings accounts which are yielding basically nothing. Dividend ETFs that focus on international high-yield stocks are a good place for investors to enhance their search for income.
"While there are several possibilities such as real estate investment trusts and preferred shares, one option is high-yielding dividend ETFs, particularly international ETFs. Though dividend ETFs are not the same asset type as bonds and are not meant as a perfect replacement, safe high-yielding dividend stocks do provide a regular and reliable source of income that, unlike many bonds, have yields above the inflation level," J.J. Zhang wrote for MarketWatch.
International dividend ETFs are not only a good place to seek yield, they also offer diversification benefits. Both sector diversity and regional diversity are good additions to a portfolio that can go overlooked.
The SPDR S&P International Dividend ETF (NYSEARCA:DWX) and the iShares Dow Jones International Select Dividend Index (BATS:IDV) have yields that beat out the rate of inflation by a long shot. DWX yields 6.3%, while IDV yields 5.3%.
Most dividend stocks are mid-cap to large-cap stocks, which signify stability, however, overseas companies come with different risks. The country specific exposure is important to consider, especially when it comes to geopolitical risk or default risk. For example, DWX gives an 18% allocation to Spain, with a total 71% allocation to Europe, reports Zhang. Obviously, DWX is exposed to the Eurozone issues.
IDV devotes about 66% of the portfolio to Europe, but the concentration to troubled economies is much less than DWX. The Guggenheim S&P Global Dividend Opportunities ETF (NYSEARCA:LVL) has a high yield of 7.1%, and allocates 57% to Europe. The high yield is a payoff for the high level of risk, as 83% of the portfolio is devoted to high yield international stocks.
Going forward, it is important to watch international dividend ETFs since they had a high price appreciation in 2012, reports Zhang. Yields can drop off if the stock or ETF price appreciates.
Other international dividend ETFs include:
WisdomTree International LargeCap Dividend Fund (NYSEARCA:DOL)
Dow Jones Global Select Dividend Index Fund (NYSEARCA:FGD)
SPDR S&P Emerging Market Dividend ETF (NYSEARCA:EDIV)
SPDR S&P International Dividend ETF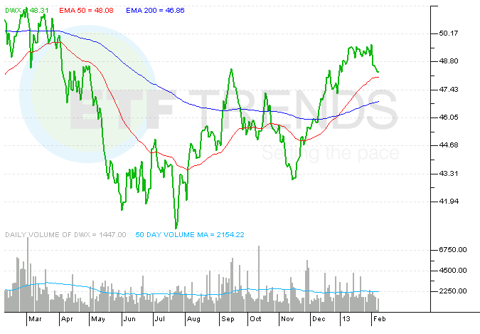 Tisha Guerrero contributed to this article.
Disclosure: I have no positions in any stocks mentioned, and no plans to initiate any positions within the next 72 hours. I wrote this article myself, and it expresses my own opinions. I am not receiving compensation for it. I have no business relationship with any company whose stock is mentioned in this article.
Additional disclosure: Mr. Lydon serves as an independent trustee of certain mutual funds and ETFs that are managed by Guggenheim Investments; however, any opinions or forecasts expressed herein are solely those of Mr. Lydon and not those of Guggenheim Funds, Guggenheim Investments, Guggenheim Specialized Products, LLC or any of their affiliates.