Financial advisors warn us against falling in love with our investments. That is easy to say, but most investments are based upon some enticing attributes that encourage passionate expectations. The decision to buy a stock is usually followed by jubilation that we were able to capture such a gem, but all too frequently that thrill does not last. If too many times the honeymoon with your new stock has ended prematurely, maybe the companies in this article can put the romance back in your investing.
As an analyst, I fall easy for companies with high growth, big dividends or sexy businesses, only to discover after hours of investigation that the company has a dark side. Those short-lived affairs are frustrating, but not as heartbreaking as the unexpected disappointments from a company after the investment is consummated.
Perhaps the most egregious of these surprises is when a company reports great revenue growth but the bottom line is penalized by huge management bonuses and salary increases. Just when it is time for the payoff to the loyal investor, management decides that they already have your money so they do not care about increasing dividends. Another common abuse of shareholders is the continuing issuance of diluting stock offerings to fund an unnecessarily larger operation, to satisfy the egos or justify the salaries of the CEO and CFO.
Girl or Guy Next Door
If you are tired of being jilted by greedy management, maybe you will find a warm and cozy partner in Psychemedics Corp. (NASDAQ:PMD). If it is glitz and glitter that you are after, the biomedical segment is where it's at. In this glamorous group, PMD looks more like the girl or guy next door. PMD is in the relatively mundane business of providing drug testing through hair analysis, mostly to employers and schools. The sexiest thing about Psychemedics is its juicy 5% dividend yield. Management is committed to returning goodies to the shareholders and PMD has not missed a divvy in 65 quarters. It has been a little inconsistent, but generally tracks the business growth. If the US and other economies can continue to improve, the PMD business will grow. If the growth is slow, the company has a stable of Fortune 500 clients that will keep the steady cash flow, currently providing about a $1 per share to support a $.60 dividend.
The company has been reporting single-digit growth and is on target for $.78 per share in earnings in 2013, yielding a PE of about 16 on current price of $12.23. The company is debt free, and continues to invest about $.20 per share annually in research and development, about as much as it spends in reasonable executive compensation. The company does not spend much on conference calls and PR, but is more like the reliable "strong/silent type."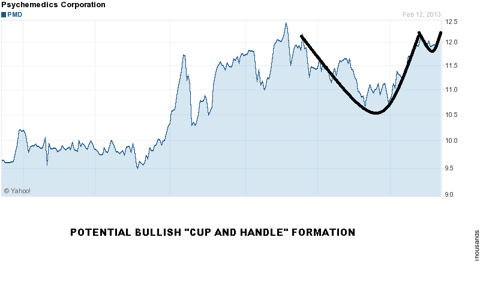 While stability and income are the main attractions of Psychemedics, there are growth opportunities that provide potential for capital appreciation, in addition to a general improvement in global economies and hiring. We are especially monitoring the fallout from the growing drug use in professional sports. Lance Armstrong has made headlines lately, exposing the wide-spread use of drugs in his sport, and the Baseball Hall of Fame did not induct new members this year, struggling to distinguish between natural and enhanced performance in its stars. Adopting policies of stringent and regular drug testing in professional and collegiate sports could put PMD in a very lucrative sweet spot. Although we are not normally technical analysts, we are watching the "cup and handle" set up in the stock's chart, Finally, more than half the shares of this micro-cap are owned by institutions and mutual funds.
The Beat of a Different Drum
While PMD may let you sleep well at night, maybe you prefer the excitement of a little less predictability in your mate. MFC Industrial Limited (MIL) is a commodity supply chain company and owner of resources and royalties in iron and energy in particular. MIL is run by a gentleman named Michael John Smith, who has been compared to Warren Buffett in his unwavering insistence on true value when making a deal. He also insists that book value is the best way to evaluate his company, and the current price of $10.03 per share is a 20% discount to that value metric. A recent example of a Michael Smith deal is the timely acquisition of Compton Petroleum for about $32 million, while the June 2012 evaluation put the Compton book value at $224 million. The book value of MIL was increased sharply, but only after deducting conservative reserves for losses in the future sale of Compton's non-core assets.
Part of the charm of MIL is the mystery. It is enigmatic in the complicated acquisitions and spin offs that are hallmarks of the company. While conference calls (usually from some exotic location) with Mr. Smith are intriguing, we always come away feeling wooed, although not sure why. The bottom line is that history has proven that the bold actions by the MIL management has resulted in a 15%+ annual return for investors. A thorough but mind-bending account of this history can be found in this Seeking Alpha piece.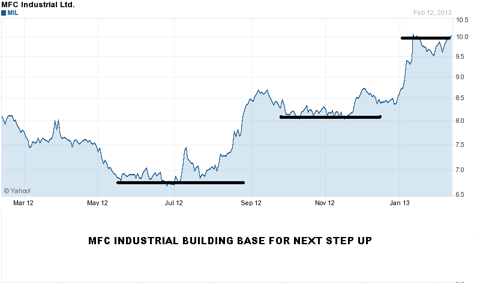 The focus of MFC is on becoming a global supply chain management company through the prudent acquisition of undervalued assets. Although Smith insists on book value evaluation of his company, earnings in the core business in the commodity and merchant banking business have been consistent enough to support a dividend that has increased in the past two years. The MIL policy has been to pay a better dividend than the NYSE average. The current MIL yield is 2.4%.
MIL management is innovative and conservative at the same time. Great attention is paid to small details, belying the boldness of its acquisitions. Investors must take a leap of faith to join the wild ride as MIL marches to its unique drumbeat. That faith is not so hard to muster, given the history of 15% - 20% annual returns for stockholders and a management that insists on a better-than-average income yield. It is noteworthy that Smith's six-figure salary is reasonable for an active and successful leader.
Conclusion
It is difficult to find attractive stocks that are not already winning the Wall Street popularity contest. If you have found that those sexy investments are prone to let you down, maybe you should consider investing in lesser-known companies whose management is committed to work in harness with their shareholders. You may find that they know how to perform where it counts.
Disclosure: I am long MIL. I wrote this article myself, and it expresses my own opinions. I am not receiving compensation for it (other than from Seeking Alpha). I have no business relationship with any company whose stock is mentioned in this article.
Additional disclosure: We do not know the circumstances, risk tolerance or investment objectives of our readers. There is no guarantee that any investment mentioned in this article will be profitable or appropriate for readers.