By David Sterman
In coming months, moviegoers will be treated to a pair of hagiographic films about Steve Jobs. In early April, we'll get to see Ashton Kutcher's impression of the legendary tech visionary. Sometime later in 2013, a script Aaron Sorkin -- the man behind Academy Award winners such as "A Few Good Men" and "The Social Network" -- is developing will hit the screen.
Count on both films to portray Jobs in a luminescent glow.
But more than a year after Jobs' passing, Apple's (NASDAQ:AAPL) mojo is no longer rising. The mighty iPhone has begun ceding market share to rivals, as critics rave about souped-up offerings from Samsung (OTC:SSNLF) and others. And now the iPad may be losing steam as well. And on this score, even Jobs gets some blame.
10 Inches -- Or Nothing
While Jobs was still firmly in control at Apple, he repeatedly stressed the need for a 10-inch iPad, even as rivals began to speak of smaller tablet computers. An early foray by Dell (DELL) with a 5-inch tablet was ill-conceived and quickly pulled off of the market. But tablet makers focusing on a 7-inch form factor started making waves. Even as these smaller tablet computers started to make inroads, Apple was undeterred. Finally, sometime in 2012, Apple relented and started to develop the specs for its own 7-inch device, known as the iPad Mini.
That belated effort should have come sooner. In a recently-released report, research firm IDC notes that Apple is starting to lose its tight grip on the tablet computer market. The key culprit: 7-inch tablets. That's where Samsung, Microsoft (NASDAQ:MSFT) and others have more squarely focused, so the tablet market share is beginning to shift. Apple still rules the roost, with market share exceeding 40%, but this figure used to be more than 60%. It's no coincidence that Samsung and Amazon.com (NASDAQ:AMZN) have gained more than 10 percentage points of market share in the segment during the past six months.
This isn't a simple case of the iPad Mini cannibalizing demand from the 10-inch version. "Several other 7-inch tablets fared well in 4Q12 (Samsung Galaxy, Amazon Kindle, Google (NASDAQ:GOOG) Nexus), driving a continuing mix shift to the smaller tablet form factor. Overall, the 7-inch tablet group held 41.3% market share in 4Q12, up 12.6% from 2Q12; this compares to the 10-inch tablet group that held 40.6% share in 4Q12 versus 67.3% two quarters prior," noted analysts at Citigroup Research.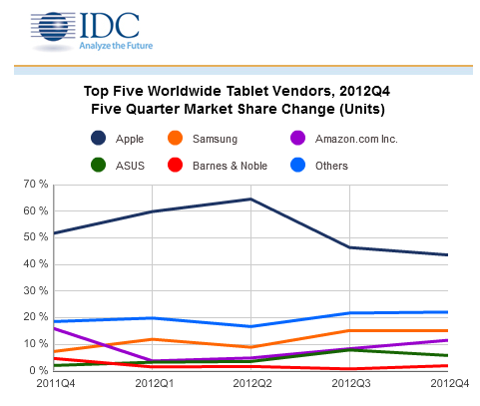 Perhaps the declining market share was inevitable. After all, the consumer electronics segment is littered with pioneering firms that eventually lost their grip. Sony's (NYSE:SNE) Trinitron TVs, Nokia's (NYSE:NOK) once-dominant cellphones, Motorola's RAZR, and the Sony Walkman all once controlled their respective markets.
Until they didn't.
The trouble with a falling market share can be seen on the income statement as increasing commoditization within a segment leads to pricing pressures. Indeed, the iPad's average selling price fell more than 10% sequentially in the fourth quarter of 2012, which translates directly into shrinking profit margins. Apple posted 44% gross margins and 37% EBITDA margins in fiscal (September) 2012. That's almost unheard of in the consumer electronics industry. And they are profit levels likely never again to be seen by Apple.
"It's all good."
Tim Cook, who took the reins from Jobs in August 2011, casually dismisses any talk of Apple losing its cloak of invincibility. At a Goldman Sachs investor conference this week, he suggested investors are too caught up in short-term thinking: "We're managing Apple for the long term, I know people care about quarters and so forth... but the profound decisions we make are for Apple's long-term. Not the short, 90-day clock," he said, according to CNET.
During the past decade, Apple has been able to keep nervous investors at bay by delivering a long string of blow-out quarters. In return, the company was never pressed to articulate plans for future growth clearly. But with growth rapidly slowing, and sales of once-hot products like the iPhone and the iPad starting to cool, can such a laissez-faire style of communication persist? Probably not.
Instead, Apple's stock will mark time, until and unless the company can prove that it can either extend the runway for its current roster of products, or launch another pioneering product. Rumors of an Apple TV seem to fit that need, but the silence remains deafening out of Apple's Cupertino, Calif. headquarters -- several years after the first rumors started to swirl. An Apple device, wearable on your wrist, is also said to be in development, and could be the kind of hot new product the company needs. But it's far too early to know.
Until we see a glimpse of that TV, all eyes will remain on the iPad. In the third quarter of 2013, Apple is expected to launch new lighter, thinner versions with faster processors, as well as a version of the iPad Mini with Retina display. In years past, consumers have been quick to toss their old units in the garbage and rush out to buy the new ones. It's fair to wonder whether these new devices will create the same level of frenzy.
Risks to Consider: As an upside risk, Apple's bulletproof balance sheet can dole out all kinds of perks to investors, from huge stock buybacks to robust dividend hikes... so the stock doesn't have major further downside.
It's a bit too soon to write Apple off. But it's not too soon for Cook to break a sweat and get Apple back on the path of stunning new product launches. The competition is clearly catching up to Apple. And the longer the company waits, the harder it will be to pull away from the pack.
Indeed, companies such as Microsoft, Samsung, Amazon.com, Google, Asus and others likely feel newly emboldened by their market share gains, and are probably going to keep stepping on the gas. Even Sony, which hasn't even been much of a player in these segments, is expressing plans to make a major splash in the smartphone and tablet-computer segments.
Disclosure: I have no positions in any stocks mentioned, and no plans to initiate any positions within the next 72 hours. I wrote this article myself, and it expresses my own opinions. I am not receiving compensation for it. I have no business relationship with any company whose stock is mentioned in this article.