On February 13, CenturyLink (NYSE:CTL) shocked the markets when it announced a revised "capital allocation strategy" which included a $2B share repurchase program and a reduction of its dividend by 25%. Also mentioned in the announcement, was a plan to utilize free cash flow to repay debt and to maintain leverage at less than 3.0 times EBITDA. The market has reacted quite negatively to this announcement, sending shares lower by over 13% in the after-hours trading.
CenturyLink was once considered a "dividend champion," with over 37 consecutive years of yearly dividend increases. However, in 2011, CenturyLink stopped increasing its dividend. Many dividend-growth investors took this dividend freeze as a warning and exited CenturyLink. A great discussion about CenturyLink's dividend woes during 2011 can be found here.
I have earlier written about CenturyLink and had considered it a "Best of Breed in a struggling sector." My primary reasoning for this assessment was due to CenturyLink having revenue growth when excluding its landline segment. However, I also noted that:
However, I would avoid this entire sector. The reason for this is that I do not wish to put money into an area that is known to be in secular decline. Also, the 7.3% dividend is not enough of a reward for the risk involved.
CenturyLink had been using massive amounts of debt to finance acquisitions. Since 2008, CenturyLink has increased its debt load 600%, to $19.5B. CenturyLink has only been able to achieve revenue growth due to these acquisitions. CenturyLink claims that the changes in its "capital allocation strategy" are to fund the $2B share repurchase program and to lower leverage to 3.0 times EBITDA. However, I suspect that the main motivating factor was to lower debt, as CenturyLink only has a 2.26 times EBIT to interest expense ratio.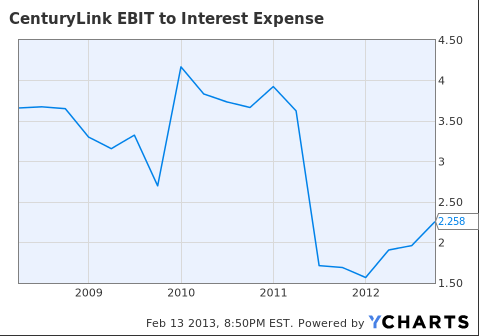 CenturyLink is hardly the first rural telco to lower its dividend payout due to debt issues. Back on February 16, 2012, Frontier Communications (NYSE:FTR) lowered its dividend to reduce debt and improve its leverage. There are also concerns about the dividend for Windstream Corporation (NASDAQ:WIN), due to the dividend exceeding free cash flow in 2012. Rural telcos have been a horrible investment for years, with their share prices showing high volatility and rollercoaster like movements. Note that the S&P 500 has greatly outperformed this sector since the beginning of the recovery in 2010.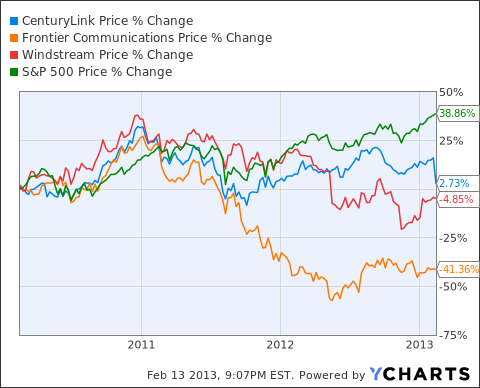 In sharp contrast, the two major US telcos, AT&T (NYSE:T) and Verizon (NYSE:VZ), have outperformed the S&P and have posted solid revenue growth. They also offer quite handsome dividends, with AT&T offering a 5.1% yield and Verizon offering a 4.6% yield.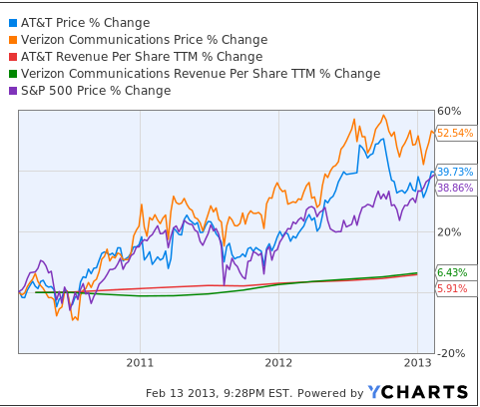 Conclusion
The old real estate adage of "best house in a bad neighborhood" applies to CenturyLink. CenturyLink was once considered a dividend stalwart and the best rural telco. That it has reduced the dividend is a shame, as many retail investors are owners of the stock.
I cannot think of a sector that I dislike more than the rural telcos. High-yields are not enough to make them compelling investments. My sentiment has not changed much since I wrote my conclusion for the above linked article:
I would entirely avoid this sector. I do not see any compelling reason to own any of these names. Earnings for these companies have been in decline for years, revenues have grown only due to acquisitions, while the debt that these companies carry is overwhelming.
Disclosure: I have no positions in any stocks mentioned, and no plans to initiate any positions within the next 72 hours. I wrote this article myself, and it expresses my own opinions. I am not receiving compensation for it (other than from Seeking Alpha). I have no business relationship with any company whose stock is mentioned in this article.