Coming off a very strong second half of 2012, BlackRock (NYSE:BLK) is poised to outperform in 2013 as well.
BlackRock is an industry leader in asset management and investment and risk advisory services. They offer a wide range of mostly passively managed investment products, including the popular iShares line. Assets under management (AUM) totaled 3.8T in 2012.
While I found their iShares commercial campaign a bit strange to say the least ("i...i,i,i"), it's hard to argue that their ETF's haven't gained traction with investors. Share buybacks and acquisitions that increase their assets under management have and will continue to increase shareholder value. And, despite its 41B market cap, BlackRock is solidly in growth mode and effectively expanding their product line and international presence.
Investment Thesis
A great boon for asset managers recently has been the increasing popularity of ETFs. That said, the ETF space is becoming ever more saturated with competition, which could force lower management fees to attract and keep investors. In fact BlackRock recently cut back the management fees on six of their iShares ETFs. However, the revenue loss from lower management fees is very likely to be offset by an expected growth in AUM due to acquisitions and a very diverse and growing product line.
But can BlackRock really continue to lure individual and institutional investors with competitors (the Vanguard Group especially) offering lower cost alternatives? While it may not seem obvious on its face, the short answer is definitely.
Management fees are a relatively small total cost. It may sound impressive to hear "our management fees are only half that of our competitors," but the reality probably looks something like this: product A has an expense ratio of .15% while product B's is .30%. The difference is really only a paltry .15%. There are many more important factors to consider than expense ratio: holdings, liquidity, yield, investment strategy. As a concrete example, another Seeking Alpha article offers a fantastic explanation of BlackRock's iShares Emerging Markets Index ETF's (NYSEARCA:EEM) competitive advantage over the lower priced Vanguard Emerging Markets ETF (NYSEARCA:VWO) based on the popularity of indexes each follows.
Additionally BlackRock has very strong brand recognition and untarnished reputation. When competitors market their products, they almost invariably have to compare them to the BlackRock version of their fund. But now BlackRock has embarked on a new marketing campaign (yes, the iShares commercials I referenced earlier) that will undoubtedly increase their visibility among individual investors as well. Plus CEO Larry Fink has a reputation as a smart, likeable and trustworthy guy. The 2008 financial crisis highlighted his expertise and honest business practices. The same cannot always be said of their competitors. State Street Corporation (NYSE:STT) manage the SPDR ETFs including the popular SPDR S&P 500 (NYSEARCA:SPY). They have jeopardized investor trust in the past after being sued several times for mishandling bond and fixed-income funds. In an industry built on getting people and institutions to entrust you with the bulk of their savings, these kinds of breaches of trust matter. And before anybody says anything in the comments-yes, I know that BlackRock is getting sued right now, but there is really no comparison. The lawsuit has nothing to do with misrepresenting their products or mishandling funds, it has to do with the margin they collect on fees from loaning out their holdings to traders. Some investors want a greater proportion of those fees to be distributed back into the funds, but this is a completely legal and normal practice in the asset management world. More details about the lawsuit can be found here.
Recent acquisitions have also been a great boon to shareholders. Following their initial acquisition of Barclay's Global Investors from Barclay's PLC (NYSE:BCS) in 2009 that began their ownership of iShares, BlackRock has expanded to a broader audience. Last year they acquired Claymore's line of Canadian ETFs and they recently announced that they would buy Credit Suisse's (NYSE:CS) ETF business as well. Look for this trend of opportunistic acquisitions to continue as BlackRock continues to position itself for international exposure (where there is greater room for growth in the ETF market) and to take advantage of its scale (which is crucial for success in a low margin market). Key to consider going forward is that while BlackRock's business and AUM is growing, it is also expected to repurchase shares in the near future, which should help contribute to an EPS boost.
Challengers have arisen, but in the ETF world, BlackRock is still king.
Fundamentals
Despite the persistent increase in share price recently, BlackRock is still trading at reasonable valuations. The chart below compares BLK's valuation metrics and 52-week performance to several competing asset management companies: Legg Mason (NYSE:LM), State Street and Invesco (NYSE:IVZ).
| | | | | |
| --- | --- | --- | --- | --- |
| Company | P/E | P/B | PEG | 52-week Change |
| BLK | 17.58 | 1.64 | 1.29 | 24% |
| LM | N/A | 0.73 | -.064 | 3.8% |
| STT | 13.56 | 1.28 | 2.56 | 44% |
| IVZ | 18.56 | 1.50 | 0.94 | 16.18% |
source: Yahoo Finance
The really good news from a fundamental perspective is that both EPS and the dividend rate have been and are expected to continue growing.
BLK's EPS History

| | | | | | |
| --- | --- | --- | --- | --- | --- |
| 2008 | 2009 | 2010 | 2011 | 2012 | E2013 |
| 5.91 | 6.09 | 10.55 | 12.37 | 13.79 | E15.51 |
source: Captial IQ
BLK recently announced a dividend increase from $1.50 to $1.68 and they have a very consistent history of making such increases.
Technical View
The technical outlook of BLK is bullish on both long and shorter term charts.
BLK is currently trading in a tight pattern that it began in mid-January after spending the latter part of 2012 in a well defined positive channel. In addition to threatening to overtake its 52-week high in its recent trading sessions, BLK has consistently been making higher lows after each bounce off of its upside resistance level. This is characteristic of an ascending triangle pattern, a bullish signal for traders. I expect an imminent breakout to the positive side on high volume as the positive longer term trend seems likely to continue after this period of consolidation.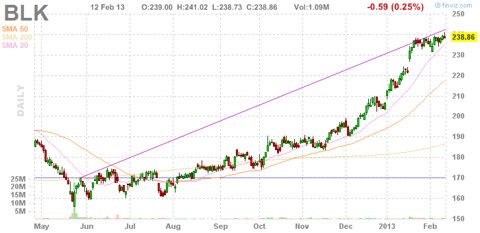 source: finviz.com
Looking further back in time, we can see that there is additional technical support for a bullish outlook. As the chart below shows, since 2009 BLK has been in a long term wedge pattern consolidating around 180, making higher lows and lower highs during this period. This pattern was broken recently when BLk charged through long term resistance around 200 in December and then surpassed its 2010 high of around 220 in January.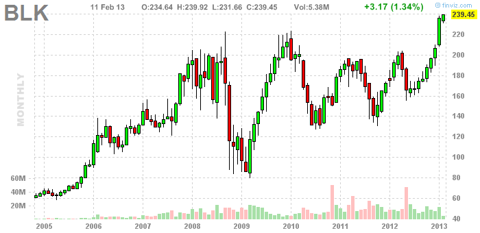 source: finviz.com
Conclusion
BlackRock's outlook is a very exciting one in my opinion. Fundamental performance and technical patterns both support the story of a compelling business.
That being said, any play on BlackRock is also a play on the continued market rally. If you think it is more likely that investor interest will wane in the future, then exotic products like focused emerging market ETFs will experience huge outflows that will ultimately hurt this asset managers.
I think that the potential benefits outweighs the risks and that BlackRock is the strongest play on ETF popularity out there.
Disclosure: I have no positions in any stocks mentioned, but may initiate a long position in BLK over the next 72 hours. I wrote this article myself, and it expresses my own opinions. I am not receiving compensation for it (other than from Seeking Alpha). I have no business relationship with any company whose stock is mentioned in this article.