Much of the current debate regarding InterOil (IOC) centers on whether or not the Company will consummate a deal resulting in the partial sell-down of IOC's Elk/Antelope resource. I previously presented my case detailing why it is extremely likely a sell-down deal will be announced in March 2013. This analysis assumes the deal is announced and explores what the value of InterOil will be immediately upon the announcement of the sell-down transaction.
Three variables need to be considered in order to properly value InterOil post-transaction. Assumptions need to be made for (1) total number of trillion of cubic feet equivalent (Tcfe) contained across ALL of InterOil's resources and its 40 prospects (2) the average price per million of cubic feet ($/Mcf) the gas will be sold at (3) the time horizon used for discounting to arrive at a net present value. Let's examine each of these in turn.
InterOil's Resource Portfolio
Elk/Antelope - The most recent GLJ report's "best" estimate of Elk/Antelope is 9.4 Tcfe. This report reflects data through December 31, 2011. Since the last report date, Antelope 3 was drilled. The results from Antelope 3 clearly show the E/A reservoir is contiguous. Antelope 3's hydrocarbon column height is humongous at 2,301 feet, which is 530 feet thicker than Antelope 2 and 81 feet thicker than Antelope 1. The feet of net pay, net-to-gross ratios and average porosity all compared favorably to GLJ's 2011 year-end E/A reservoir model. To be conservative, let's assume A3's strong results will cause GLJ's 2012 year-end reservoir analysis to grow only slightly and estimates E/A to contain 10.0 Tcfe.
Triceratops - A preliminary assessment performed in 2011 indicated Triceratops contains 4.9 Tcfe. For comparison, recall the first certified contingent estimate of E/A at year-end 2009 was only 3.8 Tcfe. It jumped to 9.1 Tcfe year-end 2010 and then to 9.4 Tcfe year-end 2011. Further seismic analysis and drilling results on Triceratops during 2012 led Morgan Stanley's analyst Evan Calio to conclude Triceratops's area under closure could be 2x Elk/Antelope's (Morgan Stanley's June 18, 2012 research note on InterOil). Although in the early stages of appraisal, an initial resource estimate of the Triceratops field will be included in GLJ's 2012 year-end resource estimate. My conversations with Dave Holland (head IOC geologist) lead me to conclude that Triceratops will ultimately have at least an equal amount of gas and liquids as E/A....and possibly quite a bit more. Let's assume another 10.0 Tcfe for Triceratops.
Prospects - InterOil has 40 additional exploration lead and prospects including several additional reefal prospects (page 3). The next prospects to be drilled are Wahoo/Mako and Tuna. The Wahoo build-up is large (approximately 7.5km to 8 km in strike length) and preliminary mapping suggests the Wahoo/Mako trend may have a structural closure of approximately 18,039 acres (73 sq. kilometers). Both seismic and airborne gravity and magnetic data indicates Tuna contains reefal properties. Locations have been selected for drilling both prospects. These two prospects are located between Elk/Antelope and Triceratops. Hence, Tuna and Wahoo/Mako must be prospective for being reefs since they are between two known reefs. Assuming gas is discovered at Tuna and Wahoo/Mako, these fields will be as close to the proposed LNG plant as Elk/Antelope. IOC's 40 prospects (including Tuna and Wahoo/Mako) are likely to contain an additional 5 - 20+ Tcfe in total. Though one could logically conclude that several of the reefal prospects contain significant amounts of gas and condensate, for simplicity, I will assume that all 40 remaining prospects contain an additional 10.0 Tcfe (in total). Adding E/A + Triceratops + 40 prospects = 30.0 Tcfe in total.
Value per Mcf
Over the past 5 years, the regional industry average for analogous transactions is $1.20/Mcf, according to Raymond James analyst Pavel Molchanov. There are several reasons why E/A is more valuable than the average transaction price since 2008. First, LNG demand and prices in Asia/Pacific have risen sharply, driven by the combination of the Japan earthquake, China migrating more power generation to natural gas from coal (due to tragic pollution issues) and South Korea and India's ramping LNG demand. As of February 3, 2013, the customs-cleared LNG prices in Japan topped $19 per MMBtu, compared with $10.45 per MMBtu in Europe and $3.30 per MMBtu in the US. Second, the 5-year average transaction price of $1.20/Mcf includes transactions for low quality resources (like coal seam) that sell for under $1/Mcf. Conversely, E/A is highly desirable for a number of reasons. E/A requires minimal pipeline infrastructure to transport the gas (saving billions of dollars compared to Exxon's PNG LNG project). The gas from E/A contains low levels of contaminants (low sulfur and CO2). The limestone in the reservoir has high porosity and permeability, resulting in very few production wells needed (approximately 10 vs. 500+ for other projects). For reference, a recent binding heads of agreement between IOC and Pacific Rubiales priced E/A's gas at $2.85/MMBtu.
The first sell-down deal with a supermajor will be the cheapest deal IOC does. I expect the supermajor bids will come in around $1.50/Mcf in total value for the first 25%-32.5% of E/A. InterOil should do that deal. Partnering with a supermajor removes any credibility overhang on InterOil and provides all of the cash and resources required to develop InterOil's vast prospect portfolio. It is critical to consider the BLENDED price InterOil will receive for ALL the sell-down transactions going forward to properly value InterOil. While, it is likely the first transaction with a supermajor will be around $1.50/Mcf, the subsequent deals are likely to be closer to $2.00-$3.00/Mcf. Importantly, InterOil will also sell a portion of its LNG into the Asia/Pacific spot market. As noted above, the current price in Japan is approximately $19 per MMBtu (1 Mcf = 1.023 MMBtu) or approximately $18.50/Mcf. Therefore, I believe it is very conservative to assume InterOil will achieve a blended average of no less than $2.00/Mcf and it should easily be well over $3.00/Mcf.
Time Value of Money
LNG projects usually average 20-year economic lives. Given this, InterOil will likely receive the majority of its payments over time. For modeling purposes, I assumed InterOil receives $200M early and the rest over 20 years. I assumed the $200M early payment is paid partially upfront upon signing and the remainder is tied to the completion of various milestones over the next three years (e.g., condensate stripping plant completion, pipeline completion, LNG plant completion, etc.). I assumed all sell-down transactions will occur over the next seven years. Using the capital asset pricing model and an equity beta of 1.2, I used an 8.2% discount rate. I assume LNG production begins in early 2017. Applying these assumptions, results in the following value of InterOil's shares upon the announcement of a sell-down transaction. In calculating the value of InterOil's share price, one must adjust for the fact that InterOil owns 58.6% of the resources. This adjustment is reflected in the calculations.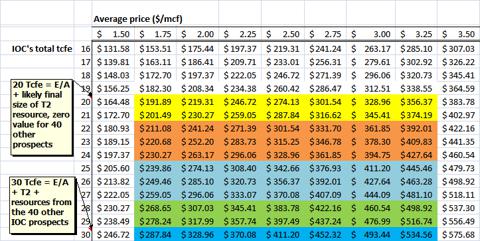 Reading the table - (1) Assume a blended price/Mcf InterOil will receive over the ALL of its sell-downs over the next seven years and LNG spot market sales. (2) Assume the total Tcfe contained in ALL of InterOil's resources including E/A + Triceratops + the remaining 40 prospects (including Tuna and Wahoo/Mako). Given that all cash flows are already discounted, the assumptions you make for these two variables results in IOC's share value today.
While some observers believe InterOil's recent upward price movement is related to short covering, it is more likely that long holders have done similar calculations (as above) and increasingly are gaining conviction that IOC will announce the sell-down transaction in March. Post-transaction, IOC should finally trade towards its discounted fair value of $275-$350+ per share. Additionally, there are 11.7M shares short (against a float of 41.4M shares) and 'days to cover' = 17.9. Further, over 70% of the total outstanding shares are held by management and the top 10 holders. It is increasingly likely we could see a classic short squeeze on the announcement of any sell-down transaction with a partner that includes an early payment to InterOil of $200M or more and prices the gas at a total value of $1.00/Mcf or greater. If I was a top 10 IOC holder, on the announcement of a sell-down deal, I would pull my borrow of IOC's shares if I was lending them out to the shorts. Pulling the borrow would force the shorts to find a new source of IOC shares to borrow (very unlikely) or force the shorts to involuntarily cover their short position (think Porsche/VW). Wouldn't you??
Disclosure: I am long IOC. I wrote this article myself, and it expresses my own opinions. I am not receiving compensation for it. I have no business relationship with any company whose stock is mentioned in this article.