I know it's a tough task to go against a highly reputable website like FX Street, especially when you have half the resources. But I have a variant view to offer and it's an important one.
Yen weakened "more than intended" - Taro Ase
Shinzo Abe set a target for the USD/JPY at 90 and now momentum traders have seen to it that the value has been reached-- and then some. Much like the way ECB President Mario Draghi has not been pleased about the strength of the Euro as of late, the Japanese government is not too happy about the bearishness of the Yen. Japanese Finance Minister Taro Aso stated a week ago that the Yen declined "more than intended".
BOJ Interest Rate Decision and Press Conference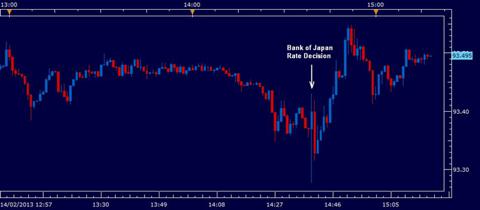 Source: DailyFX
I watched this event closely on multiple websites (Daily FX, Forex Factory Calendar, Bloomberg, Reuters). These are all great sources for Forex traders to keep an eye on notable market events that affect currencies. The Euro Minimum Bid Rate announcement and the UK Consumer Price Index release are a few of the others that you can keep tabs on as well; they would affect the Euro and the British Pound respectively.
Anyway, the interest rate was unchanged at 0.10% as was widely expected. BOJ Governor Masaaki Shirakawa held a news conference a few hours after the interest rate announcement, in which he talked about the monetary policy being conducted to stabilize Japan's economy. Shirakawa mentioned that he would go into more detail at the G20 finance leaders gathering over the weekend in Moscow.
The problem is he could soon be replaced by Kazumasa Iwata who sees the true value of the USD/JPY to be 100. He even wanted to buy foreign bonds to expedite the weakening of the currency.
The BOJ is obviously concerned about facing resentment from the other G20 nations due to the free fall of the Yen, so they have temporarily stopped increasing their stimulus program. The Yen will continue to slide further in the near term before any chance of a correction which should happen.
Long term technicals are bullish for the USD
This week there was a small number of macro data releases out of the United States so the USD hasn't been particularly volatile. The U.S. Retail Sales which influences the USD/JPY did not trigger a trading opportunity because purchases did not grow as much. Retail sales climbed just 1 percent in January and this may have been the reason why there was no volatility in the exchange rate as seen below.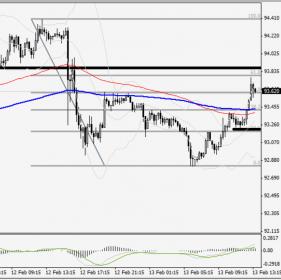 However, as the U.S. economy continues to recover and we move into the next round of corporate earnings releases, there is a chance for the greenback to bounce back. We've had the S&P 500 at a 6-year high after 76% of its reporting companies posted Q4 2012 profits that beat analyst expectations. Additionally, U.S. Jobless Claims hit a 5-year low and the Debt ceiling will be temporarily increased after legislative agreements were made.
There was also the Non Farm Payroll figures that were on the positive side having increased by 156,000, and then the U.S. ISM Manufacturing Purchasing Managers' Index that was up with a value of 53.1 beating forecasts of 50.8 from a previous 50.7.
Yen geared up for Profit Taking
Forex Traders should find the current level of the USD/JPY a perfect time to take profits and this will put pressure on this currency pair at least on an intra-week basis. I fully expect the USD/JPY to pull back to 90 which will be its long term support level despite claims that the currency pair is overvalued.
Disclosure: I have no positions in any stocks mentioned, and no plans to initiate any positions within the next 72 hours. I wrote this article myself, and it expresses my own opinions. I am not receiving compensation for it (other than from Seeking Alpha). I have no business relationship with any company whose stock is mentioned in this article.