We should have understood that Time Warner (NYSE: TWX) CEO, Jeffrey Bewkes, is probably intent on selling the magazine business, when he said to CNBC some time ago, "there's tremendous resilience in the national magazine publishing business." In other words, he was hinting at the dwindling print publishing business and that he might look for alternative options in the near future. The future is now the present, when Time Warner is rumored to be having secret negotiations to sell off part of Time Inc. as reported by Fortune (a part of Time Inc.).
One thing surprises me. Why is part of Time Inc. being sold off instead of the whole of Time Inc. being spun off? Is the magazine publishing business that unprofitable? Although the latest 2011-2012 research data from The Association of Magazine Media indicates that total magazine sales have fallen by 2.9%, Warren Buffett seems to be optimistic about the publishing business. Reportedly, he already offered to buy Time Inc. once back in 2007.
"As your friend, don't do that, it's a good business," said Mr. Buffett, according to people who heard Mr. Parsons recount the story. "But," he added, "If you do sell it, sell it to me."
Looking at the 2012 annual report, the publishing segment generated operating income of $420 million, which comprises around 7.1% of the total revenue of $6 billion. This, when compared with the segment operating income of $563 million in 2011, does not look to be too inspiring at all. In 2012, publishing revenue dropped 7% to $3.4 billion, as revenue at the parent company slid 1% overall to $28.7 billion. Perhaps it is not as profitable as it was back in 2007.
But on the other hand, look at the image below, we do not see any drastic fall in revenue of Time Inc. either.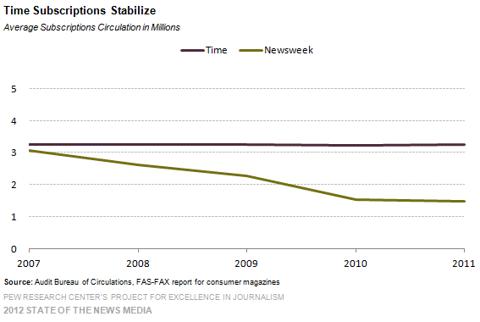 Then again, People and Entertainment Weekly, which are supposedly included in the sell-off portfolio, are world-renowned magazine brands per se. For example, People, which is not only the company's most profitable title, is by most accounts the most profitable magazine in the world, with $997 million in advertising sales last year and hundreds of millions more in newsstand and subscription revenues. If you want to stay in the publishing business, you should not sell a highly regarded publication like People.
Moreover, if Time Warner really intends to get out of the publishing business, why does it not sell the whole of Time Inc. portfolio at a much higher price? According to this Forbes article, Time Inc. segmented revenue accounted for 12% of the total revenue of Time Warner.
"If Time Warner were to sell all of Time Inc., it would most likely fetch somewhere in the neighborhood of $3 billion to $6 billion."
Then again, if Time Warner is just looking to cut parent company's extra expenses needed to make the transition from physical publishing to digital publishing, why does it not do a spin-off instead of sell-off? For example, Rupert Murdoch's News Corp (NASDAQ: NWSA) has recently filed for spin-off of its publishing business with the SEC. The business generated a net loss of $92 million in the three months ending September 30, down from a $38 million profit in the period last year, on revenues of $2.13B, that were down by 1.5%.
But any decision depends on three factors, namely: Time subscribers' openness to digital content, Time's online presence and the future prospects of online publishing.
Looking at the graph below, Time has the highest print & digital subscribers' percentage, which means people value Time's content -- whether it is in print or online.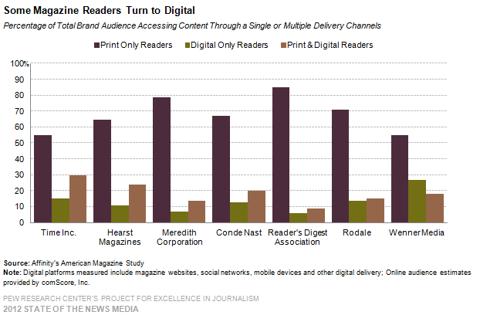 In 2011, Time was reported to have the highest online traffic, and I assume, it is only going to grow with time. So, that goes to show that Time's online presence is quite strong in the market.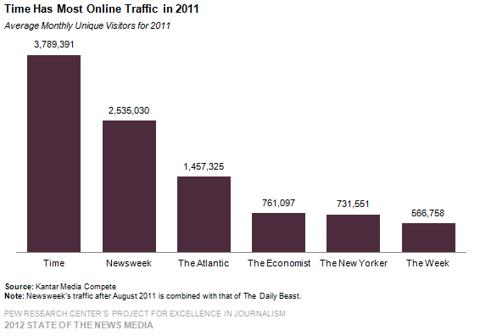 Are we talking about lower revenues from the digital medium? That should probably be offset by the lower production costs as time goes. The operating income should not be affected much if the whole transition process is being properly managed. In addition to that, revenue from the digital medium should increase over time as consumers incline more and more towards mobile content. So, the future prospects of online publishing are bright.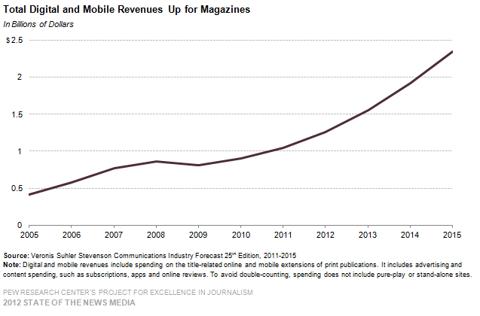 With the better application of pay wall (whether one flat fee or multi-subscription options) and higher content delivery fees on mobile devices, the publishing business should slowly turn digital and profitable with time. And that is when the brand names will come into play once again. The more popularity and authority in the market, the better the revenue options.
Having said that, even a partial divestment of Time Inc. will hinder Time Warner's ability to leverage the future prospects of the digital publishing business. If Jeff Bewkes is looking to increase immediate profitability, selling the whole or parts of publishing business might be a good step. But with more instant profits, you forgo your chances of future profitability in the online publishing market. And if part of Time Inc. is indeed sold in the coming few quarters, it will be highly expected of Time Warner to show how it is going to use the proceeds from the sale. That will determine future shareholder expectations from the company and thus, decide the market valuation of the stock.
However, if the publishing business is spun off, it will not be straining the profits of the parent company. And it will probably be executed under a better management committed to the spun-off company's success.
Conclusion
When arguably the most popular magazine publications are owned by Time Warner, it is not wise to sell these off, if even in part. We are not talking about sell-off of a publishing business here. We are talking about the sale of a brand name that garners lot of attention and respect in the publishing world. And with every branded product, the packaging matters most. The product sells itself!
The question here is whether Time Warner wants to stay in the publishing business or not. If not, it should sell the whole of Time Inc. at a high premium. If it does, it should not sell part of Time's portfolio but rather spin Time Inc. off to create a better company out of it.
Disclosure: I have no positions in any stocks mentioned, and no plans to initiate any positions within the next 72 hours. I wrote this article myself, and it expresses my own opinions. I am not receiving compensation for it (other than from Seeking Alpha). I have no business relationship with any company whose stock is mentioned in this article.