The stock market has been up about 13% from a year ago. The financial sector has led the rise; the IYF financial sector ETF is up 21% from a year ago.
There are two factors that make me believe that the market may be overvalued. The first is that corporate profit, as a percentage of total GDP, is at a multi-year high. The second is that the GDP is not growing at a particularly strong rate. Corporate earnings grow in two ways: more revenue or more profitability. When neither of these appears likely to drive a big move, I am skeptical that current valuation metrics can be supported.
The market's P/E is 15.6 according to Morningstar data. If you think that the cost of capital for the market is about 9%, then the market P/E (no growth) should be about 11.1, or 11.09. That means that 15.6-11.1=$4.5 is the value attributed to growth; that is 28.8% of the total market value. Some of that is real growth and some of it is inflation. Factoring in inflation of 2%, the market P/E should be about 14.6 (Gordon Growth with 2% growth rate). That leaves about $1 (15.6-14.6) of real growth priced into the value of the market, which is about 6.5% of its value. Now this might not sound like a lot of real growth built into the pricing but consider the following analysis.
Corporate profits are at an all-time high. Consider this graph.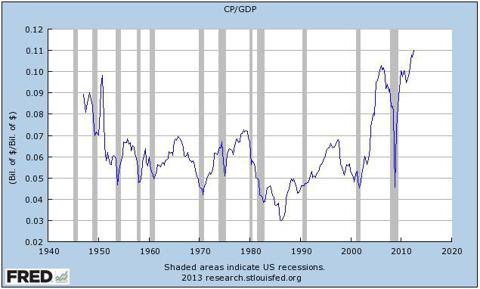 As a percentage of GDP, corporate profits are at their highest level ever. Although the economy might be built on higher margin businesses nowadays, such as more software relative to industrials, this percentage is still likely higher than it would be in normal times. The reason why this percentage will likely revert back to a mean value is twofold: labor costs and interest expense. Labor makes up a considerable percentage of corporate cost structures. As any worker in the US can tell you nowadays, employers have the negotiating power. As a result, pay has not risen and companies have been able to get existing workers to be more productive against the backdrop of dismal prospects as an unemployed worker. As the employment market tightens back up, companies may find that labor expense and productivity demands may revert back to normal levels, increasing labor expenses as a percentage of revenue.
The second half of improved corporate profitability mentioned is the interest expense. Because interest rates have been so low, interest expenses have been smaller as a percentage of sales. As interest rates rise, there will be further pressure on net income as a percentage of sales. In other words, there will be less profitability. The result of the labor pressure and interest rate pressure will result in corporate profits not likely sustaining their high percentage of the overall GDP. The household sector will get a bigger share. So in considering the E in the P/E ratio, it is likely that the E will take a haircut, in my opinion, because of pressures on corporate profitability. The real market P/E valuation based on the reverted-to-the-mean profitability level and accompanying haircut to the E component would lead to a P/E that likely overestimates real growth at this point.
So in order for market valuations to be justified with declining corporate profitability as described above, there would need to be a rise in real revenues, more than enough to compensate for the pressure on profitability. In considering the P/E, that E will take a haircut because of pressure on corporate profitability and needs a counteracting increase in revenue to maintain its current level. The average corporate profits, as a percentage of GDP, is about 8.78% over the past 10 years using quarterly data per the above graph. That number today is 11.1% because of the factors discussed. So the initial haircut from 11.1% to 8.78% would equal about a 20.8% decline. I am not saying that the 11.1% will decline to 8.78% but will likely decline in coming years below its current level. The problem is that there is unlikely to be increased revenue to counteract this effect, causing the E in the market's P/E to decline and also causing the P/E ratio to rise.
Real GDP growth rates are not likely to allow companies', in aggregate, significant growth in revenues. See the graph below.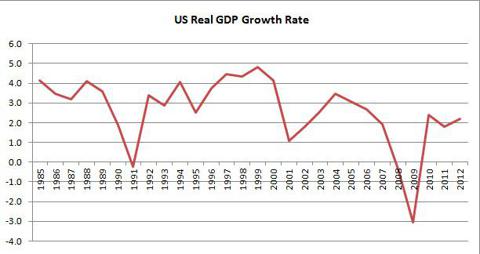 Notice that growth is very slow and the US real growth rate is barely inching along relative to previous decades. Below is my research of the actual companies in the S&P 500. The data mirrors the national data.

To sum it all up, corporate profitability may decline in the coming year or two and there is not significant increasing revenues, in aggregate, to maintain current earnings levels. The market's current P/E ratio, in my opinion, overpays.
Overpaying Leads to Mediocre Returns
There is a great diagram that shows how the price you pay for a security determines your return. It illustrates 10-year return patterns going back 80 years of the S&P 500. The gist of that article is that the price you pay determines your return and you can see how performance is clustered over the decades. This is a subtle point because academics use average returns and standard deviations over a certain period to describe return patterns. In real life, you are not concerned with the market's average return as much as you are managing your portfolio over its own path dependent holding period where the price you pay determines your return. The value a money manager adds is based on the timing of these purchases and sales.
To use Apple as an example, if you purchased the stock at $700 and it went to $480, you lost 31.4%. Now, you need a 45.8% return from $480 just to make you whole again before earning any return on your original money. Any benefit from compounding is stifled by overpaying for an asset.
Market Sentiment
Many professional investors are wary of current market levels. There are articles lately, like this one, discussing market valuation levels. Investor Marc Faber recently had an article reporting him saying that 2013 could see a 1987-style drop. A recent Seeking Alpha article even describes a 1929-like scenario.
An item of note that corresponds to the market rise is the increase in retail money flowing into equity funds. According to Lipper Funds in this article, as of 1/31/13, the amount of money from the previous four week period that flowed into equity and ETF funds has been its highest since as far back as January of 1996. This could help explain why the S&P 500 crossed the 1,500 mark during January, something not achieved since 2007.
I become very hesitant when retail investors bring these large flows into the market.
Conclusion
In my opinion, the stock market today generally does not offer a favorable risk/reward profile at this price level and I am wary of overpaying for stocks now. From a strategy perspective, I am looking for stocks with large buybacks that do not seem to be hugely overvalued. At least I will get improvements in EPS through the buyback. Additionally, there will always be pockets of undervalued companies shunned by other market participants or where smaller, well-run companies are able to grow sales by taking market share or to improve margins by controlling costs. It is just harder to not overpay for these stocks today. These companies can grow sales and margins without relying on macroeconomic tailwinds.
Disclosure: I have no positions in any stocks mentioned, and no plans to initiate any positions within the next 72 hours. I wrote this article myself, and it expresses my own opinions. I am not receiving compensation for it (other than from Seeking Alpha). I have no business relationship with any company whose stock is mentioned in this article.