We did not like the price action yesterday in some of the plays we were looking at buying, so we remained on the sideline. Unless someone has a gun to our head we see no reason to rush into the less liquid names at this time and would rather keep our buying power available on any correction (whether that is a general market pullback, one by sector or just some really attractive names getting knocked around). Investors need to remember that there is a huge war chest of cash on the sidelines right now and that can come into the market at any time, as it should with the current interest rate environment. Consider this, as the mentality of not caring about the return on one's capital but rather the return of one's capital dissipates that very same capital will seek out yield and return and bonds are priced near perfection so stocks would be the natural next liquid investment to rotate into. That could be the story of 2013 which sets up another leg up in this bull market.
Commodity prices this morning are as follows:
Gold: $1642.90/ounce down by $2.20/ounce
Silver: $30.79/ounce down by $0.079/ounce
Oil: $97.21/barrel up by $0.20/barrel
RBOB Gas: $3.05/gallon up by $0.0146/gallon
Natural Gas: $3.301/MMbtu down by $0.005/MMbtu
Oil & Natural Gas
The big news maker yesterday was Leon Cooperman who appears to have rebalanced his portfolio and spread his bets out over a wider array of the market. Within his moves was a purchase of SandRidge Energy (NYSE:SD), which according to a 13F which became public yesterday it appears Mr. Cooperman owns approximately 24.4 million shares. This number could be more or even less as the filing is as of December 31, 2012. SandRidge shares rose on the news with investors bidding them higher by $0.27 (4.80%) and closing at $5.90/share. Volume also spiked to 19.9 million on the news.
Talisman Energy (NYSE:TLM) reported earnings and saw shares rise yesterday about 2.5% to close at $12.82/share and strong volume of 13.8 million shares. The company's new CEO continues to state that the company will operate within its cash flow and not run up debt in order to fund exploration. The company also discussed the sale of assets moving forward which appear to be some of its marginal nat gas properties in North America. The company has been a few steps behind the competition in the transition from traditional exploration towards the shale plays. They moved into nat gas in a big way just before the lower turn and that has been a big drag, it was part of the reason we exited our position and moved on even though we were many times in the black on the holding. The company has been stuck in neutral for some time, but we do think the new CEO is setting the company up with a solid foundation to move forward. The transcript is available here.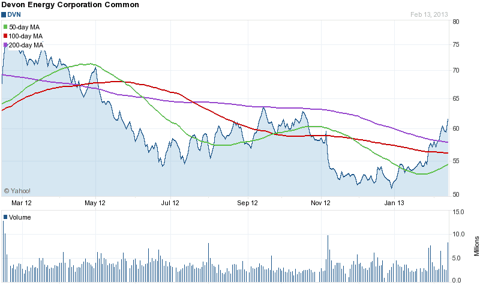 Chart courtesy of Yahoo Finance.
Things are looking up for shares in Devon Energy (NYSE:DVN) since they crossed the 200-day moving average recently and it appears that a higher trend is in place. Shares had a nice pop yesterday to close at $61.48/share after rising over 3% during the trading session. The company has cash and is in the process of redeploying this capital into producing assets via some very interesting unconventional plays across the country. Their dry gas plays will probably not do much for them over the next few years, however long-term we think the liquids plays coupled with those assets could turn out to be winners. This is especially true if one considers the fact that Devon is a potential consolidator in the industry and bargaining from a position of strength (while those across the table will undoubtedly be in a position of weakness if some of the ideas we have on the industry do come to fruition). This is not a get rich quick stock, but rather one of those solid performers where in a decade the shares could be worth 2-3x more with dividends reinvested and the business plan having been executed well with results meeting expectations.
Coal
The conference call for Cliffs Natural Resources (NYSE:CLF) just kept getting worse and worse the other night and it had us simply scratching our head. Either management was overly aggressive in their defense of the dividend in the prior quarter or were wishing upon a star and attending church every Sunday in the hope that some miraculous event would occur which would turn their business around. Either way they were grossly misguided in whatever their thinking was and investors punished the shares with a drop of $7.32 (19.99%) and a close at $29.29/share. Volume was huge yesterday with 35.4 million shares traded and today could be an interesting day. As we write this the company has not yet priced their secondary offering and this could be another overhang on the shares. Until those shares are finally priced we would not recommend opening a position. Look for volatility again in today's session. For those who want to see what a train wreck the quarter was, simply read the transcript here.
Manufacturing
At this point we probably should not be surprised by Deere (NYSE:DE) and their ways. It seems the company constantly beats on the analyst estimates and during the conference call they talk the next quarter down. Whereas Cliffs has a management team which has been overly aggressive, it seems Deere has a management team which is overly conservative. At the end of the day we prefer the conservative management team but investors might as well get used to the same old Deere, rise between earnings dates only to report great earnings and fall during the next trading day as management makes comments poking holes in the rosy ideas investors and analysts alike begin to have. With that said, we still like the stock and believe that with the dividend investors have a safety net to the downside.
Disclosure: I have no positions in any stocks mentioned, and no plans to initiate any positions within the next 72 hours. I wrote this article myself, and it expresses my own opinions. I am not receiving compensation for it (other than from Seeking Alpha). I have no business relationship with any company whose stock is mentioned in this article.