I recently wrote an article answering several questions I have recently received about Apple (NASDAQ:AAPL). Everyone wants to know why Apple has fallen, what's going on with gross margins, and when the stock might rebound. One of the most important items regarding Apple, one that I didn't touch on during that article, was the cash pile. Apple's cash hoard has grown tremendously in recent years, and shareholders are calling for that cash to be returned to them, rather than just sit on the balance sheet. Today, I will discuss that controversial cash pile. In the first part of this article, I will discuss the growth of the cash pile and how this is not an Apple specific issue. In the second part of the article, I will detail a number of possibilities that Apple will use that cash for.
Part One - Apple's cash pile:
In this part of the article, I will discuss the growth of Apple's cash pile over the last couple of years. I will also show why the total amount of cash may be misleading to some, a practice not uncommon to many of the names in this industry.
The growth of Apple's cash hoard:
The table below shows the growth of Apple's cash pile over the past couple of years. Apple's cash pile includes cash and cash equivalents, short-term investments, and long-term investments. The dollar values below are in millions. I've also broken down the amount of this cash pile held domestically. The domestic numbers are approximations and may be slightly off due to rounding.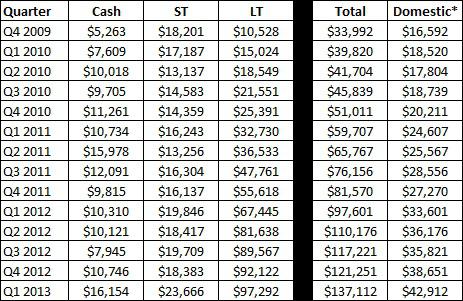 Interestingly enough, at the end of fiscal Q1 2010, Apple's total cash pile was $39.82 billion. Three years later, when Apple recently reported its fiscal Q1 results for fiscal 2013, Apple's cash and short term investments totaled that same amount, $39.82 billion. Apple's cash pile over the past three years has risen by $97.292 billion, the exact balance in the long term investments category at the end of fiscal Q1. Over the past year, Apple's cash pile has risen by more than $39.5 billion dollars.
In fiscal Q1 this year, the cash pile increased by $15.86 billion, slightly less than the $16.03 billion increase in the prior year's Q1. The primary reasons for the smaller increase are the dividend and buyback. Apple wasn't paying a dividend or buying back stock in last year's period. In fiscal Q1 this year, they paid almost $2.5 billion in dividends and bought back nearly $2 billion worth of stock.
For those reasons, I don't think we will see as large of a rise in the cash pile in this year's Q2 as last year's period. There was no dividend in last year's fiscal Q2. Additionally, Apple's guidance was for lower earnings in this year's period. That will reduce cash flow, and the buyback could do so as well. In last year's fiscal Q2, Apple's cash pile rose by nearly $12.58 billion dollars. I would not be surprised if this year's rise is closer to $10 billion.
Apple's foreign money:
You may have noticed above that Apple's domestic cash pile is less than $43 billion dollars, only 31.3% of the total. This is the second lowest quarterly percentage, only behind Q3 of 2012 which saw the rate at 30.56%. In the first quarter of my table (Q4 of 2009), nearly half, or 48.81% of Apple's cash was held domestically.
Why is all of this money held outside the United States? Well, Apple generates a fair share of its profits outside the United States. Those profits are taxed in the respective jurisdiction that Apple earns them in. If Apple wants to bring that money back to the United States, it would face a significant tax bill. While I won't get into the specifics of US tax law, the general idea is that Apple pays a low international tax rate. The United States taxes profits at a higher rate, and so the United States would tax any profits coming back into the country.
Apple ended fiscal Q1 of 2013 with about $94.2 billion dollars held overseas. I can't give you an exact number on how much taxes Apple would have to pay to bring that money home, because it depends on where that money is held and a number of tax rates which I just don't know. But one thing is certain, and that is the tax bill would probably be in the tens of billions of dollars. Until US tax law changes, Apple really doesn't have any reason to bring that money back to the US and pay Uncle Sam a nice chunk.
Generally speaking, a company cannot use foreign money for dividends and buybacks. They have to bring that money back into the United States and pay the tax first. IBM (NYSE:IBM) had a buyback in 2007 that used foreign funds, but the IRS frowned on that practice. If anyone attempts this again, I'm sure the tax man will go after them.
I'm not here today to discuss the complexities of the US tax code, or to start a debate over the tax issue. My goal today is to explain to investors that when they see headlines that say "Apple has $137 billion in cash" - that they have to realize what that truly means. Yes, Apple does have that money to its name, but only about $43 billion of that is held within the United States, to be used for dividends and buybacks. Since Apple needs a chunk of that money for daily operations and a "margin of safety", the real amount of their US cash pile is a bit lower.
Not an uncommon practice:
I sometimes get frustrated when everyone makes this seem like an Apple specific issue. It is not by a long shot. Several large technology names have a large portion of their cash and investments located overseas. The following table shows a comparison between Apple, Microsoft (NASDAQ:MSFT), Cisco Systems (NASDAQ:CSCO), and Google (NASDAQ:GOOG). Dollar values in millions, and are as of each company's most recent report.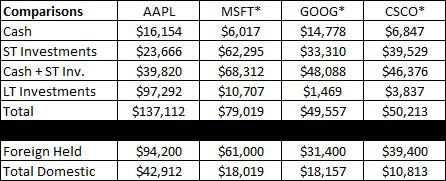 *Foreign held amount is only in regards to the total of cash and short term investments. There is no breakdown from these companies on how much of their long term investments are held overseas.
As US companies generate more overseas sales and profits, their foreign cash piles will continue to increase. I made this comparison because I hear a lot about Apple holding money outside the US, but I don't often hear much about many other names. Sure, Apple has the most money outside of the US. However, Microsoft, Google, and Cisco had almost $132 billion outside this country as of their latest updates. For those that believe this is an Apple specific issue, they are sadly mistaken. In my opinion, Apple sometimes receives some negative press for this, and that's unfair.
Part Two - What to do with the cash?
Now that I've detailed the growth of Apple's cash pile, why that is so, and why it is not uncommon, it's time to analyze what Apple could do with this cash. There are three obvious possibilities I will discuss, which include an increased dividend, stock buyback, and acquisitions. I will also briefly discuss David Einhorn's proposal.
An increased dividend:
Last March, Apple announced that it would be returning approximately $45 billion of domestic cash to shareholders over three years. Apple would use dividends, share repurchases, and cash used to net-share-settle vesting RSUs to accomplish this plan.
The first part of this plan was the dividend, which was set at $2.65 per quarter. Apple would start paying this dividend in its fiscal fourth quarter, which was the July to September period in 2012. Apple recently declared the third dividend of $2.65, which actually will be paid on February 14th to those who were eligible to receive it.
As I have stated in previous articles, I expect Apple to pay the fourth quarterly dividend of $2.65. Most likely, they will declare this dividend when they announce fiscal Q2 results sometime in mid to late April. That probably will mean an ex-dividend and payment date sometime during the month of May. As of Wednesday's close, Apple's dividend yield was 2.27% on an annual basis. The following chart shows Apple versus some other large tech companies. I've thrown in Intel (NASDAQ:INTC), Hewlett Packard (NYSE:HPQ), and Dell (DELL) as well. Google does not pay a dividend currently and does not expect to in the near future.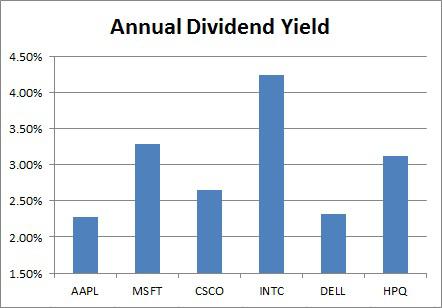 At the moment, Apple's dividend is the lowest of these names. Apple may have the most cash, but remember, it just started paying a dividend again (yes, it used to pay one a long time ago). Some of these names have been paying dividends for a decade or more, and thus their yields have grown.
I put the following table together to show how much Apple would need to increase its dividend to compare to these other names. I first provided the yield for each name, as of Wednesday's close. Then I showed what Apple's dividend would need to be on an annual and quarterly basis, based off of Apple's close Wednesday. Finally is the percentage increase to get to that name's current yield.

So where do I see Apple's dividend going? Well, I don't see them just raising it that 2% or so to match Dell's current yield, but I don't see and 86% rise or so to match Intel's yield either.
I'm looking at Apple's potential increase in two ways. First, Apple's domestic cash pile has risen from $33.6 billion to $42.9 billion over the past twelve months. However, at the same time, Apple's business has also grown, with analysts currently projecting 17% growth in revenues this fiscal year. I'm not using an adjusted figure here like I have in past articles, because revenues are revenues, no matter when you earn them. If I were to assume that Apple needs a 17% higher "margin of safety" on its cash pile due to the increase in business size, then Apple's cash pile has risen by about 9.15%, excluding that margin of safety. This would be the low end for my dividend raise, which takes us approximately to $11.57 per year, or about $2.89 per quarter. That would be a decent raise from the current dividend, but I'm sure a raise of just 9% or so would be a disappointment to some investors.
If I ignore the margin of safety, Apple's domestic cash pile has risen by 27.71% over the past twelve months. Should Apple raise its dividend by that much, we are looking at $13.54 per year, or about $3.38 per quarter. If you were to take the midpoint of those two values, you are looking at about a $3.14 per quarter dividend. That would yield about 2.69% on an annual basis, which isn't exactly a small yield, given that Apple only resumed the dividend a year ago. My readers may remember that my latest prediction was a raise to a range of $3.00 to $3.25 per quarter, so the $3.14 figure fits within that range. I know that investors are probably demanding more, but that's just where I feel Apple will go at this point.
The stock buyback:
Apple bought back about $2 billion worth of stock during their fiscal first quarter, which was the first quarter under the 3 year plan to buy back $10 billion worth of shares. This is not a true buyback plan, as it probably won't reduce the number of outstanding shares. Apple is merely trying to offset the dilution from executive options and other dilutive securities. Apple did note on their conference call that the $2 billion was "an upfront payment in conjunction with our accelerated share repurchase program." The details of this accelerated plan are below, taken from the company's 10-Q filing.
In August 2012, the Company entered into an accelerated share repurchase program ("ASR") with a financial institution to purchase up to $1.95 billion of the Company's common stock in 2013. In exchange for an up-front payment of $1.95 billion, the financial institution committed to deliver a number of shares during the ASR's purchase period, which ends later in 2013. The total number of shares ultimately delivered, and therefore the average price paid per share, will be determined at the end of the purchase period based on the volume weighted average price of the Company's stock during that period. In the first quarter of 2013, 2,582,782 shares were initially delivered to the Company. This does not represent the final number of shares to be delivered under the ASR. These shares were retired and accounted for as a reduction to shareholders' equity in the Company's Condensed Consolidated Balance Sheet. The Company accounted for the ASR as a repurchase of common stock for purposes of calculating earnings per share and as a forward contract indexed to its own common stock which met all of the applicable criteria for equity classification, and, therefore, was not accounted for as a derivative instrument.
In the table below, I've listed some buyback information for a few of these large cap tech names. As you can see, Apple has the largest dollar value of buyback remaining. However, Apple also has the largest market cap, so it has the lowest percentage of market lap in terms of the remaining buyback. It's important to remember that Apple just started their buyback last quarter. The other three names on this list have been buying back stock for years. A couple of years from now, I would not be surprised if Apple's buyback is much larger. Google is not buying back any stock right now.

*Updated for Cisco's just released quarter.
Apple won't be buying back $2 billion every quarter. If they did, they would complete the $10 billion plan in about five quarters, well less than the 3 years that are planned. At this point, I do not expect an increase in the buyback just yet. I believe that Apple will buy back shares when they are low, but I don't see them purchasing shares as rapidly if the stock starts rallying again. However, I will say this. I would not be surprised if Apple finishes its $10 billion buyback before the three year period ends. Just because they announced a 3 year plan doesn't mean it is set in stone. We've seen many examples of companies finishing buybacks early and then announcing a new plan. I think this is extremely possible, and I figure Apple's current plan will be finished in approximately 2 to 2.5 years. I think they will announce a new plan at that point.
Don't forget, all of these buybacks and dividend payments must come from domestic cash. Apple only had about $43 billion at the end of the latest quarter, and they do need some for daily operations and a margin of safety. Sure, Apple is producing a large amount of cash currently, but it's not like they are growing cash at a rate much faster than revenues. Apple's cash pile increased by almost 28% in the past year, but revenues were up almost 18% unadjusted and more than 21% adjusted (for the extra week). Plus, during last year's fiscal first quarter, Apple wasn't paying a dividend or buying back stock. Now they are, and for the next few quarters, many believe Apple's net income and cash flow could be lower than prior year periods.
Making an Acquisition:
The third possibility is that Apple could go out and spend the money to purchase other companies. Recently, Apple CEO Tim Cook stated that the company has explored large acquisitions, but that they haven't found a company that fit the bill. Cook stated that Apple feels pressure to make great products, and that is the company strategy. The company isn't interested in going out and making a large acquisition just to increase revenue. But if there is a company that can help them do both, Apple could be interested.
There have been two names I've heard discussed recently as possible acquisitions that I'll discuss briefly. The first is the streaming giant Netflix (NASDAQ:NFLX). While this would certainly boost revenue and give Apple a ton of content, I don't think Netflix is a good fit for Apple. First, on sheer size, Netflix is already over a $10 billion company in market cap. Additionally, I'm not sure if Apple would want to take on all of the liabilities, including the $3 billion plus not on Netflix's balance sheet. Also, Netflix's gross margins are currently around 26%, and could continue lower as the company moves to a more streaming business. I don't see Apple acquiring a business whose gross margins are well below what Apple currently produces. If Apple were to go into this space, I would think that they would go after a smaller name, like Hulu, and not make a huge purchase like Netflix.
The other name is 3D Systems Corp (NYSE:DDD), a 3D printing company. With a market cap of about $3.75 billion, this wouldn't be an extremely large acquisition. 3D Systems gross margins for the first 9 months of 2012 were almost 52%, higher than Apple's gross margins, however operating and net profit margins were a bit below Apple's company margins. This is a more interesting candidate than Netflix in my opinion, as 3D printing could be a growing area for Apple to enter in the future.
Although an acquisition is certainly possible, Apple has not had a history of large acquisitions. A list of Apple acquisitions shows that many of them were smaller purchases. Even in the last year or so, those acquisitions that have purchase prices were under $400 million. Apple wants to make purchases to make their products better. A recent rumor states that Apple could be buying Germany's Loewe, a company with a current market cap of about $55 million. This could be a move to help Apple enter the TV market, and Loewe is known for its premium products. A small acquisition like this would certainly fit the bill for a "normal Apple acquisition".
The Einhorn Proposal:
Recently, hedge fund titan David Einhorn wrote a letter opposing Apple's attempt to amend its corporate charter. Apple's shareholder meeting is in two weeks, and according to Einhorn, Proposal 2 in Apple's proxy would eliminate preferred stock from Apple's charter and thus restrict the Board's ability to unlock the value on Apple's balance sheet. Einhorn proposed a plan that Apple should in fact issue perpetual preferred stock to unlock shareholder value. The key part of Einhorn's proposal is detailed below.
We believe our suggestion of distributing perpetual preferred stock, while innovative, is also quite simple. Apple could distribute high-yielding, tax efficient preferred stock to existing shareholders at no cost. This new type of easily tradable preferred security would allow Apple to take advantage of the market's appetite for yield while preserving future operating and strategic flexibility. Importantly, we believe this strategy would require no immediate use of cash other than the ongoing dividend, and would not pose any maturity, re-financing, balance sheet, or default risk.

For example, Apple could initially distribute to existing shareholders $50 billion of perpetual preferred stock, with a 4% annual cash dividend paid quarterly at preferential tax rates. Once a trading market is established and the market recognizes the attractiveness of a highly liquid, steady yielding instrument from an issuer backed by Apple's unmatched balance sheet and valuable franchise, the Board could evaluate unlocking additional value by distributing additional perpetual preferred stock to existing shareholders. With this conservative action, Greenlight believes the Board could unlock hundreds of billions of dollars of latent shareholder value.

Assuming Apple retains its price to earnings multiple of 10x and the preferred stock yields 4%, our calculations show that every $50 billion of perpetual preferred stock that Apple distributes would unlock about $30 billion, or $32 per share in value. Greenlight believes that Apple has the capacity to ultimately distribute several hundred billion dollars of preferred, which would unlock hundreds of dollars of value per share. Further, Greenlight believes additional value may be realized when Apple's price to earnings multiple expands, as the market appreciates a more shareholder friendly capital allocation policy.
That would be an interesting proposal, and Apple is open to listening to all shareholders on what they should do with the cash. Einhorn's plan would essentially be a special dividend to shareholders. The impact on the income statement would be that net income would be reduced by the amount of the dividend. If you remember your accounting, net income for common stock shareholders is a company's net income minus preferred stock dividends. I'm sure that Apple will consider Einhorn's plan, but I don't know if they are very likely to accept it at this point.
Conclusion - what I think Apple will do:
I know that today I have not provided some crazy idea for what Apple could do with its cash. Notice the key word I said there: could do. There are many out there that think they are experts at what Apple should do with its cash. I do take a little offense to that, because if Apple believes it is using its cash in the most efficient way, then I trust them with that cash. If you are not happy with what Apple is doing, you could always sell your shares. Nobody is forcing you to hold them. If you want a company with a larger dividend, there are plenty of them out there. I've detailed a few of them in this article.
So my guess is that Apple will do the following. They will raise their dividend over the next few months, to a new range of $3.00 to $3.25 per quarter. I believe that they will pay that fourth quarterly dividend of $2.65, and we would get the raise for their fourth fiscal quarter. I also believe that they will continue to buy back shares when they feel appropriate and to offset dilution, but I believe that they will hit their $10 billion target before three years are up. I believe at that point we will see a new repurchase plan or an expansion of the current plan. Additionally, Apple will use its cash to make strategic acquisitions to make sure its products remain great.
I know that what I'm describing here might seem as a disappointment to some investors. I understand your frustrations but this is what I believe about Apple at this time. Remember, Apple's domestic cash pile is less than one-third of the total. Most of Apple's money cannot be used for dividends or buybacks unless they pay a huge tax bill. Apple, like many other companies, does not want to do that right now.
If Apple does raise the dividend to $3.00 per quarter, Apple shareholders would still be getting a 2.57% annual yield on Wednesday's close. That isn't exactly a small yield, and remember, most investors still consider Apple a growth name. They are buying Apple for its growth, and not for its dividend. At this point, Apple remains a solid combination of a growth and value name. You are getting a decent dividend combined with a plan to offset the dilution of shares, combined with a fair amount of growth.
Disclosure: I have no positions in any stocks mentioned, and no plans to initiate any positions within the next 72 hours. I wrote this article myself, and it expresses my own opinions. I am not receiving compensation for it (other than from Seeking Alpha). I have no business relationship with any company whose stock is mentioned in this article.
Additional disclosure: At time of writing, author long SOXS, a levered ETF that shorts semiconductors such as INTC.Investors are always reminded that before making any investment, you should do your own proper due diligence on any name directly or indirectly mentioned in this article. Investors should also consider seeking advice from a broker or financial adviser before making any investment decisions. Any material in this article should be considered general information, and not relied on as a formal investment recommendation.