The price and output of copper have often been seen as a proxy for global growth, which makes sense given its many vital industrial functions. Its effectiveness as a conductor for heat and electricity, especially relative to its cost, has made copper a mainstay of construction and electronic equipment. Surging copper prices over the past decade or so, as part of what many refer to as the commodities supercycle, has been in large part driven by emerging market demand, most notably China, the world's largest consumer. However, simple regression analysis showed that since 2008, the correlation between spot prices for copper on the London Metal Exchange and the performance of the MSCI Emerging Market Index* was significantly lower than that of the commodity's price and the standard index of the world's second-largest consumer, the United States.
(*Though China clearly has an impact on prices, as we saw at the end of 2012 when copper prices plummeted on slumping Chinese demand, I used the MSCI both to reflect the rapid industrialization in other emerging markets and to counteract the possibility of unreliable numbers from China).
For whatever reason, the world's largest economy seems to explain more of the recent variation in copper prices than the world's largest end-user. Though we all know correlation does not imply causation, with nearly 1300 data points, a difference of nearly 20% in adjusted r-squared requires some thought, especially since the correlation holds up if the sample period is extended to the present day.
In addition, despite jitters about China, the country is expected to expand investment in the copper sector in Africa, and announced increased taxes on a number of other minerals (tin, molybdenum, iron ore, boron, magnesium and talc), but not copper. The Chinese government is also expected to consolidate the domestic smelting industry and rely more on imports. This could help offset some of the downward price pressure, though downside risk still remains.
What we are likely to see is a sort of rebalancing, where companies turn away from high capex projects to push down costs. We saw a similar trend in gold, after rising prices caused many of the industry's major players to see their profit from soaring gold prices in 2010 and 2011 squeezed out by reckless expansion and boondoggle projects. BHP Billiton's (NYSE:BHP) decision to shelve a $30 million expansion in South Australia is an example of this re-balancing, which will ultimately be good for the copper industry. Much of the growing frontier market activity will yield higher-grade copper deposits that should make the industry more efficient in the long-term. In short, we are looking at demand-driven, rather than supply-driven price disruptions in copper.
Historical Fair Valuation
Using a sample period of 2008-2011, we saw an 82% adjusted r-squared value for a multiple regression analysis explaining LME Copper Spot with the independent variables of the S&P 500 Performance and the VIX. This makes sense, given the high correlation of copper to industrial activity, and uncertainty in the markets being a mitigating factor towards confidence in industrial output. As such, any movement above or below one standard deviation in actual spot copper prices minus estimated value based on the S&P 500 and VIX did not persist for very long and corrected.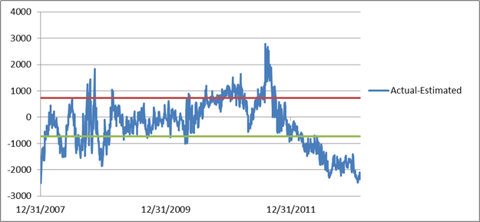 Sources: Bloomberg, Real Assets Investment Research.
Similarly, if we look at the movement of the S&P GSCI 3 Month Forward Copper Index, we can see that the forward price reacted similarly to relative undervaluation (above the top line) or overvaluation (below the bottom line) in accordance with other industrials.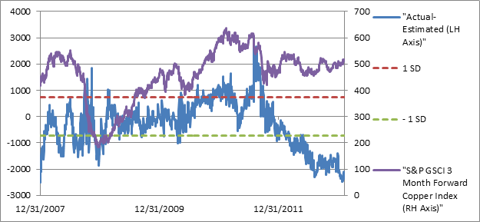 Sources: Bloomberg, Real Assets Investment Research.
Yet today, historical valuation is a full three standard deviations below what the S&P and VIX would price it. This means one of either three things: the S&P rally is not inspiring confidence across the market, changes in the copper market, particularly in China, have fundamentally altered its historical relationship to US market indicators or that copper is significantly undervalued. The forward index has remained relatively flat over the past few months, which indicates a certain degree of confidence that prices will rebound. While downside risks persist, it is hard to believe that such a disparity can be explained entirely by fears of a Chinese economic slowdown. Therefore, some sort of price correction remains likely in the near-term.
Those seeking to profit from this imbalance might consider the iPath DJ-UBS Copper Total Return Sub-Index ETN (NYSEARCA:JJC) or the iPath Pure Beta Copper ETN (NYSEARCA:CUPM). Alternatively, you could play a pure copper major like First Quantum (OTCPK:FQVLF). Needless to say, if you think that all this imbalance results from an overvalued market, you could just short one of the many S&P ETFs.
Disclosure: I have no positions in any stocks mentioned, and no plans to initiate any positions within the next 72 hours. I wrote this article myself, and it expresses my own opinions. I am not receiving compensation for it. I have no business relationship with any company whose stock is mentioned in this article.