When a stock such as BlackBerry (NASDAQ:BBRY) is caught in a vicious tug of war, with half the analysts on the Street rating it a sell (short) and the other half a buy, readers and publishers need to be very careful to take note of which side is being presented. One would expect that if a prestigious news outlet were to write an article presenting either one of these explicit viewpoints, that news organization should have a responsibility to its readers to clearly point out the agenda of the analyst they are quoting. One would also expect that news outlet not to sensationalize an analyst opining into a headline and a de facto mobile carrier statement.
Yesterday Eric Savitz of Forbes magazine managed to avoid just such disclosures when he presented the viewpoint of a leading BlackBerry bearish analyst, Brian Blair of Wedge Partners. A quick Google search will show Forbes has often aired Wedge Partners views on BlackBerry and Apple. (Editors can have favorite analysts) I will also later examine a YouGov poll released last night that takes to question Wedge Partners central thesis: People will not switch from IOS / Android to BlackBerry.
The centerpiece of the Forbes article is the headline "BlackBerry: U.S. Carriers Not Hopeful On Z10, Analyst Says". This title sent terror through the market for BlackBerry shares yesterday helping lead to a steep 6% drop. According to Savitz, "Blair says that he doesn't think carriers expect consumers will leave the Android or iOS ecosystems "for what is ultimately a touchscreen also-ran that is short on apps, with no related product or content ecosystem.""
Note how the above statement turned an analyst point of view (He doesn't "think") into the horrific headline "U.S. Carriers Not Hopeful" making it appear almost as if U.S. carriers had expressed concerns to the analyst, when in fact it should have read "Bearish BlackBerry analyst does not expect…" Instead this article had this beautifully and carefully crafted headline caused a panic and sailed precariously close to 'short and distort.'
Brian Blair's sell-side research on BlackBerry is expressed numerous times in Forbes. In June 2012 Brian is quoted by Eric Savitz in a piece titled, "Why RIM Won't Be Bought: There's Not Much There There." Note the shares were at $9 then and clients who followed that recommendation must be in pain. Note: Sell BlackBerry is a view Blair continued to hold, stating only last December that BlackBerry should be around $7-$8. Certainly this analyst must be coming under tremendous pressure from his clients on this call. But the Blair-Savitz relationship has a long history that has rubbed readers in the past: note this article dating back to 2009, "Fools Rush In."
Savitz clearly considers Blair's Wedge an authority on the mobile industry and also likes to use him as a source for Apple sentiment. As I have mentioned in the past, one of the Street's preferred 'groupthink trade' is to go long Apple (NASDAQ:AAPL) and short BlackBerry. For example, look at Forbes and Wedge partners in this ill-fated piece last October when Apple was at $667:
"The bottom line is that Blair thinks "the recent negative sentiment toward iPhone unit sales is shortsighted and has opened up a significant opportunity to not only own Apple, but to own its key suppliers at much lower prices than last month's highs."
Had you followed this advice, you would have been hammered on the long and the short side.
Will users switch? The short analysts on BlackBerry make a strong case BlackBerry will have a very difficult time pulling users away from Apple and Android. Yet CEO Thorsten Heins has already hinted that a very large number (I believe it was 50%) of BB10 buyers came from Apple and Android. This claim is also supported by this poll of 500 users at Crackberry.com. This is a crucial point and that may prove over-played for reasons that differ for each iPhone and Android:
Upgrade Fatigue
iPhone 5 was a downgrade to a smaller screen. When Apple rolled out SIRI, a software upgrade, that was the warning sign that Apple was running out of hardware innovations.
Upgrade Fatigue/ Difficulty of Use
Samsung (OTC:SSNLF) S4: What can the S4 possibly offer that the S3 doesn't have? A snapdragon 8ZX Quad-Jet Turbined core processor is hardly going to move phones? And don't expect much on the software side either as that is going to be standard Android, which itself has been accused of being cluttered and disjointed. Besides, Google (NASDAQ:GOOG) always launches new OS on Nexus phones first…So for the Android user, what exactly is the upgrade for?
People like something new, and more importantly, according to YouGov "Phone users planning to upgrade value 'ease of use' the most." This certainly puts BlackBerry OS, with its well-received 'Peek and flow' and 'Hub', on a bulls eye as to what consumers are looking for and will help BB10 compete against an increasingly fractured and difficult to use Android OS. Another poll released last night by YouGov titled: "Is BlackBerry back in the game?" reinforces this point: "BlackBerry is enjoying its best consumer perception in the U.S. since September 2011 in the wake of its new smartphone line announcement. This brings the brand closer to the industry leaders, Apple's iPhone and Samsung's Galaxy."
Indeed, YouGov shows you the strength of the remarkable reversal in the brand's perceptions amongst smartphone users: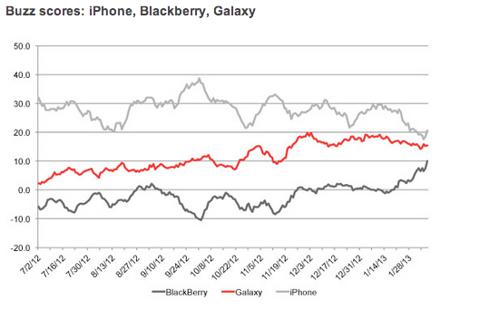 Not surprisingly, Android loyalty is most vulnerable to BlackBerry's surge as it is the least user-friendly, which is why it is fair to expect BB10 to make the strongest inroads against Android rather than iPhoners: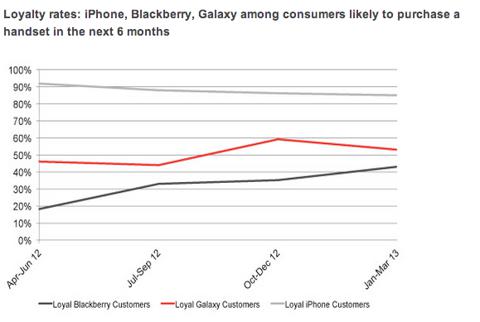 What position do investors who are Short BlackBerry find themselves in now?:
BlackBerry is a month away from the next earning report and U.S. launch;

The phone has been extremely well received in the UK, UAE, and Canada;
According to Heins and Peter Misek of Jefferies research, carrier support overwhelmingly is strong; (In stark comparison to yesterday's headline);
According to YouGov Brand Polls, the phone strength hit the bulls eye of what users are looking for and Android users look most vulnerable.
Conclusion: This is a battleground stock and yesterday's weakness was quite literally based on "Headline Risk" and therefore this represents a great buying opportunity, particularly in view of YouGov's research that shows the BlackBerry brand has legs and positive momentum.
Disclosure: I am long BBRY. I wrote this article myself, and it expresses my own opinions. I am not receiving compensation for it (other than from Seeking Alpha). I have no business relationship with any company whose stock is mentioned in this article.