In this article, I've summarized the pros and cons of the long-term care industry, and why the shares of Skilled Healthcare Group (NYSE:SKH) in particular look meaningfully undervalued today. Admittedly, the industry has never been in the spotlight as investors have remained troubled by the uncertainty/risks surrounding Medicare and Medicaid. But this is where investors have to look if they want to find real bargains today. Skilled Healthcare could be an underappreciated name worth checking out.
Long-Term Care Industry
Long-term care is a variety of services that help meet both the medical and non-medical needs of people with a chronic illness or disability who cannot care for themselves for long periods of time. Long-term care may be needed by people of any age, although it is a more common need for senior citizens. Rising healthcare costs due to a variety of factors, including an aging population and increasing life expectancies, has in recent years increased demand for post-acute healthcare services, such as skilled nursing, assisted living, home healthcare, hospice care and rehabilitation therapy.
Given the choice, most elders would prefer to continue to live in their own homes. Unfortunately, the majority of elderly people gradually lose functioning ability and require either additional assistance in the home or a move to an elderly care facility. The adult children of these elders often face a difficult challenge in helping their parents make the right choices. Assisted living is recommended for the elderly who need assistance with everyday tasks, and costs less than home care.
Skilled Healthcare Group focuses primarily on the medical and physical issues facing elderly patients and are provided by its skilled nursing companies, assisted living companies, integrated and third-party rehabilitation therapy business, hospice business and home health business. The firm treats patients who require a high level of skilled nursing care and extensive rehabilitation therapy, whom the firm refers to as high-acuity patients.
Skilled Healthcare Group -- Strengths and Opportunities
Favorable Demography
According to the United States Department of Health and Human Services the older population, persons 65 years or older, numbered 40 million in 2010. They represented 13 percent of the U.S. population, about one in every eight Americans. By 2030, there will be about 72 million older persons, more than twice their number in 2000. People 65-plus years old represented 12 percent of the population in the year 2000, but that is expected to grow to be 20 percent of the population by 2030. This will mean more demand for elderly care facilities in the coming years. There were more than 36,000 assisted living facilities in the United States in 2009, according to the Assisted Living Federation of America. More than 1 million senior citizens are served by these assisted living facilities.
Click to enlarge images.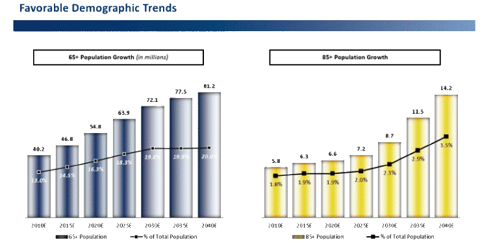 Skilled Healthcare's skilled nursing companies provide skilled nursing care at 74 regionally clustered facilities, having more 9,100 licensed beds, in California, Texas, Iowa, Kansas, Missouri, Nebraska, Nevada and New Mexico. The firm has developed programs for, and actively market services to, high-acuity patients who are typically admitted to its facilities as they recover from strokes, other neurological conditions, cardiovascular and respiratory ailments, joint replacements and other muscular or skeletal disorders. The firm has more than 10,000 active employees in the skilled nursing business.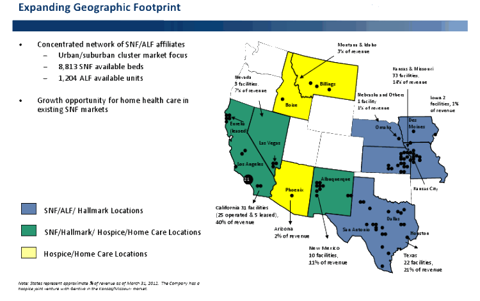 Many of the Skilled Healthcare's skilled nursing facilities are equipped to provide specialty care, such as chemotherapy, enteral/parenteral nutrition, tracheotomy care and ventilator care. The firm also provides standard services to each of the skilled nursing patients, including room and board, special nutritional programs, social services, recreational activities and related healthcare services.
Express Recovery Program
Skilled Healthcare's Express Recovery program uses a dedicated unit within a skilled nursing facility to deliver a comprehensive rehabilitation regimen in accommodations specifically designed to serve high-acuity patients. Each Express Recovery unit can typically be entered without using the main facility entrance, permitting residents to bypass portions of the facility dedicated to the traditional nursing home patient. Each Express Recovery unit typically has 12 to 36 beds and provides skilled nursing care and rehabilitation therapy for patients recovering from conditions such as joint replacement surgery, and cardiac and respiratory ailments.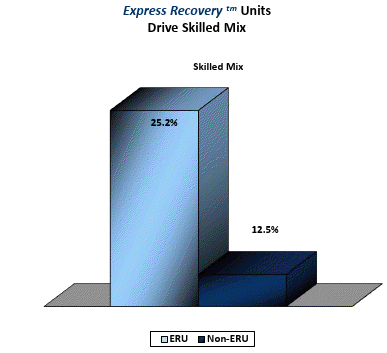 Having an Express Recovery unit at a facility enables the facility to more effectively attract higher acuity patients and achieve a higher skilled mix than it would be able to without the unit, which in turn results in higher reimbursement rates. Skilled mix is the average daily number of Medicare and managed care patients the firm serves at its skilled nursing facilities divided by the average daily number of total patients served there.
As of Dec. 31, 2012, Skilled Healthcare operated 63 Express Recovery units with more than 2,250 beds. The firm has substantially completed the build-out of the Express Recovery units at its skilled nursing facilities. The firm expects to continue to add and modify Express Recovery units in the future as warranted.
Diversified Healthcare Portfolio
Skilled Healthcare's administrative service provides a full complement of administrative and consultative services that allows affiliated operators and unaffiliated third-party operators to better focus on delivery of healthcare services. Each of the firm's facilities operates as a distinct company to better focus on service delivery and is supported by the administrative service company for efficient delivery of non-healthcare support services.
Skilled Healthcare's assisted living companies, which are mostly in Kansas, provide residential accommodations, activities, meals, security, housekeeping and assistance in the activities of daily living to seniors who are independent or who require some support, but not the level of nursing care provided in a skilled nursing facility. The firm's independent living units are non-licensed independent living apartments in which residents are independent and require no support with the activities of daily living.
Skilled Healthcare provides rehabilitation therapy services to a total of 195 healthcare facilities, including 64 facilities owned by them. The firm provides rehabilitation therapy services at skilled nursing facilities as part of an integrated service offering in connection with skilled nursing care. I believe that an integrated approach to treating high-acuity patients enhances the firm's ability to achieve successful patient outcomes and enables the firm to identify and treat patients who can benefit from rehabilitation therapy services.
Moreover, I believe that the hospitals and physician groups often refer high-acuity patients to Skilled Healthcare's skilled nursing facilities because they recognize the value of an integrated approach to providing skilled nursing care and rehabilitation therapy services. I believe that the firm has established a strong reputation as a premium provider of rehabilitation therapy services to the third-party skilled nursing operators in local markets, with a recognized ability to provide these services to high-acuity patients. The firm's approach to providing rehabilitation therapy services for third-party operators emphasizes high-quality treatment and successful clinical outcomes.
Skilled Healthcare provides hospice care services in Arizona, California, Nevada, Idaho, Montana, and New Mexico. Hospice services focus on the physical, spiritual and psychosocial needs of terminally ill individuals and their families, and consist primarily of palliative and clinical care, education and counseling. The firm's home healthcare services generally consist of providing the services of registered nurses, speech, occupational and physical therapists, medical social workers and certified home health aides. Home healthcare is often a cost-effective solution for patients, and can also increase their quality of life and allow them to receive quality medical care in the comfort and convenience of a familiar setting.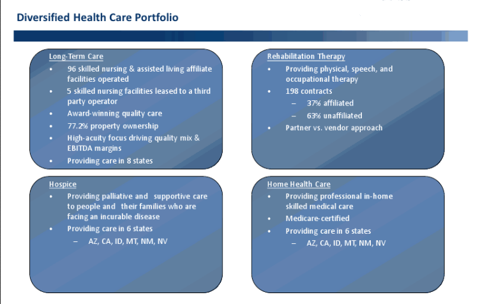 Owned Facilities
Moreover, Skilled Healthcare owns an industry leading 77% of its facilities. Ownership provides greater operating and financial flexibility:
Ownership eliminates exposure to rising rents
Ability to accelerate buildout of the Express Recovery Unit
Consistent reinvestment in facilities
Access to capital/high leveragability of real estate
Ability to easily manage and sell facilities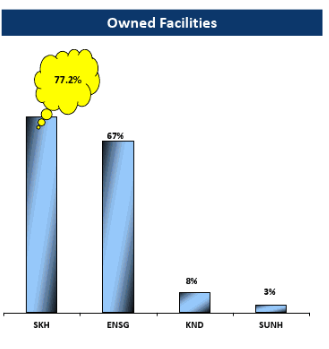 Moreover, no individual customer or client accounts for a significant portion of Skilled Healthcare's revenue and the firm does not expect that the loss of a single customer or client would have a material adverse effect on the business.
Threats and Weaknesses
Revenue Dependence
In an effort to mitigate the cost of providing healthcare benefits, third party payers including Medicare and Medicaid have increasingly encouraged the treatment of patients in lower-cost care settings. As a result, in recent years skilled nursing facilities, which typically have significantly lower cost structures than acute care hospitals, have generally been serving larger populations of higher-acuity patients than in the past. Despite this growth in demand, uncertainty over Medicare and Medicaid reimbursement rates persists.
Medicare is the Skilled Healthcare's largest source of revenue, accounting for 34% of consolidated revenue during the twelve months ended Dec. 31, 2012. Moreover, Medicaid accounted for 31% of consolidated revenue in the same period. Medicare and Medicaid reimbursement rates are subject to change from time to time and, because revenue derived directly or indirectly from Medicare and Medicaid reimbursement has historically comprised the most significant portion of Skilled Healthcare's consolidated revenue, a reduction in rates could materially and adversely impact its revenue.
Highly Leveraged
Skilled Healthcare is highly leveraged. It must maintain compliance with certain financial covenants measured on a quarterly basis, including an interest coverage minimum ratio as well as a total leverage maximum ratio. Furthermore, it must permanently reduce the principal amount of debt outstanding by applying the proceeds from any asset sale, additional indebtedness or equity securities issuances, and 25% to 50% of excess cash flows from operations based on the leverage ratio then in effect.
As the firm is required to dedicate a substantial portion of the cash flow from operations to interest payments, the company won't be able to pay a dividend or initiate a share buyback program in the foreseeable future. For this reason, the firm mostly remains short on cash, and depends on the cash generated from the day to day operations and a revolving credit facility to remain liquid.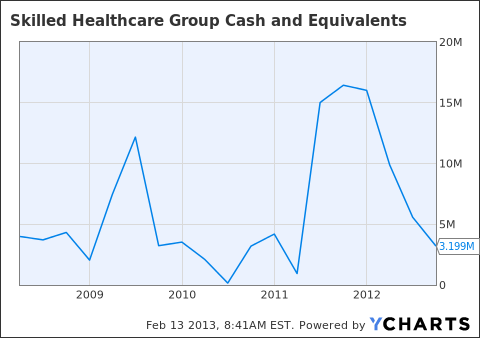 If Skilled Healthcare's ability to borrow under the revolving credit facility is insufficient for the capital requirements, it will be required to seek additional sources of financing, including issuing equity, which will be dilutive to current stockholders.
Regulatory Pressure
Healthcare is an area of extensive and frequent regulatory change. Skilled Healthcare's subsidiaries that provide healthcare services must comply with federal, state and local laws. I believe changes in the law or new interpretations of existing laws may have a significant impact on the firm's methods and costs of doing business.
Governmental and other authorities periodically inspect Skilled Healthcare's facilities to verify that it continues to comply with their various standards. It MUST pass these inspections to continue licensing under state law and to obtain certification under the Medicare and Medicaid programs.
Competition
Skilled Healthcare skilled nursing facilities compete primarily on a local and regional basis with many long-term care providers, from national and regional chains to smaller providers owning as few as a single nursing center. I believe the company's ability to compete successfully varies from location to location and depends on a number of factors, including the number of competing facilities in the local market, its local reputation for quality care of patients, the commitment and expertise of the caregivers and the cost of care in each locality.
Revenue Concentration
Skilled Healthcare received 40% of consolidated revenue from operations in California and 21% from Texas. Moreover, the firm expects to continue to receive significant portions of consolidated revenue from those states in the future as well. Accordingly, economic conditions and changes in state healthcare spending prevailing in either of these markets could affect the ability of the firm's patients and third-party payers to reimburse the firm for the services performed.
2012 Fiscal Year Performance
Skilled Healthcare's 2012 fiscal year ended on Dec. 31, 2012. Revenue increased 0.5% to $873 million in 2012 from $869 million in 2011. The long-term care segment, which includes the operation of skilled nursing facilities and is the largest portion of the business, generated 76% of revenue. Therapy services segment, which includes the integrated and third-party rehabilitation therapy services, and hospice/home health services segment, together accounted for 24% of revenue.
Total cost of services increased 5%, to $731 million, or 84% of revenue in 2012, from 80% of revenue, in 2011. The increase in the cost of services as a percentage of revenue was primarily due to the impact of the Medicare rate cut and decrease in the skilled mix at the long-term care reporting unit. The firm's total cost of services has mostly increased pro rata with revenue.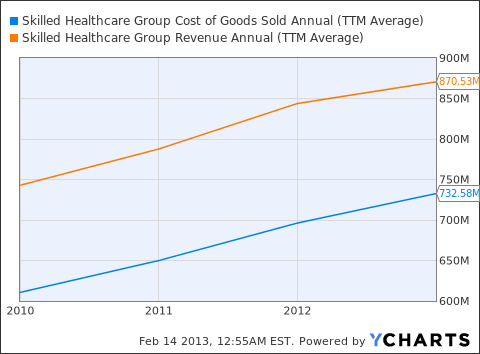 EBITDA increased to $97 million in 2012 from a loss of $137 million in 2011. The $234 million increase was primarily related to the $271 million impairment charge in 2011. The firm expects full year 2013 consolidated revenue to be between $885 million and $895 million, EBITDA to be in the range of $101 million to $105 million.
Current Valuation
Skilled Healthcare trades at 8 times trailing earnings. Analyst expectations are for $0.80 in EPS for the current fiscal year, and the current stock price of $5.08 is only 6.40 times that figure, compared to its peer average of 10x. The firm has an impressive cash flow generation, and when I look at the enterprise value implied by the current stock price, it is 6.3x trailing EBITDA, in line with the rest of the industry.
Stock Performance
The following graph illustrates a comparison of the total cumulative stockholder return on the company's common stock since Dec. 31, 2007, to two indices: the Standard & Poor's 500 and the Morningstar Long-Term Care Index. The graph assumes an initial investment of $100 on Dec. 31, 2007.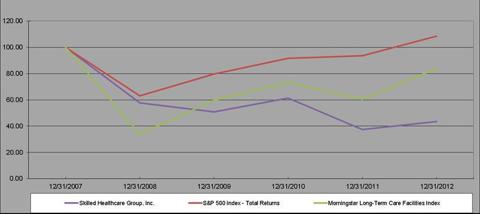 It's obvious from the graph that the company's common stock performance has been disappointing. The gross profit margin for Skilled Healthcare is currently extremely low, coming in at 13.7%. Regardless of the weak results of the gross profit margin, the net profit margin of 2.7% is above that of the industry average. The net profit margin has mostly remained over 2.5% when adjusted for certain non-cash items.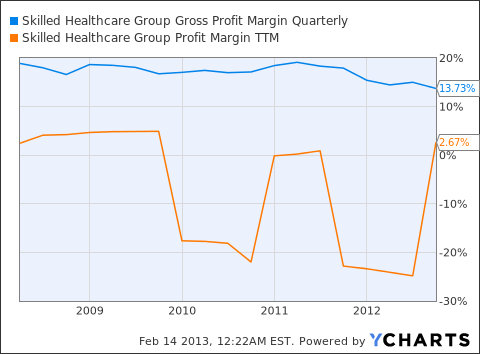 Skilled Healthcare currently has no share buyback program. Consequently, its total share count has increased slightly over the years.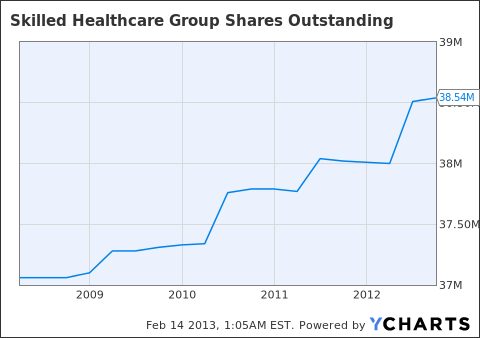 The current ratio is 1.30; the firm is liquid. Still, the company's significantly leveraged, albeit recently improved, balance sheet remains a concern.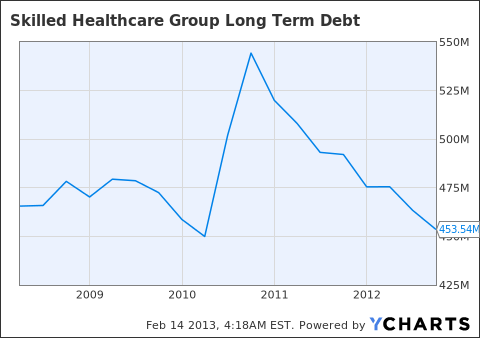 As of Dec. 31, 2012, the firm had $449.0 million in aggregate indebtedness outstanding, consisting of a $409 million first lien senior secured term loan, $35.0 million outstanding under a revolving credit facility, and other debt of approximately $5 million.
Skilled Healthcare pays high interest rates on its debt. For 2012, 2011, and 2010, the interest expense was $37 million, $38 million, and $36 million, respectively.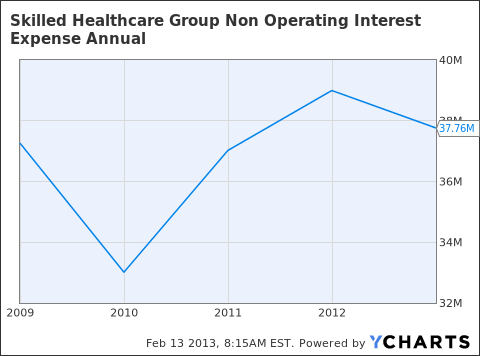 Despite the higher interest expense, liquidity is expected to remain adequate with good cash flow. Cash provided by operating activities for the year ended Dec. 31, 2012, was $43 million. I still think the company can leverage better cash flow from its operations, achieving that would be quite a feat.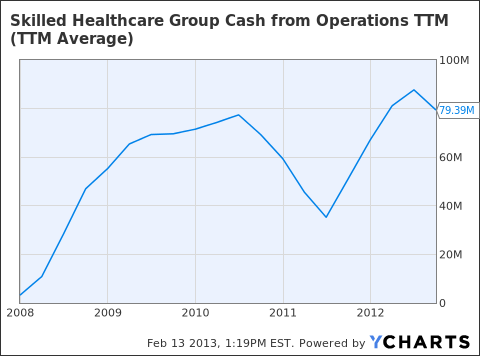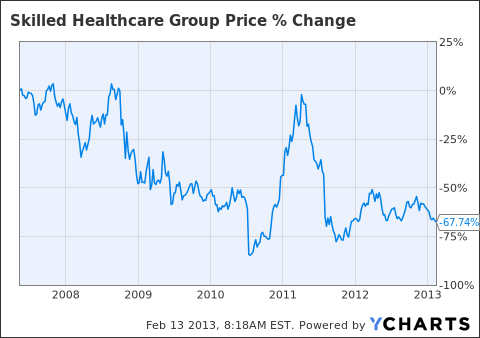 Whereas its stock price has plummeted more than 65 percent. I believe the pendulum has now swung too far in the negative direction, shares are certainly approaching the optimal risk/reward zone.
Trade Recommendation
It's my view that the risk to Skilled Healthcare's fundamentals are overwhelmingly skewed to the upside, which presents a very clear and intriguing investment opportunity on the long side. Investors should start a long position when the stock drops to the mid- to high $4 level, as the shares present an attractive risk/reward there. I'm comfortable with the long-term growth prospects of the industry and expect the share price to rise to the mid- to high $7 level by the end of this year.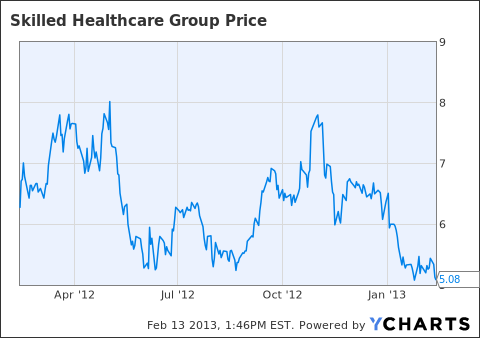 Disclosure: I have no positions in any stocks mentioned, and no plans to initiate any positions within the next 72 hours. I wrote this article myself, and it expresses my own opinions. I am not receiving compensation for it (other than from Seeking Alpha). I have no business relationship with any company whose stock is mentioned in this article.