Zynga (NASDAQ:ZNGA) has been creating casual games since its inception. Leveraging the Facebook platform that it was born on, Zynga was able to provide its content to a huge number of people on the social network. Memorable titles like Farmville served to catapult the stock to as high as $14.69. Investor sentiment has waned, however, and the stock is now worth a measly $3.17. Zynga has had its time to shine and may now fall into obscurity because of a variety of negative factors.
Zynga has long relied on a special deal it cut with Facebook (NASDAQ:FB). The deal formerly gave Facebook and Zynga a very close relationship, with Zynga being forced to release its games through Facebook before anywhere else. Facebook had also given the game maker exclusive rights to make games for the social network. That deal is now done. Zynga can now release its games where and when it wants, and Facebook is allowing other game makers to move in.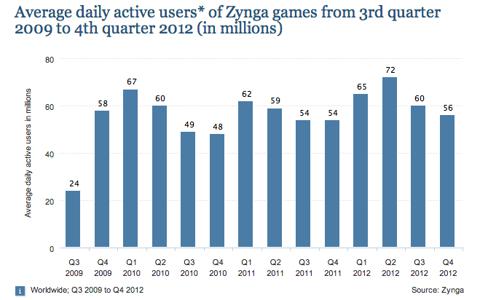 Source: Zynga, Statista
The terms of the new contract are set to take effect March 31st. No one knows what's going to happen for sure, but you can bet that it will be harder for Zynga to maintain the presence that it has so dearly held on to at Facebook. Zynga has not been demonstrating healthy growth in its user base, however. Rather, the amount of people that play Zynga games daily is on the decline for the last 3 quarters. Keep in mind that this is still under the old exclusivity contract; Zynga is competing against itself. What will happen when other companies start to flood the space with their own games? Nothing good for Zynga.
The popularity of Zynga's games may be on the decline, but what about the money? Zynga's revenue, having once hit a serious growth spurt, has now started to flatten out and even decline. Although the drop-off may not be huge, this signals the beginning of the end for its current revenue sources. Evidently, people don't want to play with digital cows as much as they used to.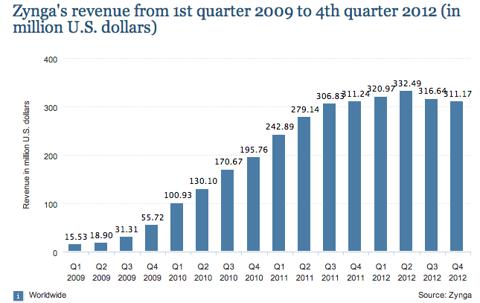 Source: Zynga, Statista
Zynga has the capacity to save itself if it could release another breakout title. The original Farmville is what made the company famous. As I mentioned in a previous article, however, Zynga's later releases have not been as impressive.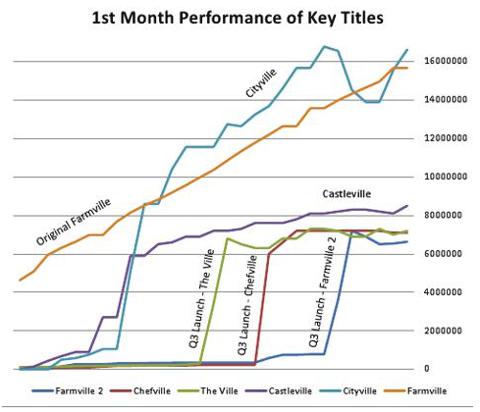 The Facebook user base has lost its fascination with the kind of game Zynga provides. Zynga must innovate heavily if they want to survive, especially since other developers will now be allowed to use the Facebook platform. While the company is starting to explore other sources of revenue, these ventures are still in their infancy. Currently, Zynga isn't in a good place; the corporation is making less money and people are spending less time on their games. Unless Zynga changes its business model drastically, do not buy its stock.
Disclosure: I have no positions in any stocks mentioned, and no plans to initiate any positions within the next 72 hours. I wrote this article myself, and it expresses my own opinions. I am not receiving compensation for it (other than from Seeking Alpha). I have no business relationship with any company whose stock is mentioned in this article.