Stocks are inching ever forward, but investors are showing plenty of indecisiveness along the way. They might be suffering from acrophobia -- fear of heights. Their trepidation is reflected not only in the ongoing price consolidation as the major market averages struggle at long-term highs, but also in the extremely low trading volume. The Dow and S&P 500 are teetering at 5-year highs, the Nasdaq is at a 12-year high, and the Russell 2000 small caps and the Dow Jones Transportation Average are at all-time highs.
Perhaps investors are busy nursing nosebleeds from the thin air up here. Perhaps they are listening to all the warnings about an imminent correction. Perhaps they have been suffering anxiety about what President Obama might say -- and did say -- in his State of the Union address. Or perhaps the global uncertainties like eurozone debt, China growth, currency wars, U.S. budget negotiations, and sequestration haven't quite gone away after all.
Nevertheless, the technical picture remains strong, and Sabrient's fundamentals-based SectorCast rankings are moderately bullish.
Let's look at the charts. Among the ten U.S. industrial sector iShares ETFs, Industrial (BATS:IYJ) has been particularly strong lately. The S&P 500 SPDR Trust (NYSEARCA:SPY) closed Wednesday at 152.15 as it attempts to break out of its technical consolidation since overcoming tough psychological resistance at 150. Certainly Dow 14,000 also has impacted investor psychology. The 50-day simple moving average continues to hold after crossing bullishly through the 100-day SMA. Oscillators RSI and MACD still have not cycled all the way back down from overbought territory since the year began, and Slow Stochastic is also back in overbought territory after making a brief trip to the neutral line.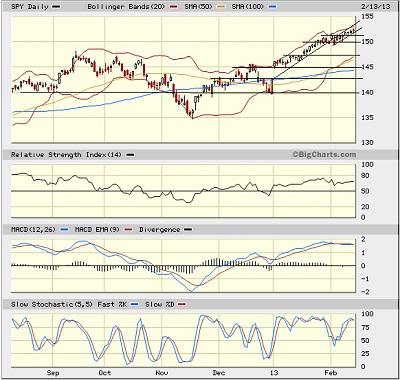 After surpassing 150, SPY consolidated within a narrow sideways channel to form a bull flag continuation pattern that broke quickly, and now I see what appears to be a bullish rising channel. If the bull flag breakout fails, I expect strong support at 150, the convergence of the 50-day SMA and prior resistance at 148, and then the top of the gap at 145.
The CBOE Market Volatility Index (VIX), a.k.a. "fear gauge," closed Wednesday at 12.98, which is near its 52-week low. No investor fear in sight according to this indicator.
Overall, whether or not we see a temporary correction, equities remain well-positioned to attract investors. I fully expect the S&P 500 to ultimately challenge its all-time closing high of 1565.
By the way, in case you're wondering, I finally sold the last of my SPY Feb 144 call options at the close on Tuesday in advance of the President's speech. Too much risk to hold into his speech, given expiration this week.
Latest rankings: The table ranks each of the ten U.S. industrial sector iShares ETFs by Sabrient's proprietary Outlook Score, which employs a forward-looking, fundamentals-based, quantitative algorithm to create a bottom-up composite profile of the constituent stocks within the ETF. The multi-factor model considers forward valuation, historical earnings trends, earnings growth prospects, the dynamics of Wall Street analysts' consensus estimates, accounting practices and earnings quality, and various return ratios. In addition, the table also shows Sabrient's proprietary Bull Score and Bear Score for each ETF.
High Bull score indicates that stocks within the ETF have tended recently toward relative outperformance during particularly strong market periods, while a high Bear score indicates that stocks within the ETF have tended to hold up relatively well during particularly weak market periods. Bull and Bear are backward-looking indicators of recent sentiment trend.
As a group, these three scores can be quite helpful for positioning a portfolio for a given set of anticipated market conditions.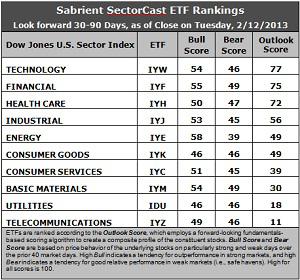 Observations:
1. Technology (NYSEARCA:IYW) stays in the top spot with a slightly lower score of 77, while Financial (NYSEARCA:IYF) moves back into second place with a score of 75 in its weekly battle with Healthcare (NYSEARCA:IYH). These three generally have been controlling the top of the sector rankings for a while now. IYW and IYF enjoy the lowest forward P/Es. Stocks within IYW also show strong projected growth and solid return ratios, while stocks within IYF have enjoyed the most support from Wall Street analysts in the form of earnings upgrades.
2. Telecom (BATS:IYZ) stays in the cellar with an Outlook score of 11, which is slightly improved as Wall Street has let up a bit on its reductions to earnings estimates within the sector. It is joined in the bottom two this week by Utilities (NYSEARCA:IDU) with a score of 18 as Wall Street suddenly came out with a rash of downgrades in the sector.
3. Overall, this week's rankings appear to have moved the needle a little more bullish (after moving somewhat less bullish last week), as defensive sectors Consumer Goods (NYSEARCA:IYK) and Utilities fell somewhat while economically-sensitive sectors Financial , Industrial , and Materials (NYSEARCA:IYM) rose.
4. Looking at the Bull scores, Energy (NYSEARCA:IYE) is the leader on strong market days, scoring 58, while defensive sectors Consumer Goods and Utilities are the laggards on strong market days, scoring 46. This is only a 12-point range from top to bottom, which continues to indicate high correlation across sectors on those particularly strong market days. Energy stocks have tended to perform the best when the market is rallying, while Consumer Goods stocks have lagged.
5. Looking at the Bear scores, Financial and Basic Materials are serving as the favorite "safe havens" on weak market days, scoring 49, while Energy is the worst during market weakness, as reflected in its low Bear score of 39. But there's still only a 10-point range from top to bottom and none are scoring above 50, which indicates high correlation among sectors and across-the-board selling on particularly weak market days. Energy stocks, which are the leaders on strong market days, have been selling off the most when the market is pulling back, while Materials and Financial stocks have held up the best, relatively speaking.
6. Overall, Financial shows the best all-weather combination of Outlook/Bull/Bear scores. Adding up the three scores gives a total of 179, followed by Technology at 177. Telecom is by far the worst at 106. Looking at just the Bull/Bear combination, Financial again has the best score at 104, followed by Materials at 103. Consumer Goods and Utilities (NYSE:ID) share the lowest at 92. This indicates that Financial stocks have tended to perform the best in all market conditions.
These scores represent the view that the Technology and Financial sectors may be relatively undervalued overall, while Telecom and Utilities sectors may be relatively overvalued based on our 1-3 month forward look.
Top-ranked stocks within IYW and IYF include CommVault Systems (NASDAQ:CVLT), 3D Systems (NYSE:DDD), Jones Lang LaSalle (NYSE:JLL), and Portfolio Recovery Associates (NASDAQ:PRAA).
Disclosure: I have no positions in any stocks mentioned, and no plans to initiate any positions within the next 72 hours. I wrote this article myself, and it expresses my own opinions. I am not receiving compensation for it. I have no business relationship with any company whose stock is mentioned in this article.