AT&T (NYSE:T) is the largest U.S. telecom stock with a current market cap of about $200 billion, about one and a half times that of its largest competitor, Verizon Communications (NYSE:VZ). Together, these two industry giants make up more than two-thirds of the U.S. wireless telecommunications market, a virtual duopoly. AT&T provides wireless services to over 100 million subscribers, all of whom pay monthly fees for wireless coverage. Since I enjoy investing in things that I commonly buy or use, I like looking into the possibility of receiving enough dividends to cover my cash outflows to these companies. Such visible benefits from dividends are something that even non-investors can appreciate. Below I will explain how a customer can effectively eliminate monthly expenses by simply owning the stock, using T as an example. I also take a look at how reinvesting dividends can create income growth.
AT&T Dividend History
AT&T has paid and raised its dividend annually for nearly the past 30 years, a very impressive streak that gives it the highly coveted title of Dividend Aristocrat. With earnings per share of $1.25 and a dividend of $1.80, T seems to have payout ratio of almost 150%. Since a company needs to earn enough to cover the dividend payment, this ratio might initially look to be very high and difficult to sustain going forward. However, this number is misleading because of factors including depreciation and one-time expenses such as the recent actuarial loss in its pension fund. If we look a little closer at the free cash flows of AT&T, we see that it is generating plenty of cash to continue its payout. The dividend does not seem to be in any danger going forward.
Receiving Dividends to Cover Monthly Expenses
A wireless data plan including 4GB of data for one individual at AT&T costs about $110 per month. Although this is a major expense, it has become almost as much of a necessity as food for many people. As we become more and more reliant on our smartphones for everything we do, these data plans are now vital. Something that would be satisfying for any person would be having AT&T pay every future wireless bill for them. What some people don't know is that this can be accomplished- through dividends.
A single share of AT&T costs around $35.50 and pays $1.80 annually in dividends, yielding about 5.1%, at least 300 basis points more than rates for U.S. treasury bills these days. By accumulating enough shares of this telecom giant, an investor can receive enough in dividends to cover the costs of the monthly plan referenced above. A month of the AT&T data plan costs $110, making annual costs for a plan with the smartphone carrier $1320. Adjusting to an after-tax basis, this means that an investor would need $1553 in annual pre-tax dividends to pay for all of costs associated with their carrier's wireless charges, assuming a 15% tax rate. This amounts to 863 shares of T, for a total of about $30,700. With that $30,700 an investor can create an income stream that will essentially pay every month's wireless bill. It is also highly likely that the annual dividend stream will increase to match rising data plan costs. Below is the expected annual income produced over the next 20 years by 863 shares of T, without reinvestment. This approach uses the conservative estimate that quarterly payments are raised by $.01 annually, consistent with the past few years.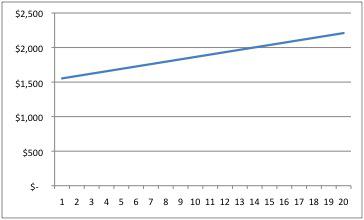 If dividend payments rise more than the cost of the monthly plan, the excess payment could be reinvested to build on the initial 863 shares bought. This option would be especially effective if T was to decline in market value in the future. As shown in the graph above, even with the modest increases going forward, the dividends received 20 years in the future will be $2243.80, a 45% increase over the initial income of $1553. This would result in a yield on cost of 7.3%. Although this growth does not match that seen in some stocks, it could keep pace with inflation and maintain purchasing power for quite some time.
A Cheaper Alternative
The initial investment of $30,700 may seem daunting and unreasonable to many individual investors. It would require a very large portfolio to be able to allocate enough funds, while still staying diversified. Although a smaller investment would not provide all of the income necessary to pay for a full data plan, it will still get an investor on the right track to achieving his or her dividend growth goals. Purchasing 100 shares would cost a much more achievable $3,550 and provide $180 in annual income. By reinvesting these, an investor could increase their stake by approximately 5% every year. The following chart shows the growth in annual income by using this reinvestment plan, compared to those electing to not reinvest.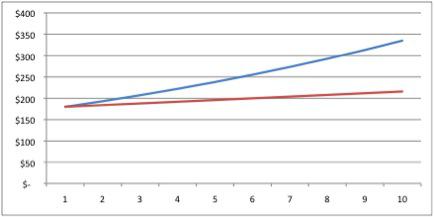 Although T dividends would only be increasing by about 2% per year, annual income would be increasing by an average of 7% due to reinvestment (shown by the blue line). The red line in the graph above shows the increase in annual income without any reinvestment. After 10 years, annual income for the reinvestment method would be $358, about 63% higher than the $220 in income without reinvesting. The difference is due to the increase in shares held from 100 initially to about 163 at the end of the time horizon. The additional portfolio value caused by the increased number of shares is a further benefit of the reinvestment approach.
This is just one example of matching dividends to living expenses, which I find to be a fun way to visualize the dividends I receive. Dividend growth stocks make it easy to sit back and watch the income stream increase. For companies like AT&T with high yields and low growth, dividend reinvestment is a way to accelerate your own income growth, even if company growth rates are lagging.
Disclosure: I am long T, VZ. I wrote this article myself, and it expresses my own opinions. I am not receiving compensation for it (other than from Seeking Alpha). I have no business relationship with any company whose stock is mentioned in this article.