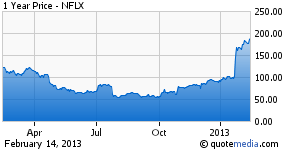 In our last article titled, "Is Netflix Going to $300", we looked at the recent large move in Netflix (NASDAQ:NFLX), and gave varying reasons for why the move in the stock price is still not over. The focus on the article was on some of its content deals, chief among them being the deal it signed with Disney (NYSE:DIS) and the impact that should have on subscriber growth in the coming years, especially once the Star Wars spin-off movies start to roll out. In this article we are going to focus more on the new strategy Netflix is looking to apply, the "HBO Model".
Make or buy is a common and very tough decision many companies in many differing sectors have to make. Does a company take the risk and design and buy a product or does it just hunt for it on the open market and pay market prices. Many times it is cheaper to make, especially when you take into consideration the risks if what you make or design yourself fails. This is a decision Netflix is pondering in a big way.
The old Netflix model, the DVD business which Blockbuster pioneered, grew and eventually failed at, was cheap to do relative to streaming. You bought a DVD and you rented it. The streaming model requires massive licensing deals to the studios and content providers and as Netflix has grown this business, and its subscribers, the content providers have gotten ever more greedy, demanding higher and higher licensing payments. Who can blame them, especially with more and more companies jumping into the streaming business and willing to outbid each other? It's great for those making the content and expensive for those looking to buy it. We have the cable channels, we have Amazon, (NASDAQ:AMZN), and now RedBox jumping into the fray. There is also the cable companies themselves with On-Demand offerings. A small pie with many hungry eaters leads to ever increasing prices. The DVD model is still where Netflix makes its money. In the most recent earnings report, "Netflix had a 50 percent profit margin in its movie-by-mail segment in the fourth quarter -- $128 million profit on $254 million of sales. Compare that with a profit margin of 18.5 percent in domestic video streaming -- $109 million profit out of $589 million sales." There will always be a business here, which is one fault we have with Netflix wanting to shed this business line. After all, amazing as it sounds, AOL (NYSE:AOL) still has 2.8 million subscribers to its DIAL-UP service in this age of broadband Internet! As long as Netflix can milk profits from its DVD business it should continue to do so!
Back to the make or buy decision. Netflix has seen its cost to acquire content over the last couple of years explode, and now has over $5 billion in content liabilities on its balance sheet. This is a large increase in obligations over a short period of time. It is no surprise Netflix is looking at creating its own content. The average American watches 34 hours of TV a week (from a 2011 study). Online TV viewing has grown substantially since that report too, driven by the success of Netflix and the move into the sector by Amazon and its Prime service. Americans will have likely spent more on legal, Internet-delivered movies than they spent on DVDs and Blu-ray Discs for the first time in 2012 according to IHS Screen Digest Research. That is a lot of time that needs filling and Americans have shown that they like to get their TV from many different sources. After all we now have 300+ stations on cable and that number seems to grow daily. If you have an interesting product, it will be watched.
"House of Cards", starring Kevin Spacey, is Netflix's first foray into content development, spending $100m on the show. Executives at a tech firm that monitors Internet traffic told the London Telegraph that about 11% of Netflix's 33 million North American subscribers watched at least one episode of the series. The political drama available only on Netflix is the streaming video service's most-viewed series, according to company officials, although they will not release any specific information regarding exactly how many people are watching. Yesterday Netflix announced another content deal with DreamWorks to create a new kids series "Turbo F.A.S.T.", its first show geared towards kids. "Turbo F.A.S.T." is the spin-off of the movie Turbo, which is set to hit theaters this summer. Netflix is looking to capitalize on its predicted success by creating the new series. As part of the deal, Netflix will offer its customers access to DreamWorks Animation feature titles in the U.S.
This is a strategy the company strongly believes will work. Netflix also believes it can save big on marketing costs because Netflix's recommendation engine does all the work for them. Netflix claims that 75 percent of its subscribers are influenced by what Netflix suggests to subscribers that they will like. "We don't have to spend millions to get people to tune into this," Steve Swasey, Netflix's V.P. of corporate communications, told GigaOm last March. "Through our algorithms we can determine who might be interested in Kevin Spacey or political drama and say to them, 'You might want to watch this.'" This is something many haters and shorters of Netflix fail to understand. The sheer size of the data that Netflix is able to gather on its viewers is mind boggling. Google Inc. (NASDAQ:GOOG) uses similar algorithms to deploy its targeted advertising and tailoring of specific adds to what a user's search interests tell them. Netflix will be able to use this information to tailor new shows they create to appeal to their subscribers. This is a very powerful tool many still don't understand. House of Cards may have seemed like a large bet on an unknown show but it is likely their internal data told them it would be a hit.
HBO, ShowTime and the other pay cable stations are able to charge $10-15 a month for their content. In recent years Time Warner's (NYSE:TWX) HBO has built its subscriber base on the back of content they have created such as "Sopranos", "True Blood" and other original shows. Netflix is in the process of doing the same and it is doing it for a LOWER price than cable. With enough hits and word of mouth under its belt Netflix 2.0 could very well end up being even bigger than Netflix 2.1. Once Netflix breaches the $200 per share mark, $300 will come very quickly!
Disclosure: I have no positions in any stocks mentioned, but may initiate a long position in NFLX over the next 72 hours. I wrote this article myself, and it expresses my own opinions. I am not receiving compensation for it (other than from Seeking Alpha). I have no business relationship with any company whose stock is mentioned in this article.